For a regular Garena Free Fire player, Diamonds are a treasured currency. They can be used to purchase various cosmetics and customize how your character and weapons look in a match. However, getting Diamonds is arduous if you do not want to spend significant sums on frequent top-ups. Our article will detail all the (legal) ways to get more Diamonds.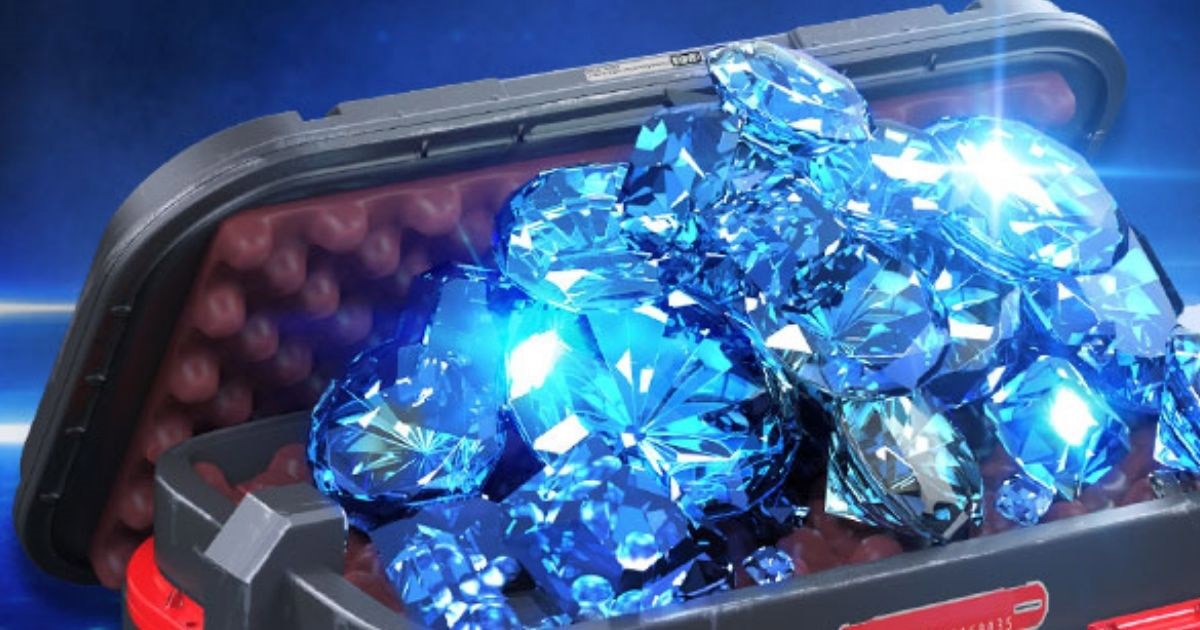 Free Fire Paying for Diamonds
The quickest way to get more Diamonds in Free Fire is to pay for them. This method might sound simple enough, but the allure of spending money on freemium games is always there. If you want some of the newest cool-looking skins in the game, you may only have one option. We are afraid the only reliable way to get enough Diamonds for it is to shell out some cash (or, rather, your credit card) and purchase Diamonds from the Free Fire store.
There are main methods of getting Diamonds: top-ups and subscriptions.
Top-ups come in several forms, with the number of Diamonds received ranging from 100 to 5,600, depending on how much money you are willing to spend. The larger the purchase, the more Diamonds you are getting per dollar.
The subscription method comes in either a weekly or monthly form. Each provides 60 daily Diamonds for as long as the subscription is active. The monthly subscription gives 100 Diamonds and is more efficient than four separate weekly deals when purchased.
Another way to get some Diamonds is to purchase the Free Fire leveling pass. This one-time purchase gives you up to 1,600 Diamonds throughout the entire pass and is a great way to get some Diamonds as a new player. For any significant sums, though, you must use top-ups or subscriptions if you want a stockpile.
Free Fire Getting Diamonds for Free
There are only a few ways to get Diamonds for free in this game.
The first way is to partake in the events offered in-game frequently. These events typically have rewards that give out a small number of Diamonds. Do not go into an event expecting hundreds of Diamonds, though. Over time, this trickle from events might be enough to purchase a skin or two, but you must stay vigilant and frequently play.
Another way to get rewards from gameplay is the "Booyah!" app from Garena. It is a companion service to the main game, allowing you to upload and watch user-created videos and participate in events. Giveaways and events are a great way to get a diamond here and there. However, do not consider any free methods reliable to pay for an entire skin without a significant time investment.
You might find other free methods online, such as hacks or APKs, either do not work or are actively harmful to your system and data. Avoid any websites that promise instant Diamonds for free.
Free Fire Earning Money for Diamonds
If you can not afford to pay for Diamonds in the game or prefer not to, you must come by some additional cash to splurge on in-game purchases. Luckily, few readily available options in the Google Play Store revolve around filling out surveys and questionnaires.
Read: How To Play Free Fire Online
Perhaps the most popular survey service is Google Opinion Rewards. This app is available for users in about 30 countries worldwide, including some of the largest markets for Free Fire. Users can fill out surveys for near-instantaneous monetary rewards.
Just do the surveys carefully and pay attention to the questions. If the system flags you as inattentive or providing meaningless information, it is less likely to give you more surveys to explore.

If Google Opinion Rewards is unavailable in your region, look at other similar services that can be considered trustworthy.
It should be noted that any survey-filling applications do not provide a significant income and are only worthwhile if you spend idle time in transit or waiting in lines.
Free Fire Diamonds Galore
The safest and most effective method of getting more Diamonds in Free Fire is simply paying some money. That is the reality of freemium games, and it won't change anytime soon. Follow our tips above to get the best deals and earn some spare cash for a diamond addiction (we have all been there).
Follow our YouTube channel for more tips, and check out our other Free Fire articles on how to get better at the game.