Whenever anybody talks about love at first sight, I instantly lose all respect for them. It doesn't happen. They're just being soppy romantics who don't want to admit they met their partner on Tinder. Well, as of today I'm going to have to either rethink my philosophy on love and life or just throw away any remaining self-respect I have because Hotshot Racing has me smitten, and all I've seen of it are 45 seconds of cut gameplay from the announcement trailer.
Curve Digital, Lucky Mountain Games and Sumo Digital have today announced that they're bringing a brand new arcade racer to PS4, Xbox One, Nintendo Switch and PC, and it's called Hotshot Racing. And if you're a fan of arcade racing games, you need to have a proper good look at it. Check out the trailer up above, and don't be afraid to watch it two, three, or even four times. I watched it five times…
Hotshot Racing is a colourful arcade racer with bright, polygonal visuals reminiscent of old-school retro racers, but with the trimmings of modern technology. You'll be boosting your way through the game's tracks at the 60 frames per second sweet spot in single-player, as well as taking your mad skills to the next level against friends and strangers online. You can also play up to four-player split-screen multiplayer, and I expect you'll do this with friends, not strangers.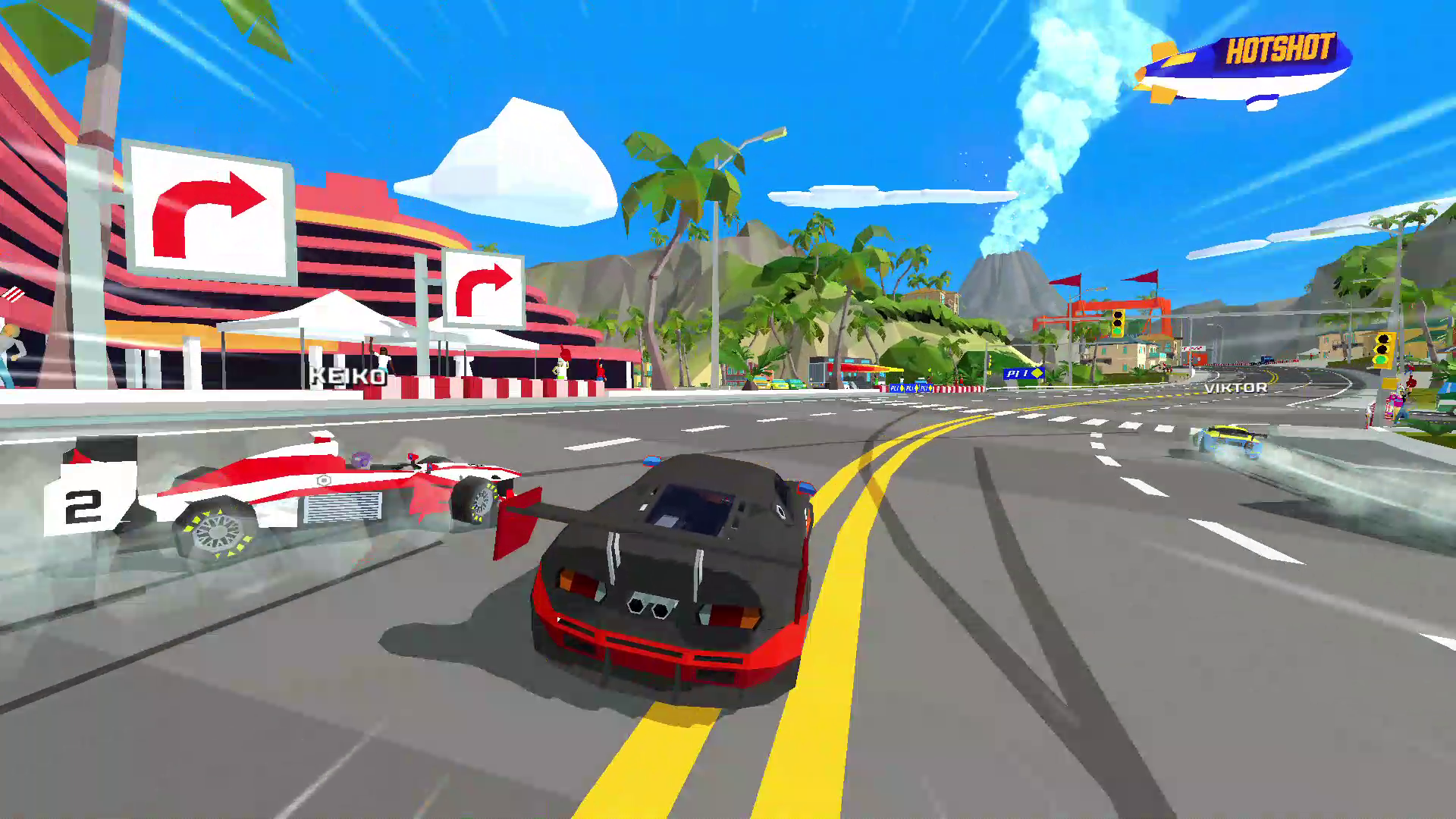 "When we first played Hotshot Racing we were immediately transported to the halcyon days of our youth when we used to pop 50p coins into classic arcade racers like Virtua Racing, Crusin' USA, SEGA Rally and others that used to punctuate seafronts across the UK," said Simon Byron, Curve Digital's Publishing Director. "It's fantastic to see this type of gameplay make a triumphant return and we can't wait to see what people make of it!"
There's the traditional Grand Prix mode where challengers race on multiple tracks in multi-round championship, Time Trial mode where players complete laps as they wish to seek out the fastest lap time for the online leaderboards, Cops and Robbers mode where the criminals need to evade capture to secure a big cash bonus whereas the police need to take them down, and the Drive or Explode where players need to race to checkpoints to avoid exploding.
Hotshot Racing doesn't have a release date just yet, only the vague "Spring 2020" release window, but I can guarantee you that we'll be keeping on top of any and all information that comes out about Hotshot Racing. She is my new darling, after all…