If you are still using the earbuds that came with your PS4 for chat or online multiplayer, throw them into the trash, because that's where they belong. I've been testing the EPOS | SENNHEISER GSP 300 headphones, and they are an excellent entry point into Sennheiser's line of gaming headphones with a lot of functionality in other ways as well. If you're in the market for something better, these should be on your list.
From the first look, the overall design is subtle, sophisticated, and doesn't scream "OMG, I'M A GAMER!". The headphones I received for review are mostly matte black with some matte gray panels. (Sorry about my bad photography!) The top padding, interior of the ear cups, and other areas have blue accents. The blue gives it a pop of color to keep it from looking too buttoned up. Branding is limited to a logo on each side of the ear with the model info and Sennheiser written on opposite sides of the headband.
The build quality is solid. The hard, plastic frame doesn't feel cheap, and the components don't creak when I put them on my head. Each side of the headband will expand independently, and there is some resistance to keep the headband where you put it. As far as compression, they didn't squeeze me too much, but they stayed snug against my head.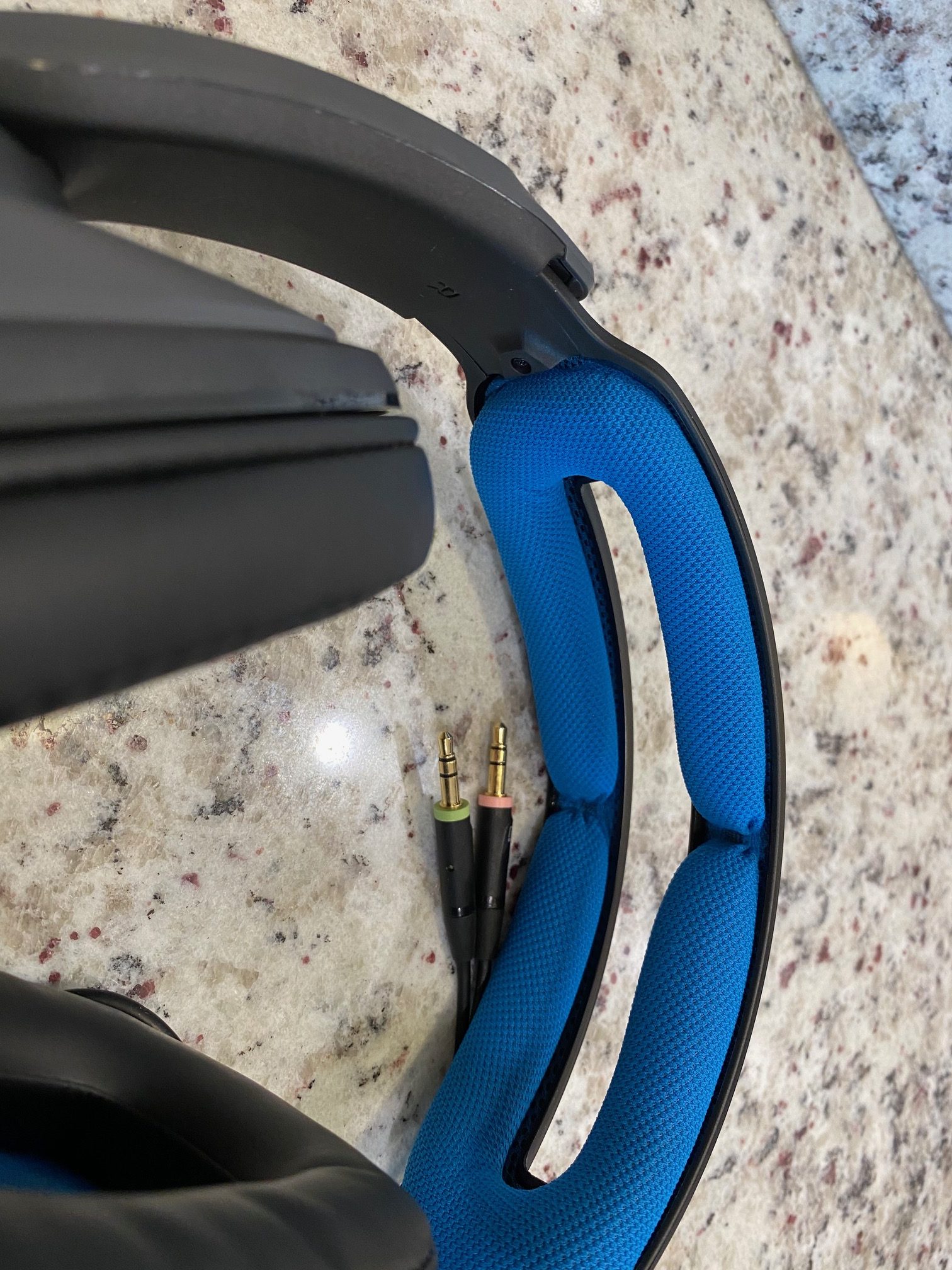 The leatherette ear pads contribute to the comfort and wearability, but there will be some warmth inside the earcups. It's inherent to any closed-back headphone design. I naturally run hotter, but I was never sweaty. I was able to play for well over an hour without having to take them off to cool down, but your environment will play a big part in whether it's a problem for you.
The earpads are made with memory foam and crush slightly expanding to fit around your ear. The passive noise isolation is fine. They did keep me from clearly understanding my better half at one point which got me into trouble, so that's a good endorsement of their ability to block out some environmental noise.
For additional comfort, the earcups will shift slightly to the left or right to adjust to your head as well. I'm not a walking candy apple, but I do have a large noggin, and I would like a little more cushion along the top of the headband. It was still good for longer sessions, and I was able to rest my head against the back of my chair without it interfering with the position of the headphones.
I've told you about the fit and build quality, but that's nothing if they don't sound good. Fortunately, I played a few games to try them out, and they sound great. Music was clear and full without any crackle or drop out. I often have trouble clearly understanding voice over in games in general, but I was able to hear and understand it with ease. It does lack some of the deeper bass or more defined high end with more nuanced separation from a higher-end set of headphones, but it has plenty of clarity and punch for gaming and online multiplayer. I'll include the technical details in an image at the bottom, but, for its class, it has a great sound.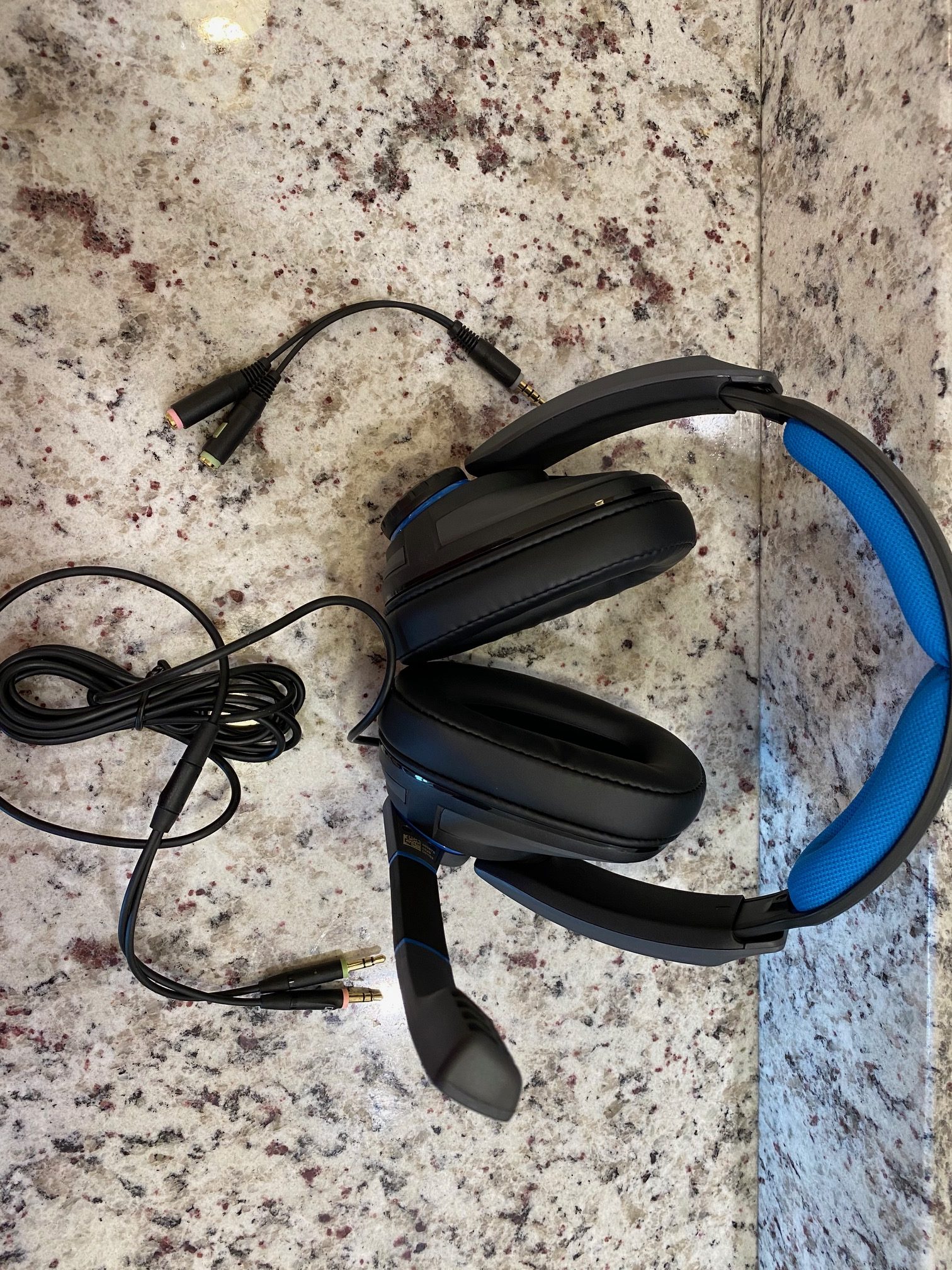 Despite being a set of stereo headphones, there is some directional audio, but you'll need to step up in price to have true surround sound. For these headphones, the real test was going to be the latest Call of Duty. I usually spend my time running and dying, but I could hear my team, gunshots, and explosions around me enough to avoid some deaths.
While trying to stop an alien invasion, save your family from zombies, or to convince anime girl to love you in a visual novel, the EPOS | SENNHEISER GSP 300 headphones are also easy to use. The two-meter cord terminates into two plugs, a separate headphone and microphone connector. There is a dongle included that allows you to combine both into a single connector as well. The dongle has a satisfying snap onto the connectors and isn't loose at all. The cord was inobtrusive, and I personally don't mind wired headphones.
The controls for the headphones are thankfully analog and basic and equally easy to use. The boom microphone on the left side of your head can be lowered to speak, and it stays out of the way enough for you to drink or eat while gaming. When you raise it, it automatically mutes. The volume wheel can easily move to increase or decrease your volume on the fly, but I had to be careful not to accidentally move it if I adjusted the right earcup.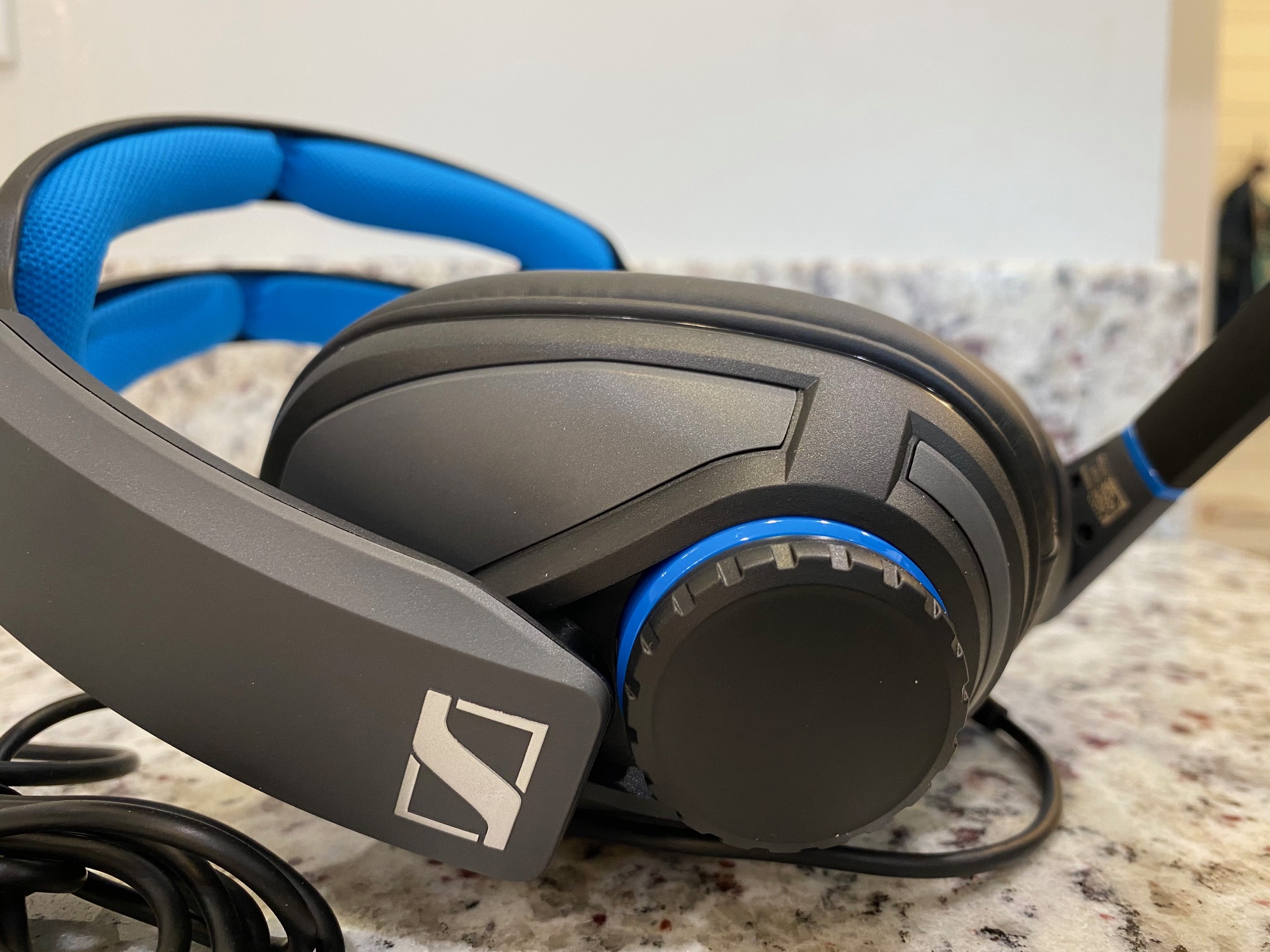 As I mentioned, I didn't only use the headphones for gaming or party chat on the PS4, although they were good for both and for playing when I wanted to be quiet at night or keep naughty words from being heard by young ears. I tried to use them everywhere. I used them on Zoom calls where they performed very well but did not mute the microphone when I raised it. Keep that in mind if you want to say something unpleasant about a coworker. I used them on my laptop to listen to music. I plugged them into a Roku remote and watched TV. I have a nicer set of wired headphones, but these performed well in comparison and included a microphone that was clear whether I was talking for gaming or teleconferencing.
If you want a nice set of headphones for gaming, the EPOS | SENNHEISER GSP 300 is a great choice. It is a wired stereo set of headphones that offer decent comfort, build quality, and sound with an excellent two-year warranty, and I was able to find a lot of uses for them considering the times. They won't beat a decent 5.1 or better sound system, but, if you are stepping up from the junk earbuds included with your PS4 or TV speakers, you are going to be blown away.


EPOS SENNHEISER GSP 300 PS4 Review
Overall - Fantastic -

8/10
Summary
The EPOS | SENNHEISER GSP 300 headphones are a good combination of comfort, sound, build quality, and versatility. The wired headphones have a solid stereo sound for just about any game I've thrown at them. Beyond some heat in the earcups due to the closed design, they were comfortable for longer gaming sessions and other tasks that require a solid headset and clarity from a noise-canceling microphone. If you are in the market for a better experience, check these out.
Review Disclaimer: This review was carried out using an item provided by the manufacturer. For more information, please read our Review Policy.