Now you can finally mute backseat gamers while you clutch the 3v1.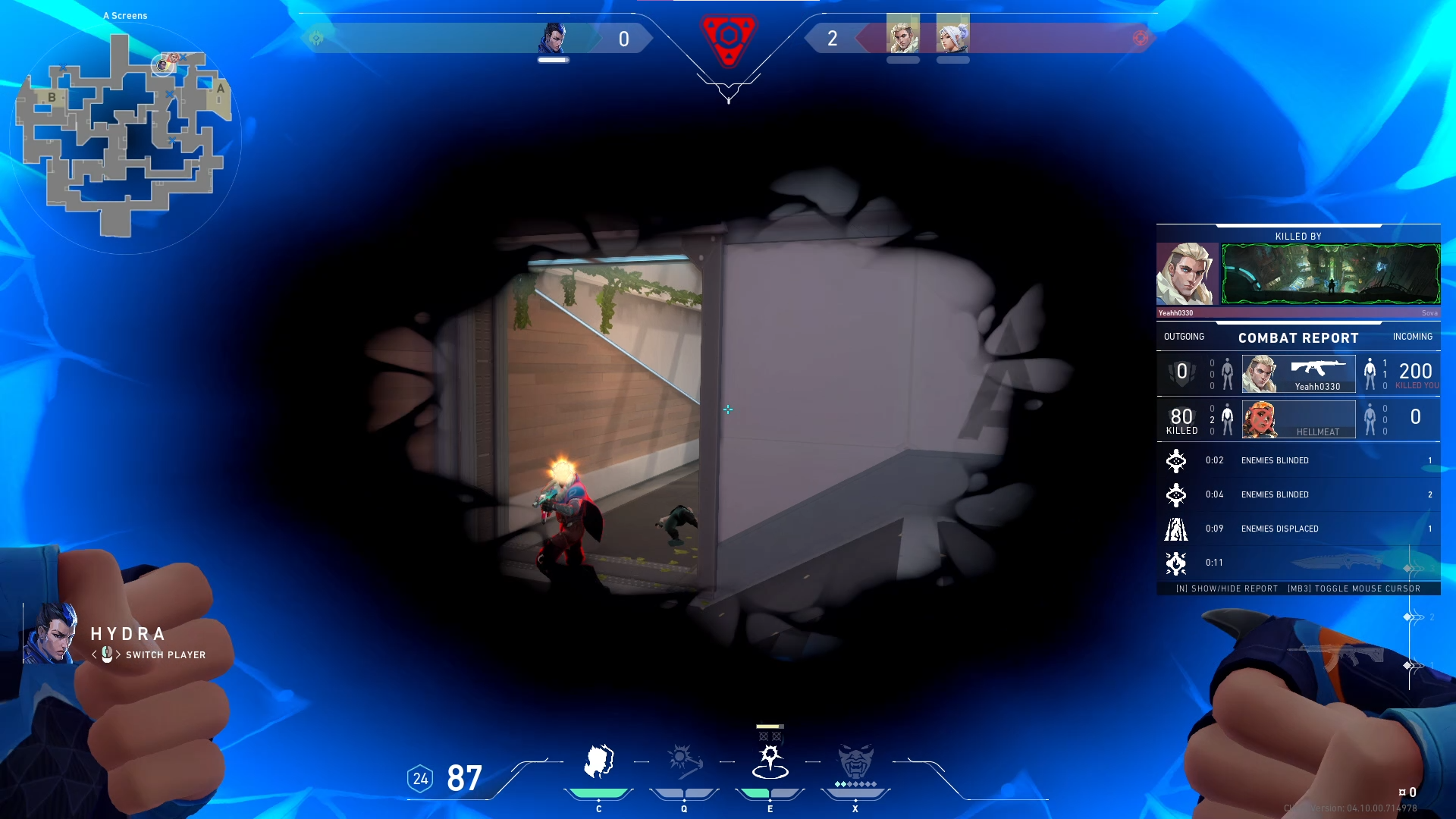 The newest VALORANT patch is finally here, and it comes with critical bug fixes for some of our favorite Agents in the game and a new feature that will come in handy for clutch situations.
If you have read our article on the VALORANT PBE for Patch 4.11, then the changes probably will not surprise you as much. However, a few changes were not part of the Patch 4.11 PBE notes, which we will discuss.
Clutch Mute Function
Clutch Mute – You now have the option to mass mute your teammates and party member so you can focus during clutch moments
We have probably all been there at one point – perfectly winnable clutch situations turned to disaster, thanks to a teammate who thinks he knows how to clutch the round better than you do.
Previously, there was no option to instantly mute in-game teammates with a keybind. Therefore, if you and your squadmates use a third-party voice communication app such as Discord, you have probably been okay since Discord allows users to bind an instant voice chat mute button.
On the other hand, players who rely on the built-in in-game voice chat will know the pain of enduring a million voices shouting simultaneously in the background while they try to deal with a Raze and an Astra in a 2v1 situation.
The ability to mass mute your teammates in clutch situations is a godsend and is probably one of the most requested features by the VALORANT community.
Fortunately, Riot Games has finally added the functionality in-game, and players can now enable Clutch Mute by going into Settings>Controls>Communication and adding a keybind of their choice.
Bug Fixes
As we have mentioned earlier in this article, some of the changes in the official VALORANT Patch 4.11 have already been addressed in the VALORANT PBE. So most of the bug fixes in Patch 4.11 are for bugs discovered by our hard-working PBE testers. Yay for teamwork!
With that out of the way, here are the bug fixes for various Agents for Patch 4.11:
No More Skye Limbo
There was a bug with the hybrid Initiator's third-person model, where she would sometimes awkwardly pose while holding a weapon. Although this is nothing but a visual bug that barely affects gameplay, Riot Games fixed it in this patch.
Jett Super-Dash No More
We have never seen the Jett Super-Dash bug ourselves, but a quick browse around Reddit will bring up a bunch of Jett Mega-Dash video clips that show how broken this exploit was.
There were certain areas around VALORANT maps where Jett's Updraft + Tailwind combo could catapult her super-fast to a target location. Some Redditors have even described the feeling of being on the receiving end of the Jett Super-Dash as "a terrifying experience."
This is not something that Riot Games have baked into VALORANT as a gameplay feature, so they have quickly addressed the Jett bug/exploit for Patch 4.11.
Yoru Peek-a-boo Fix
For Patch 4.11, Riot Games fixed a bug with Yoru's Ultimate Ability, Dimensional Drift, as there have been reports of a bug that allowed Yoru to use his weapon much earlier than normal.
Because of the super-fast weapon draw time, players have reportedly been executed by a seemingly invisible Yoru. The bug allowed Yoru players to fire their weapons so fast that Yoru appeared invisible to the enemy after coming out of Dimensional Drift.
For now, Riot Games says that this bug has been fixed for Patch 4.11. However, because this bug has surfaced more than a few times since Yoru's rework, the dev team will be on close watch and ready when Yoru turns into Casper once again.
Oh, and Yoru's flickering mask when running in Dimensional Drift has been fixed.
Maybe Jett can res him…
A bug where Agents that Sage resurrected in the same round could not reset KAY/O has also been fixed for Patch 4.11.
This is a huge problem, as resurrecting a downed KAY/O is an important feature of this Ultimate Ability.
In addition, the bug could also put the player attempting to resurrect a downed KAY/O in jeopardy, as the bug would cause players to fumble and wonder why they couldn't reset KAY/O.
Visual Bugs and More
As for other minor bug fixes, Riot Games addressed a visual bug where Viper's Toxic Screen and Poison Cloud, Killjoy's Nanoswarm, and Cypher's Cyber Cage would sometimes randomly disappear from the minimap.
Minimap ability markers are essential tools for VALORANT players since the markets allow players to watch their pre-positioned abilities from across the map. The minimap markers also serve as an excellent cue for when they can activate their abilities to help their teammates from the other side of the map.
A bug showing invalid items in the buy menu when switching between Agents in the Range or Custom game was also fixed.
While a bug where Chamber's 3P model still teleported after being killed has been fixed, along with the bug involving Skye's Seekers and Fade's Prowler refusing to drop down the chute in Breeze.
A bug where Killjoy's Alarmbot and Chamber's Trademark created circles in Brimstone's Targeting Map has been fixed. Chamber's Rendezvous range indicator has been optimized as well.
Lastly, a minor change in Sova's Voice Over line will only play when he kills an enemy with a one or two bounce Shock Bolt. Destroying enemy traps will not trigger the VO anymore.
Did Somebody Call the Exterminator?
For the most part, Patch 4.11 is more of a housecleaning update for VALORANT, as the patch features bug fixes more than anything else.
However, the Mass Mute button will be the biggest highlight of this update. The ability to mute your teammates while clutching the round is an invaluable option to help players perform their best in high-pressure situations.
You can read the full VALORANT 4.11 Patch Notes here.
Visit the PlayerAssist website for awesome Gaming Guides, Gaming News, Game Codes, and other gaming content!