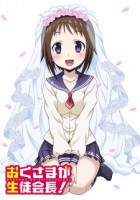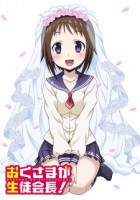 Here are my favorite picks for anime like Okusama ga Seitokaichou. Keep in mind that the list is in no particular order. Enjoy!
The story is about Rito Yuuki, a high-school boy who cannot confess to the girl of his dreams, Haruna Sairenji. One day when coming home and sulking in the bath-tub a mysterious, nude girl, appears out of nowhere. Her name is Lala and she comes from the planet Deviluke, where she is the heir to the throne. Her father wants her to return to her home planet so she can marry one of the husband candidates, but she decides that she wants to marry Rito in order to stay on Earth.
Sixteen years after the "Law for Public Order and Morals in Healthy Child-Raising" banned coarse language in the country, Tanukichi Okuma enrolls in the country's leading elite public morals school and is soon invited into the Anti-Societal Organization (SOX) by its founder, Ayame Kajou. As a member blackmailed into joining by Ayame, Tanukichi ends up taking part in obscene acts of terrorism against the talented student council president Anna (for whom Tanukichi has a crush on).
Michishio Nagasumi's life couldn't be any more normal. In an odd twist of events, during his summer vacation he ends up almost drowning in the sea. Luckily, the cute mermaid Seto Sun appears to save him. However, Sun is from a yakuza mermaid family and according to their law, if a human is to catch sight of a mermaid, either he or the mermaid must die. The only other way is for Nagasumi to be taken in as a family member, marrying Sun. In attempts to save both of their lives, Nagasumi asks for Sun's hand in marriage. Nagasumi's summer vacation reaped more then what he would expect, as he must now protect Sun from others finding her secret out.
Asami Onohara is a seventeen-year old high-school student with a secret which has not been revealed to anyone: She is already married. Her husband, Kyosuke Ichimaru, is a Physics teacher in the same high school as her. However, even though they are officially a married couple, Asami's father forbids them to have any sexual contact until after Asami has graduated. Asami has to hide the fact that she is married to Kyosuke while trying desperately to further their relationship, and it does not help when there are so many interferences and obstacles from her father and other third parties.
Kobeni Yonomori is a high school girl who lives with her mother and older sister Benio. Upon turning sixteen, Kobeni is shocked to learn that, due to an arrangement by her late grandfather, she is engaged to a boy named Hakuya Mitsumine who, along with his little sister Mashiro, come to live with Kobeni. As Kobeni spends time adjusting to this new family, she learns there is more to Hakuya and Mashiro than meets the eye.
Keita has two older step-sisters, Ako and Riko, but since they aren't related by blood, they love him in a lustful way. After a mishap at school, Ako and Riko finally confess their love to him. Keita dislikes the thought of seeing them other than brother and sister, but as he tries to enter the same school as his sisters, he slowly becomes attracted to them.
Kouta, a country boy who lives with his grandfather, is now moving to the city to attend high school. Changes come with his new home and new school, but nothing could have prepared the gentle young man for girls, specifically a bombshell fox spirit named Chizuru. As if her aggressive advances weren't enough, he also catches the attention of a frosty wolf spirit named Nozomu.
Kouta is dragged into supernatural events as a result of his contact with the two girls, and his school life only gets more chaotic by the day. But with a girl who gives "foxy" new meaning and another howling after him, things are looking up for his love life.
References: MyAnimeList, ANN, Wiki