For those who are fans of close-range combat in Cyberpunk 2077, there are a lot of choices for weapons to defeat your enemies. There are katanas, bats, and every object that can be used as a weapon!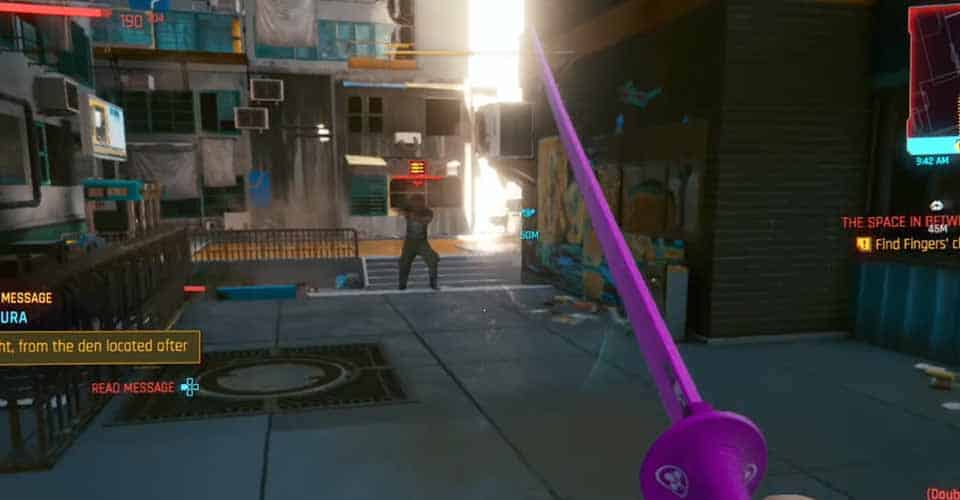 Did you know that you can get an Iconic purple katana easily?
How To Get The Cocktail Stick – Iconic Purple Katana in Cyberpunk 2077
Firstly, before we jump into what you must do to acquire this beast of a katana, you must progress to the story's second act.
After you leave the diner, you will get two main quests you must finish. The one we're looking for is called "Automatic Love." At this mission, you can find the cocktail stick.
You must reach a certain point on the quest to get the katana. We will first cover how to progress to that point and then show you how to obtain the cocktail stick.
This is what you need to do to get the cocktail stick in Cyberpunk 2077:
Quest
Make your way to Lizzie's and talk with Judy. She will send you to the clouds. Once you are here, you will need to get access to the VIP area.

Wait for the security guard to take him out to the bathroom.

Obtain the VIP access card from him.

Go to the VIP area and talk with Tom.

Go to the restricted area, but don't go to Woodman yet.
Cocktail Stick
Once in the restricted area, go to the first door on your left.

Move forward, and on the left, you will see a door; go inside.

On your left, there will be a cubicle.

In the cubicle, you will find the cocktail stick iconic purple katana on the table!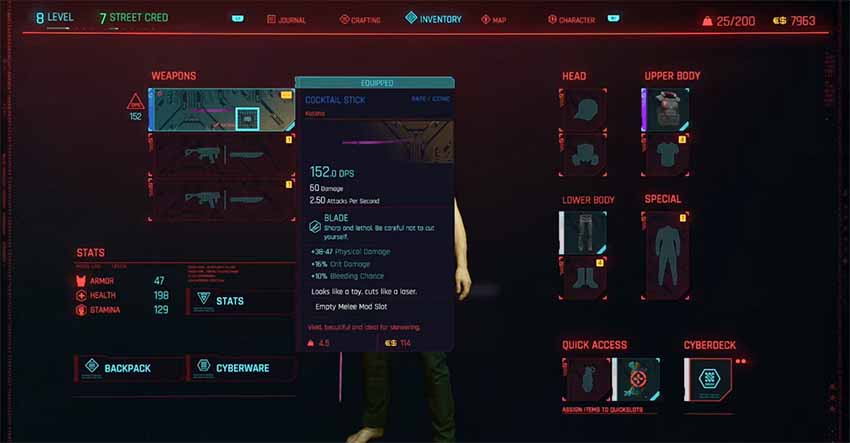 Ensure you crouch once you're in the restricted area because you will be in big trouble if someone finds you.
If you hadn't yet known, this is Evelyn's katana, so you are robbing Evelyn. Nonetheless, there will also be an interesting conversation with Johnny about that.
READ NEXT: Cyberpunk 2077: How to Buy Ammo