Complete simple daily, weekly, or monthly tasks to collect exciting rewards in Blizzard's mobile dungeon-crawler.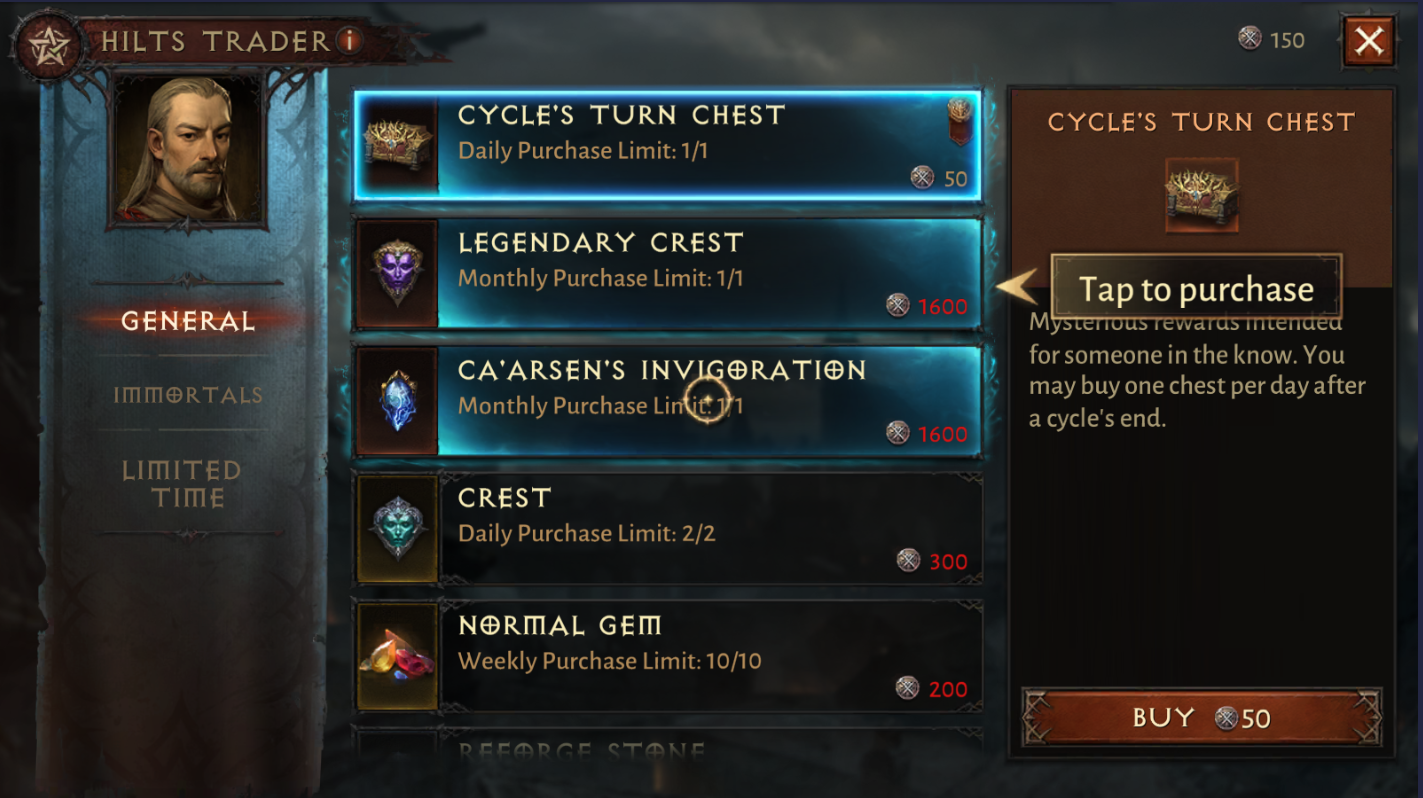 Avid mobile gaming fans will know the drill by now: Login daily to collect free in-game rewards. It doesn't matter which game it is – mobile games will feature a regular stream of daily tasks that reward players with free items to keep players coming back. Who doesn't love free stuff?
Diablo Immortal also offers in-game tasks that, when completed, reward players with useful items they can collect regularly. If you're unsure where to find these daily rewards, we have created a list so you can go ahead and clear these tasks and claim all the free stuff that Diablo Immortal offers.
Daily Tasks
There are two sets of Daily Tasks in Diablo Immortal – one that requires zero effort to complete (Login Tasks) and another that requires players to complete a set of specific tasks in-game (Daily Missions)
Either way, the rewards that players can collect from either set of the missions are often worth the time and effort and can be a nice little break from all those Elder Rift runs.
Make sure you don't forget to check out the Hilts Trader daily and purchase those valuable Normal Gems, which should be handy in making your character more powerful in Diablo Immortal.
Login Tasks
Log in Tasks
Rewards
Claim Free Daily Reward Chest from In-game Shop
Gold/Scrap/Enchanted Dust, Glowing Shard
Interact with the Elder Rift
1 Rare Crest
Collect Challenge Rift Rewards
Hilts
Kill 1 Monster
First Kill of the Day Reward for that day of the week.
Check Leaderboards for First-Clear Rewards
Gold/Hilts
Check Hilts Trader
Purchase limited-time items
2 Crests
10 Normal Gems
5 Aspirant's Keys
Daily Missions
| | |
| --- | --- |
| Daily Missions | Rewards |
| Complete Bounties | XP/Gold/Random Items |
| Complete Side Quests | Enchanted Dust |
| Complete Hidden Lairs | Normal Gems |
| Collect 30 Monster Essence | Extra Battle Pass Points |
| Complete Challenge Rifts | Get Daily Rewards the following day (Enigmatic Crystals and Hilts) |
| Earn BP Points | Earn Hilts, Charm, Platinum from Daily Activity Rewards in the Codex. |
Weekly Tasks
Players can also claim rewards for their efforts throughout the week. Check out and complete the Weekly Task list below so you can claim bonus items such as Gold, Scoria, Marks, and more.
Weekly Task
Possible Rewards
Challenge Rifts
Hilts/Gold
Helliquary Raid Boss
Scoria or Battle Points
Rite of Exile (Sundays)
XP/Random Item/Marks/Hilts
Hilts Trader
Purchase any of the following:
1 Legendary Gear
10 Normal Gems
8 Reforge Stones
3 Charms
(Cooldown Resets weekly)
Monthly Task
It's not so much a task as it is a cooldown. Nevertheless, don't forget to purchase the Legendary Crest from the Hilts Trader every 30 days to ensure that you'll have a go-to source of Legendary Crests that you can use to empower your Elder Rift runs.
Thank you. Please come again.
At the very core of Diablo Immortal's gameplay is its looting system. Players will want to gather and collect as much loot or materials needed to upgrade or acquire stronger weapons and items in the game.
The Daily/Weekly/Monthly Tasks can be a consistent way of collecting valuable loot for free in-game. All that players have to do is log in, complete the tasks, and collect their respective rewards regularly. Simple, right?
Visit the PlayerAssist website for more Gaming Guides, Gaming News, Game Codes, and other gaming content!