You may fight as your favorite characters from a range of anime universes in Roblox: Anime Galaxies. To do so, you'll take on the appearance of these characters and fight alongside them against waves of opponents. In this game, you can equip your favorite anime characters and use their respective powers to defeat mobs in different dungeons. You can acquire many characters as you like, but you can use only two of them to clear up a dungeon. Once the dungeon is complete, you can receive another anime character with coins or items like swords.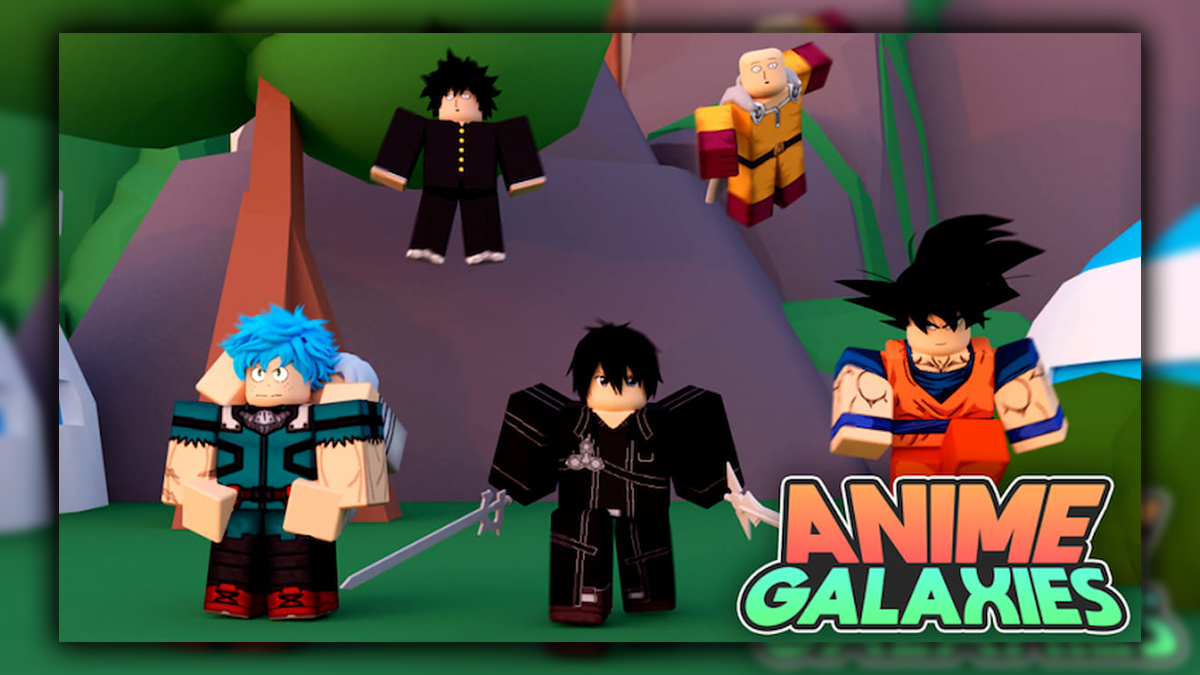 In another jail, you can receive diamonds that you may use to buy souls, rings, armor, or weapons. This game has more gameplay and no dull moments to spare. You will likely enjoy this game with your friends with smooth graphics and maneuvers. You'll only have a limited amount of time in the guise of your anime character, so make the most of it. You'll earn money as you finish dungeon runs; use them to enhance and strengthen your characters!
Our Anime Galaxies codes list will help you out if you're looking for freebies. If you're unsure how to redeem codes, look below the codes list for instructions! Keep an eye on this page, and add it to your favorites.
All Roblox: Anime Galaxies Codes for Shards and Coins (Tested October 2022)
The most recent valid Roblox: Anime Galaxies codes are shown here. These can be exchanged for Shards, which can be used to buy new combatants in the game. We highly advise you to use the codes as soon as they are released because they will only last until their expiration. But no worries at all! We assure you that the codes here on our site are constantly updated by our monitoring team so that you won't miss the rewards! Also, please input the codes EXACTLY how it was listed below to avoid errors. You can also copy and paste the codes from our list to ensure they function.
Roblox: Anime Galaxies Working/ Active Codes
| | |
| --- | --- |
| CODES | REWARDS |
| 7PageMuda | 100 Shards and Experience Soul |
| IAmSpeed | GodSpeed Soul |
| TheMighty200 | 150 Shards |
| TimeToGetALotRicher | 2,000 Coins |
| SoulstoneParty | 300 shards |
| | |
Roblox: Anime Galaxies Old/ Expired Codes
We created a tracker of the old and expired codes from Roblox: Anime Galaxies, so if players want to see what codes have been deactivated, they can do so by checking the list below. If you were able to use these codes before they were deactivated, don't worry about the rewards! All claimed rewards will not be lost even when the code has expired.
| | |
| --- | --- |
| CODES | REWARDS |
| NowitsYourTurn | 100 Shards and All Power Soul |
| TheBigKIsHere | 300 Shards |
You can follow the game's developer on their social media account for more updates about the game. You may acquire news and updates and interact with other players on the game's official Discord server. We also update our list on this age as soon as they're available, so keep us on your bookmark by typing CTRL + D on your keyboard or using the Add to Bookmark button on your phone's keyboard and check back often!

Those are all the codes for Roblox: Anime Galaxies that are currently available. Please let us know if you spot codes that have been expired or missing so we can update our list as soon as possible! You can share your suggestions and ideas with us in the comment section. Don't forget to give us a thumbs-up, happy reading, and enjoy the game!
FAQs
How do I Redeem Freebies using the Codes in Roblox: Anime Galaxies?
For those who are new to playing Roblox or those who don't know how to input codes yet, you can follow these easy steps to redeem code rewards in Roblox: Anime Galaxies:
Open Roblox: Anime Galaxies on your computer or mobile device.

Look for the "Type Code" area on the left side of the screen.

Copy it and paste it above the "Type Code" button.

To claim your gift, click the "Redeem Code" button.

Related Posts