Have you ever watched or read one of Japan's most popular anime/ manga series, ONE PIECE? If you're a (big) fan, Roblox: Pirate Legacy might pique your interest! Like in the anime series, this game will let you experience how to start your adventure! You can customize your character, may it be ONE PIECE-inspired or any other anime character, or you can also design it with your own-made looks. You can also choose your role as a pirate or a marine. As a pirate, you can sail across the Roblox map, dig up and collect treasures, and terrorize lands. Or you can also guard the land against pirates if you choose to be a marine. You can also explore places, and if you're lucky, you might obtain Devil Fruits that will help you boost your skills and abilities!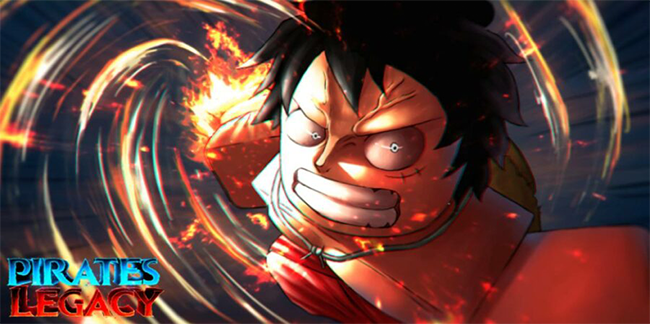 What is the Use of Roblox: Pirates Legacy Codes
Of course, some stronger players might threaten you at the start of the game. But no worries! We provided a list of codes that will help you redeem freebies like additional EXP and a pocket of Beli (in-game currency) that you can use to purchase stuff to strengthen your character quickly! You can gain an advantage in the early games and prevent other players from bullying you too quickly by using the provided active codes. You can finish your mission smoothly and become one of the Best Pirates or Marine in this game!
All Roblox: Pirates Legacy Codes ( Tested October 2022 )
These codes we prepared for you will help you obtain instant gifts like Beli and additional EXP in leveling up. We advise you to use these codes as soon as possible to enjoy these rewards. These codes will only last for some time, so grab your rewards as early as you can! We are trying our best to provide active and up-to-date codes. If you notice that a code is missing or not working, kindly let us know in our comment section so that we can update our list immediately.

Roblox: Pirate Legacy Working/ Active Codes

| | |
| --- | --- |
| CODES | REWARDS |
| | |
| NotAStatResetCode | Redeem for Stat Reset |
| Havoc | Redeem for 200 EXP + 2 Stat points |
| Doge | Redeem for 200 EXP + 2 Stat points |
| NewDevs | Redeem for 4K Beli |
| Fruit | Redeem for 1K Beli + 300 EXP |
| Pirates | Redeem for 3K Beli |
Roblox: Pirate Legacy Old/ Expired Codes

We created a tracker of the old and expired codes from Roblox: Pirates Legacy, so if players want to see what codes have been deactivated, they can do so by checking the list if you were able to use these codes before they were deactivated, no worries! All claimed rewards will not be lost even when the code has expired.
| | |
| --- | --- |
| CODES | REWARDS |
| | |
| DataLoss | Redeem for 2K Beli + 550 EXP |
| Kazune | Redeem for 12K Beli |
| SHUTDOWN1! | Redeem for 20K Beli + 6K EXP |
| Christmas! | Redeem for 1K Beli |
| Release! | Redeem for 5K Beli |
| Wise | Redeem for 1K Beli |
| King | Redeem for 5K Beli |
Where can I get more Roblox: Pirates Legacy Codes
You can follow the game's developer, @HavocRuined, on Twitter, for more codes and updates about the game. You may also acquire news and updates and interact with other players on the game's official Discord server, Power Up Studio Discord. We also keep our list updated on this wiki as soon as they're available, so keep us on your bookmark by typing CTRL + D on your keyboard or using the Add to Bookmark button on your phone's keyboard and check back often!

Those are all the codes for Roblox: Pirates Legacy currently available. Feel free to share your suggestions and ideas in the comment section! Please let us know if you spot expired or missing codes so we can update our list as soon as possible! Happy reading, and enjoy the game!
FAQs
How to Use the Roblox: Pirates Legacy Codes
If you happen to be new to playing Roblox, here are some helpful steps on how to use the codes and claim your freebies:

1. Open Roblox: Pirates Legacy in the Roblox browser of your PC or mobile device.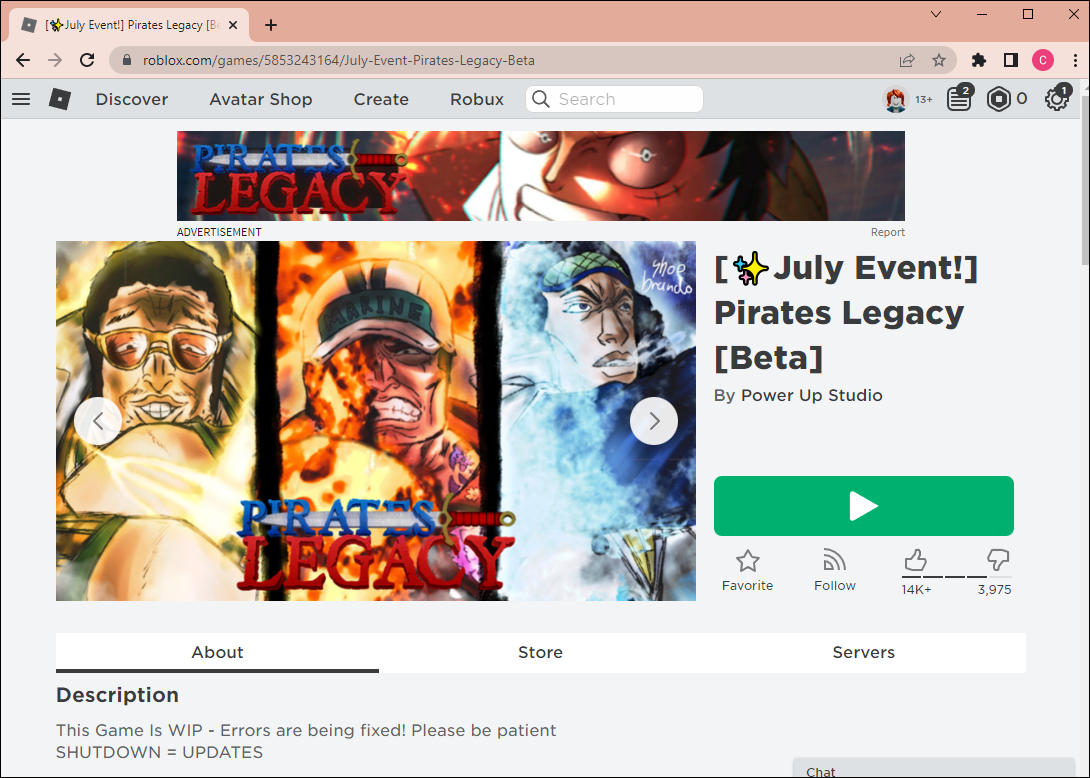 2. Click the Menu button in the screen's lower-right corner.


3. On the Menu wheel, tap the "Character" button (human-like icon).

4. Input an active code from our list in the code box beside the Twitter icon.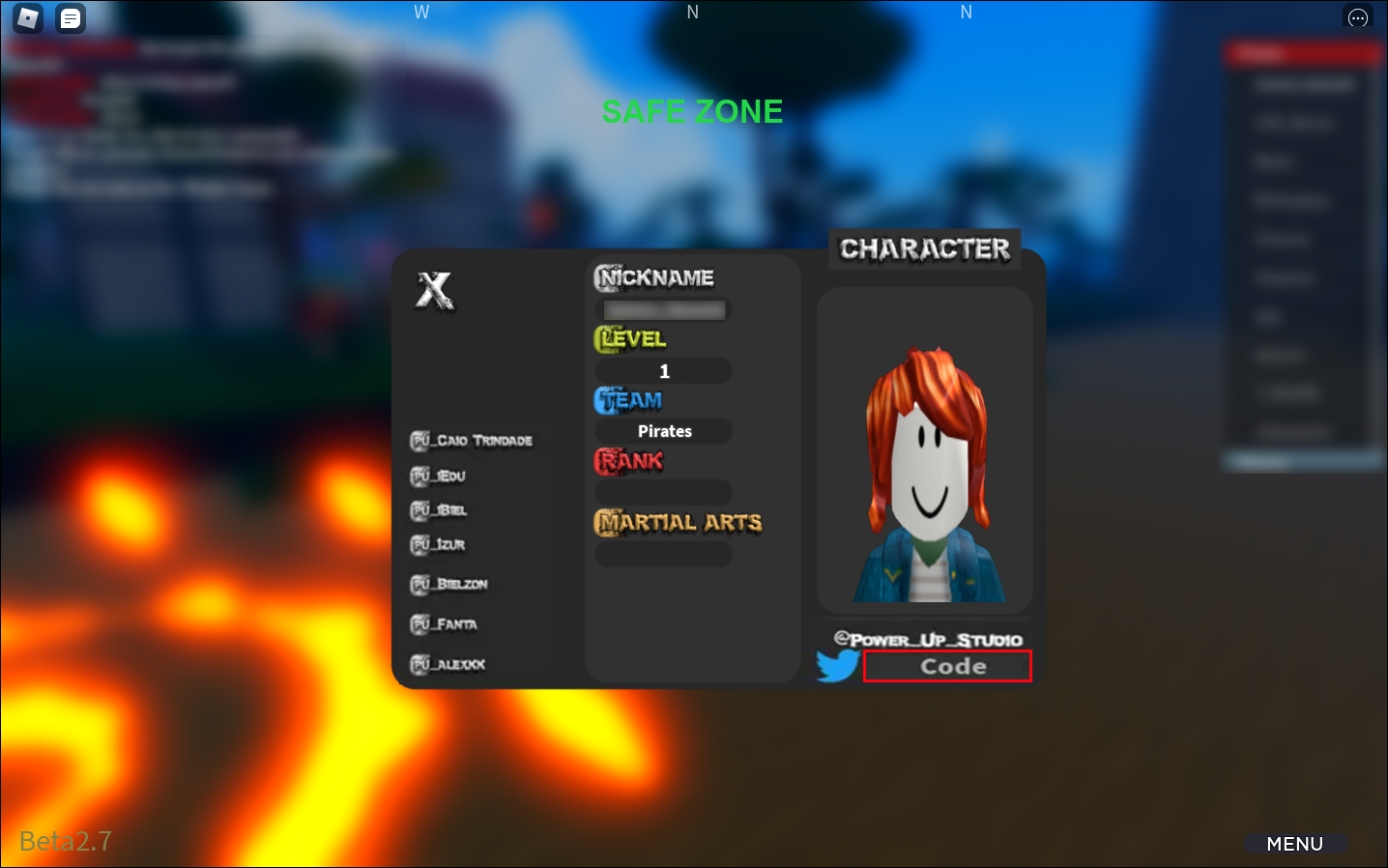 5. Press "Enter" on your keyboard to enjoy your reward.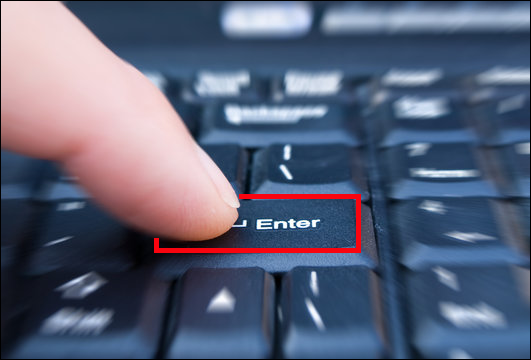 Related Posts