Unsure how to get Checkpoints in Valorant? Here's how.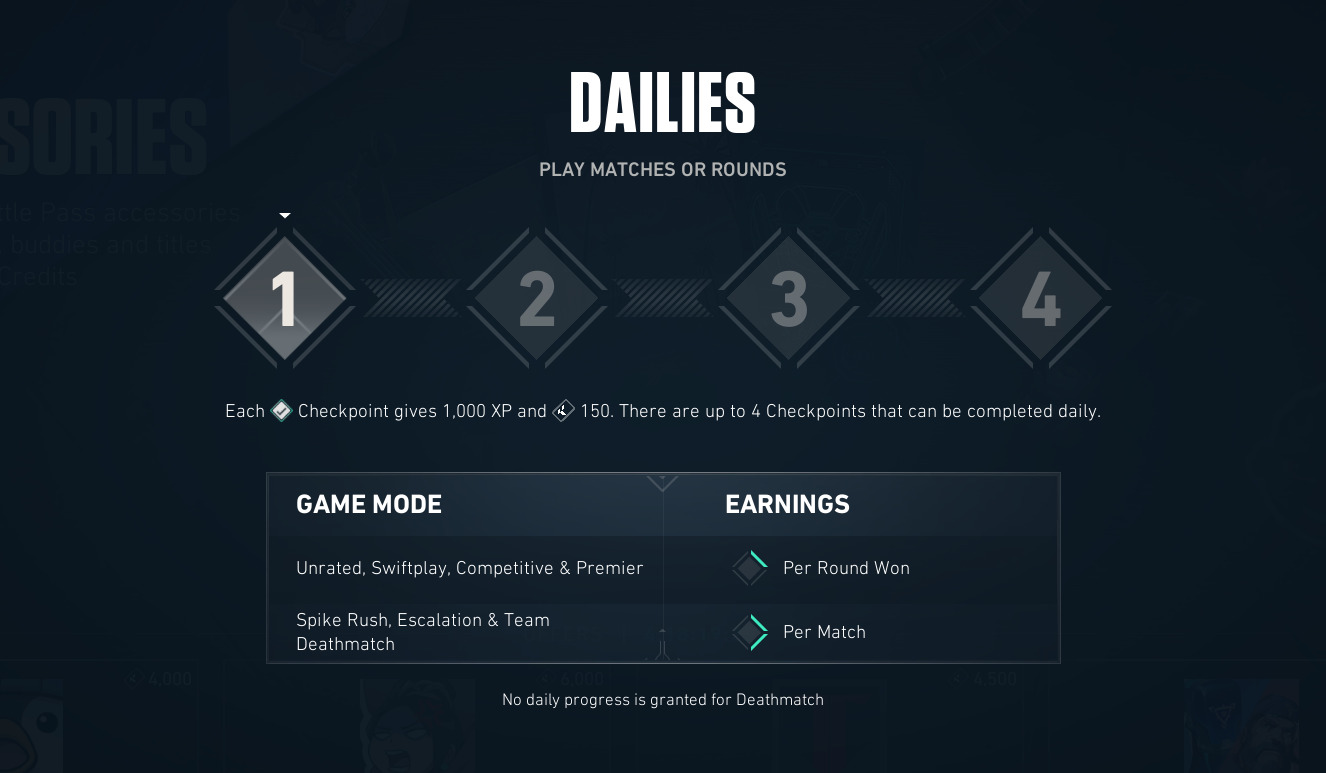 Checkpoints are a new progression system that Riot Games added back at the beginning of Episode 7. Gone is the old XP-based progression system, and in comes a new Diamond Checkpoints.
The new progression system can be very confusing at first but don't worry – We have outlined everything you need to know about Checkpoints in Valorant, including what it is, how it works, and how you can earn progress faster in this quick guide.
What are the Checkpoints for Valorant?
Riot Games revamped Valorant's tier progression system at the start of Episode 7. Daily Missions are now called Checkpoints – a playtime-based progression system where you earn XP and a new currency called Kingdom Credits you can use to unlock Agents and purchase cosmetics.
Previously, Daily Missions would require you to complete specific tasks to progress in each mission. This time, you can play any game mode and earn rewards in the new Checkpoints system.
All players are given four Checkpoints daily, represented by four Diamonds. Each Diamond will have four sides, with each side representing one charge. This means you can complete up to four charges per Diamond and get four checkpoints worth of rewards daily.
How to Get Checkpoints
You can get Checkpoint progress by playing most game modes in Valorant. Every game mode except Deathmatch will count toward your progress, so just play any game mode, and you will progress in your daily Checkpoints.

With that said, the amount of progress you get varies with the type of game mode you choose to play. Unrated, Competitive, and Swiftplay will give you progress on a Per Round Won basis, while Spike Rush and Team Deathmatch will give you progress on a Per Match basis. Refer to the list below to get a better idea.
Unrated: 1 Progress per round won
Competitive: 1 Progress per round won
Swiftplay: 1 Progress per round won
Premier: 1 Progress per round won
Spike Rush: 2 Progress per match
Escalation: 2 Progress per match
TDM (Team Deathmatch): 2 Progress per match
1 Progress point equals one side of a Diamond, and since there are four sides to each of the four Diamonds, you have to earn 16 Progress Points to complete all four Checkpoints.

You can play Unrated, Competitive, Swiftplay, and Premier to get Progress points faster, as these game modes give Progress points on a Per Round Won basis. Spike Rush, Escalation, and TDM give 2 Progress points per match since these game modes are relatively shorter in duration compared to the four game modes listed above.
Valorant Checkpoint Rewards
You must earn Progress points and complete Checkpoints to earn Daily Rewards in Valorant. There are four Checkpoints available daily, and completing each one will give you 1,000 XP + 150 Kingdom Credits. Since you can complete up to four Checkpoints daily, you can earn as much as 4,000 XP and 600 Kingdom Credits daily.
Moreover, the XP you earn will count towards your progress on your Battle Pass, Event Pass, and Agent Recruitment, while the Kingdom Credits you earn will allow you to unlock new Agents and select Accessories.
Does Spike Rush count for Checkpoints?
Yes, Spike Rush counts for Checkpoints in Valorant. Any game mode except Deathmatch will count toward your Checkpoint progress, so feel free to play Spike Rush, Unrated, Ranked, and other game modes.
Remember, however, that you will only earn 2 Progress points per Spike Rush match, compared to 1 Progress point per round won in Unrated, Competitive, Swiftplay, and Premier. You must complete 8 Spike Rush matches to complete your Daily Checkpoints.
Daily Checkpoints
Before Episode 7, you must complete specific tasks multiple times to get bonus XP from Daily Missions. The old system wasn't bad, encouraging you to do game-specific challenges daily.
However, the new Checkpoints system makes tracking and completing Daily Missions in Valorant much easier. Play any game mode except Deathmatch and earn up to 4,000 bonus XP and 600 Kingdom Credits daily.