Get the LGBT Banner in Valorant in a few simple steps.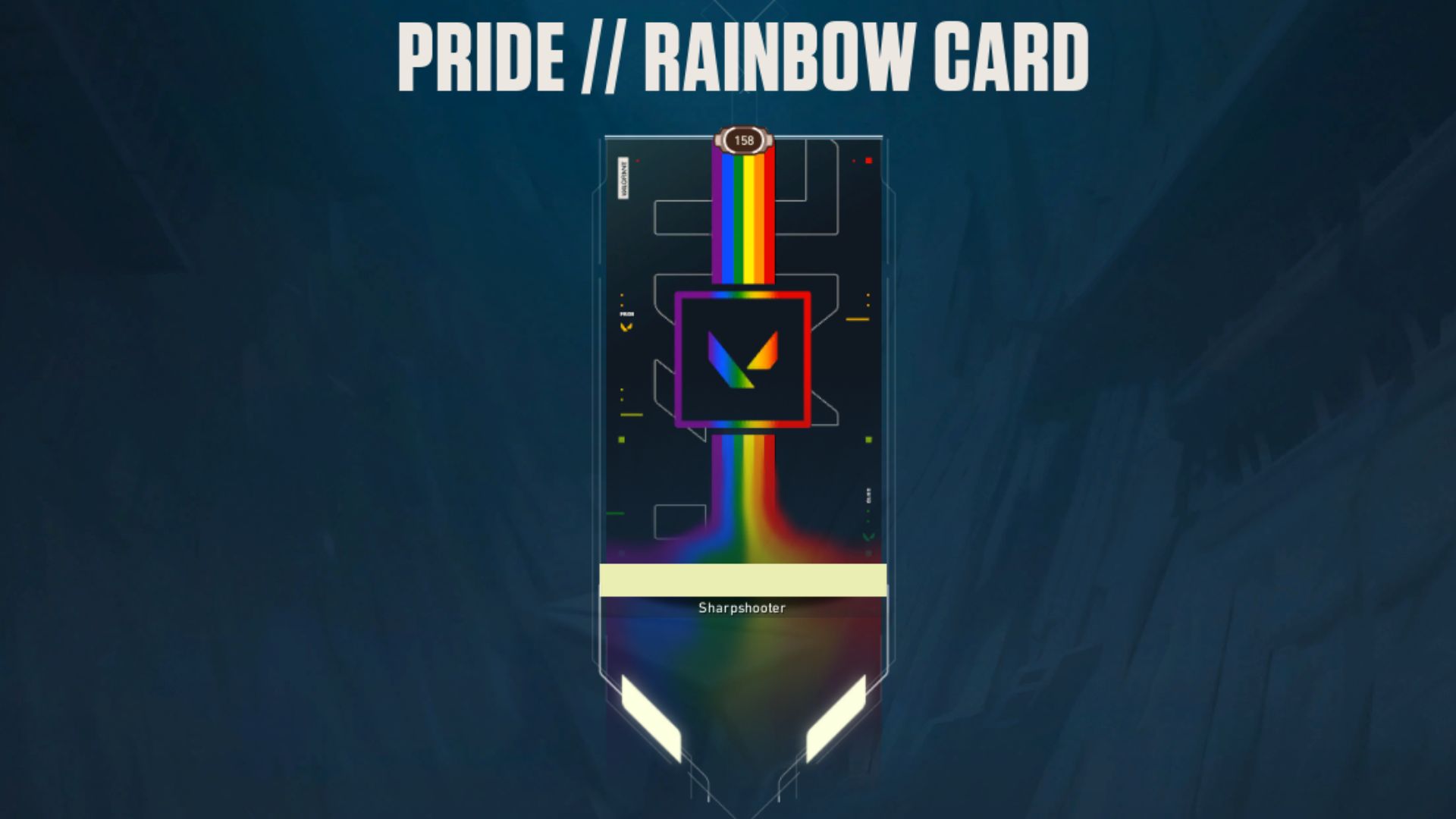 Riot Games supports the LGBTQIA+ community and has shown its support by featuring League of Legends and Valorant artwork from various LGBTQIA+ artists during Pride Month.
For June 2023, League of Legends got special cosmetics through Pride Banners that feature popular LoL characters such as Caitlyn, Vi, Neeko, Graves, Twisted Fate, and K'Sante. Meanwhile, Valorant got various Player Cards, including a dedicated LGBT Banner that players could claim for free in-game.
We will show you how to get the LGBT Banner in Valorant in this quick guide.
What are all the Valorant Pride Banners?
To celebrate Pride Month, Riot Games released 7 Pride Player Cards back in June 2021. Back then, you could redeem all 7 Pride Cards for free by using each Card's redemption code and claiming them at the dedicated code redemption page. The Pride Cards were only available between June 1-20 of the same year.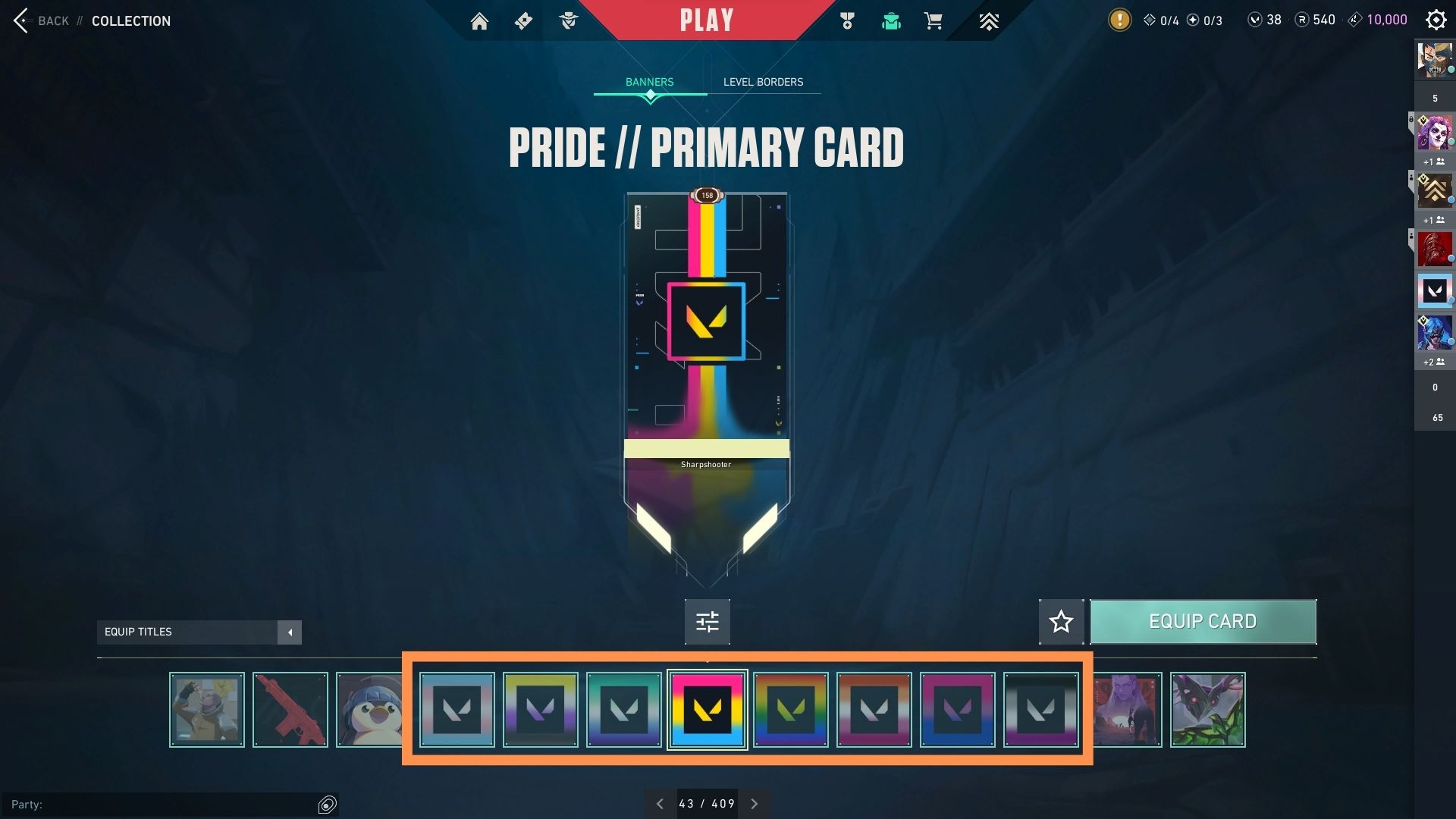 Riot Games released the same set of 7 Pride Player Cards the following year but added the Pride Buddy and three Player Titles as part of the Pride Collection Bundle.
How much is the Pride Bundle?
When it was still available in-game, the Pride Bundle cost 0 VP, and you could get it by using special redemption codes at Valorant's dedicated code redemption site.
For subsequent Pride Bundle re-releases, Riot Games simplified the redemption process by giving players a Purchase button within the in-game Store. Players can claim all the Pride Cards, Gunbuddy, and Player Titles by simply clicking on the Purchase button (it won't cost anything as each item is listed at 0VP)
How to Get the Valorant LGBT Banner?
The Valorant LGBT Banner is one of seven Pride Cards in the Pride Bundle. You could get the LGBT Banner by entering the code PRISMATIC on Valorant's code redemption page. After the initial June 2021 Pride Cards release, you could get the LGBT Banner from the in-game Store by purchasing it for 0VP.
As of right now, you can no longer get the LGBT Banner. The Player Card was a limited-time release to celebrate Pride Month in 2021 and 2022. It is unknown when Riot Games will re-release the Pride Bundle again. However, given the Pride Cards have been featured in-game during Pride Month for the past two years, you can expect to see them for free in the in-game Store around June next year.
Does Riot Games support LGBTQ?
Riot Games has supported the LGBTQ community since 2018 and has continued to do so since then. Members of the LGBTQ community can use the LGBTQ Banner in-game to show their pride.
There are other Pride Banners that support the following communities as well:
Transgender
Non-Binary
Gay
Pansexuality
Lesbians
Bisexuality
Asexuality
Show Your Pride
You can no longer get the LGBT Banner in Valorant, as it was only available between June 2021 and 2022. Nevertheless, Riot celebrates Pride Month yearly, so there's a good chance that you can get the LGBT Banner next year.
For now, continue playing as many Valorant games as you can, raise your Account Level and Rank, and show them off alongside your Pride Cards in the future.