The new CR-56 AMAX Assault Rifle sits somewhere in the middle in terms to stats compared to the rest of Modern Warfare's Assault Rifles. It has a decent fire rate and does a bit more damage than other more common rifles in the category.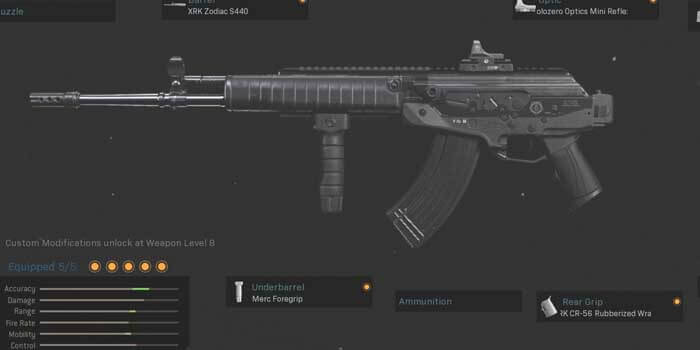 It additionally comes with an alternate ammo type with higher damage, but a drastically reduced magazine size, allowing it to function as a Marksman Rifle. Modified correctly, it should function as a decent alternative to something like the M4A1 in Warzone.
Best CR-56 AMAX Assault Rifle
Here is the best CR-56 AMAX for Warzone is:
Muzzle: Compensator
Barrel: XRK Zodiac S440
Underbarrel: Operator Foregrip
Reargrip: XRK CR-56 Rubberized Wrap
Any Optic
Much like other Assault Rifles, the CR-56 has an extended barrel option that both increases damage range and recoil control at the cost of some mobility. The compensator and both grips are ideal for reducing recoil, but as they are unlocked later on in the weapon levels it will take a bit of time to get to the point of being able to use them. The Foregrip can be replaced by any other, but the Operator Foregrip provides recoil control only the cost of aim down sight speed. Once you do manage to unlock the attachments, the weapon becomes almost laser accurate at medium range, only requiring a small amount of adjustment for barrel rise.
While the CR-56 has a decent sight picture, you'll want some kind of optic so that you can better engage at longer distances.
Perks:
Double Time
High Alert
Tracker
Double Time and Tracker are good all-around perks, giving you mobility and information on your enemy's movements. High Alert is also meant to give you information, but you could reasonably replace this with Restock if you prefer to have reusable equipment, or Overkill if you want to bring an SMG such as the new Fennec as your secondary.
Equipment:
If you end up in close quarters, the Thermite Lethal is a decent choice to cut off an angle of attack. The Snapshot will provide further information if you're unable to get any from Tracker or a UAV. Using Restock as a perk in your secondary slot will provide you with a reusable Snapshot grenade, if you prefer to be in constant combat.
Keep your hands steady and your enemies at a distance, and you'll be able to make them drop like flies. Just be aware, most of the attachments reduce your aim down sight speed, so you might want to have something handy for close quarters.
Up Close and Personal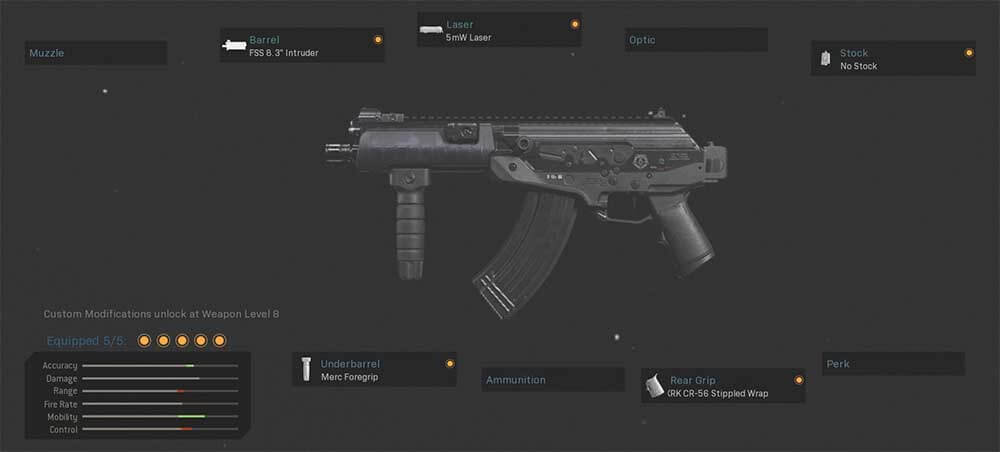 Attachments:
Barrel: FSS 8.3" Intruder
Underbarrel: Merc Foregrip
Rear Grip; XRL CR-56 Stippled Wrap
Stock: No Stock
Laser: 5mW Laser
While it might not be an SMG, the high damage of the CR-56 is a threat at close range, especially if in your hip fire spray one stray bullet ends up as a headshot. These attachments maximize your mobility and provide you with additional hip fire accuracy from both the foregrip and rear grip. Your ADS speed is also sufficiently high, but you may prefer the freedom of movement that just shooting from the hip provides.
Perks:
Double Time
Ghost
Battle Hardened
Since you'll be wanting to run up close and spray down your enemies without getting shot on the way, Ghost and Battle Hardened will keep you mostly under the radar of your enemies. Once you get up close, make sure that they actually go down, otherwise you might end up in some trouble. Double Time is even more effective with this setup, as the additional movement speed from a cut down barrel and No Stock.
Equipment:
Since you're running up close, you might want a way to get yourself some kind of safety from being pelted with bullets. The Stun Grenade will stop your enemy in their tracks, and if you're lucky, stop them from downing you instead. Be careful though, as Battle Hardened has no effect on your own Stun Grenades hitting you. As for the C4, it's a quick and high damaging Lethal Equipment, but you could reasonably replace this with any other. If you do use the C4, be careful, your enemies can shoot the charge out of the air and turn the tides.
Much like playing with an SMG, if you use this loadout you'll want to stay quick on your feet and aggressive. Make sure your enemies don't have a chance to shoot at you before you can get to them, or at the very least, stay as much in cover as possible when you're closing the distance. Once you get there though, as long as you hit your initial spray, your damage output should beat out most SMGs or other Assault Rifles that are commonly used at close ranges.
Somewhere in the Middle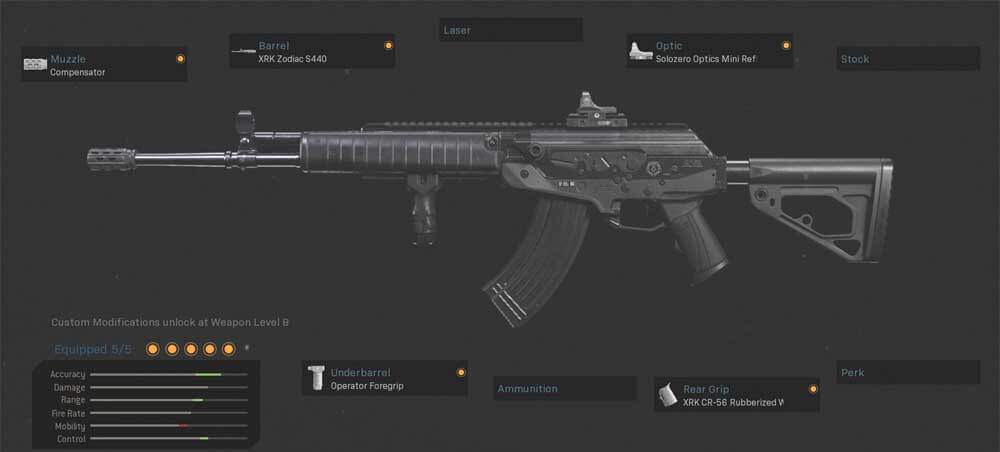 Barrel: XRK Zodiac S440
Underbarrel: Merc Foregrip
Rear Grip: XRK CR-56 Stippled Wrap/Rubberized Wrap
Stock: No Stock
Any Optic
If you are familiar with using the M4A1, then you might be aware that a more common build is to use the Grenadier barrel and no stock with a few other attachments to reduce the weapon's recoil to almost nothing. This build somewhat replicates that, using the extended barrel and no stock to provide both recoil control and ADS speed. Using either the Stippled or Rubberized Wrap is more for if you'd rather have even more ADS speed, or more recoil control. The Merc Foregrip provides Recoil Control and hip fire accuracy, but without the Rubberized Wrap, the weapon's recoil is quite noticeable.
Throw on a launcher in your secondary slot and you'll also be able to take out a helicopter or two, or maybe even use an RPG to clear a room.
Perks:
Double Time
Restock
Tracker
Since this loadout sits somewhere between high mobility and high stability and accuracy, you may want to adjust your playstyle as you go to better suit the situation. Double Time will let you get into or out of trouble, much like its use in the other loadouts, while Restock and Tracker will provide you with the tools to track and perhaps even impair your enemies.
Equipment:
C4
Snapshot Grenade/Stun Grenade
Once again, the Snapshot Grenade provides information, while the alternative Stun Grenade provides some protection if you are able to get a good throw at your enemies. The C4 is an extra piece of help, as it will do a lot of damage to someone if you get it decently close.
Choose your battles wisely and you should be able to use this weapon to its upmost potential. Go aggressive when you're safe to, and pull back when it's not. Either way, this loadout should help pull you out of a bad situation and you'll end up on top.
Why use the CR-56 AMAX in Warzone?
The most effective weapons in Warzone are Assault Rifles. They provide the greatest amount of damage at long range while also being effective in close quarters. The CR-56 is one of the harder hitting ARs with a better mobility stat than other more damaging rifles in its category, while also having a 30 Round Magazine unlike the Scar or Oden. Overall it is a good all rounder like the M4A1, and with it at your side you'll have a better chance to place higher in the rankings.