The good thing about the NFT game industry is it constantly expands with new genres. Nine Chronicles is one of these new unique NFT games. If you have played any idle games before, you will be very familiar with the setup of Nine Chronicles. As it is in the early stages still, you are early to the party, and the potential to grow is big.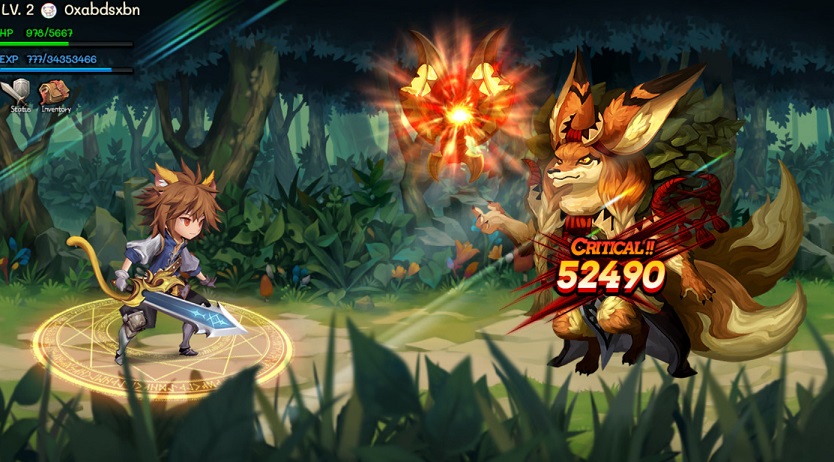 What Is Nine Chronicles?
Nine Chronicles is a new MMORPG/idle game Ubisoft is currently funding – yes, that Ubisoft. The game is very simple; you choose from one of four classes at the start. Only the Warrior class is available, but other classes will become available as the game develops.
To start, you must download the game, which you can do here. Sadly, the game is only available on PC and Steam but may eventually move to other platforms. To play the game, you will need to have an activation code. The developers release a new set of activation codes every day, but you can also ask your friends for one if they are already playing the game.
You equip your character with weapons and armor to allow them to defeat enemies and food items to restore their health. Once your character is prepped, you will send them off on adventures, and this is where the game takes off.
As this is an idle game, you cannot control your character. It is a game you leave running in the background of your PC while doing other things. If your character is equipped well and powerful enough, you can have them fighting through hordes of monsters easily.
As the player, all you have to do is solely in the preparation stage. This includes buying and selling your character's equipment, buffing them, and crafting gear. Once your character is on an adventure, you can wait for them to complete the stages, fall in battle, or all your energy is used up.
How Do You Earn From Nine Chronicles?
Now for the best part about all NFT games – earning money. In the game, you can earn a cryptocurrency called Nine Chronicles Gold or NCG. NCG can be used to purchase various items for your character in the game, but you can also convert it to Ethereum and then into fiat currency.
NCG is earned by completing quests, selling in-game items, and participating in events related to the game. You can also earn NCG by being a part of the game's Discord channel, inviting friends to take part in the game, or even tweeting about it. When it launched, NCG peaked at around $6. However, it is currently trading at $0.90 as of this writing.
One of the main draws of Nine Chronicles is that Ubisoft backs it. The game has a pretty solid footing in terms of stability and longevity, considering how a video game giant supports it. While it is still in the early stages, joining the game before it fully explodes regarding the player base would be wise.
Nine Chronicles is a hassle-free way to earn on the side due to the nature of the gameplay. Nine Chronicles is the perfect game if you are used to idle games. With a good plan ahead of it, Nine Chronicles might be the next big thing in the NFT industry.