Share and try out crosshair codes in Valorant.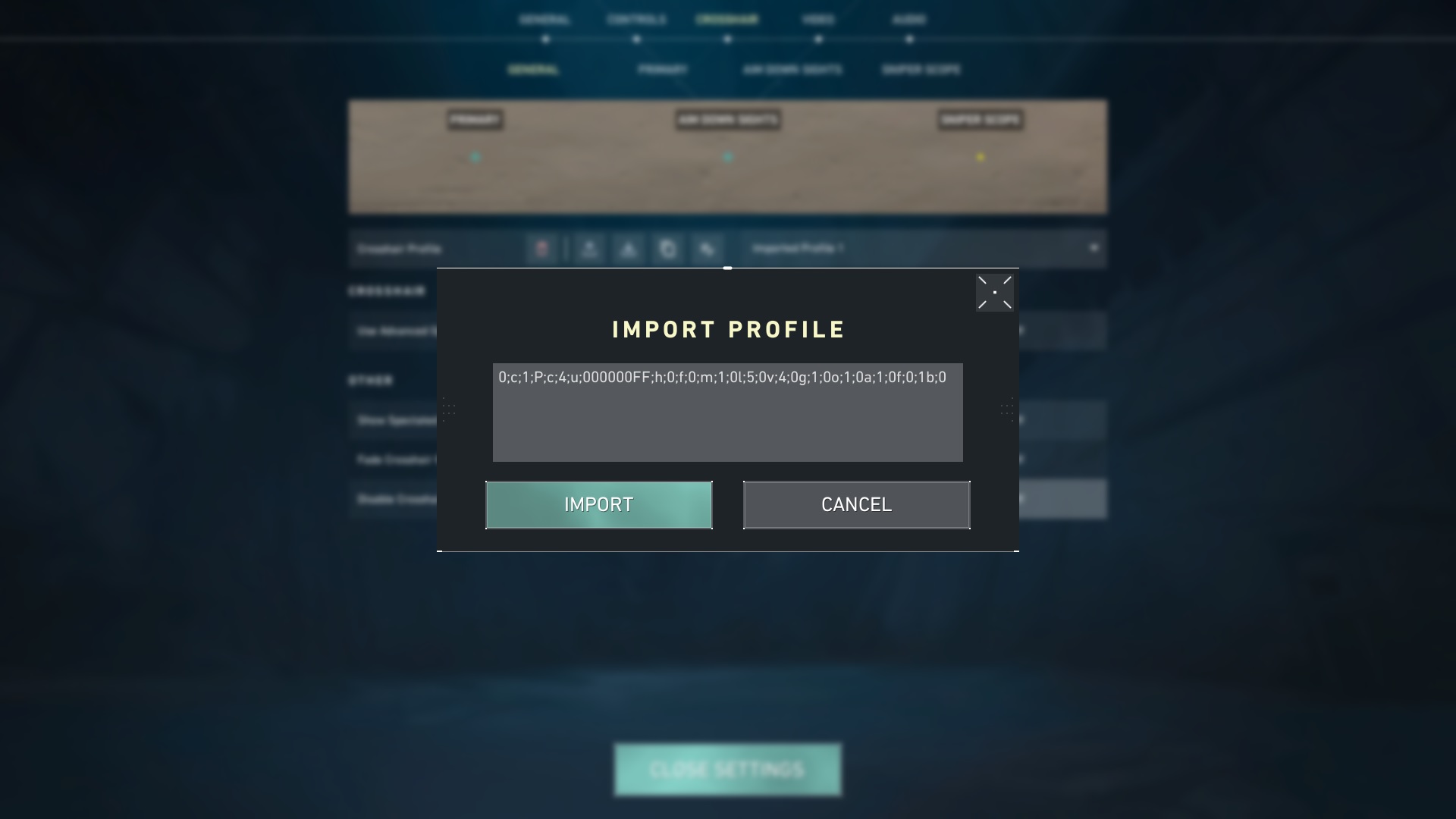 Crosshairs are a personal thing in Valorant. Players will have their preferences regarding color, size, gap, thickness, etc. Some players can only play well with their crosshairs, while others will perform no worse using any type of crosshair. Some pros can even play well without a crosshair.
Nevertheless, trying out new and fun crosshair styles is something that you can easily do in Valorant through Crosshair Codes. We will walk you through everything you need to know about Valorant Crosshair Codes and how to use them to try new crosshair styles.
What are Crosshair Codes?
Crosshair Codes are a quick and easy way of copying or sharing crosshair configurations in Valorant. The feature was added back in Patch 4.05, allowing players to copy and paste a code string to copy their favorite Valorant player's crosshair.
Previously, you had to copy other players' crosshairs by configuring the individual crosshair sliders to specific values. This process was by no means difficult, but it was quite time-consuming. The process typically involved going to YouTube, searching for the crosshair you want to copy, and swapping back and forth from your browser tab to Valorant to copy each crosshair value.
With the Crosshair Codes feature, you can simply copy the crosshair code you want to try and then paste it into the crosshair settings menu to get a 1:1 copy of the crosshair.
How do you use Valorant Crosshair Codes?
Click on the Gear Icon.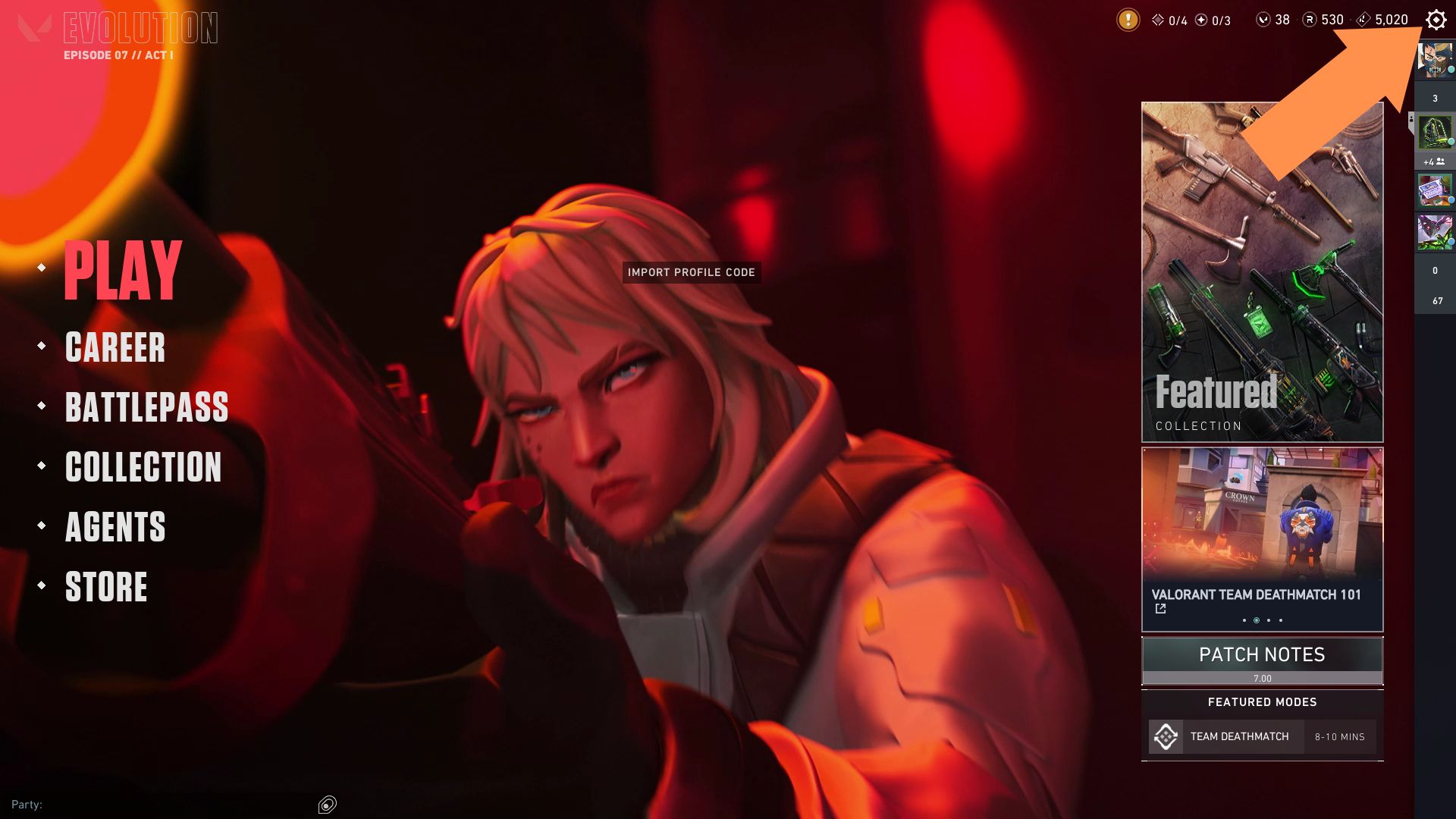 2. Click on Settings.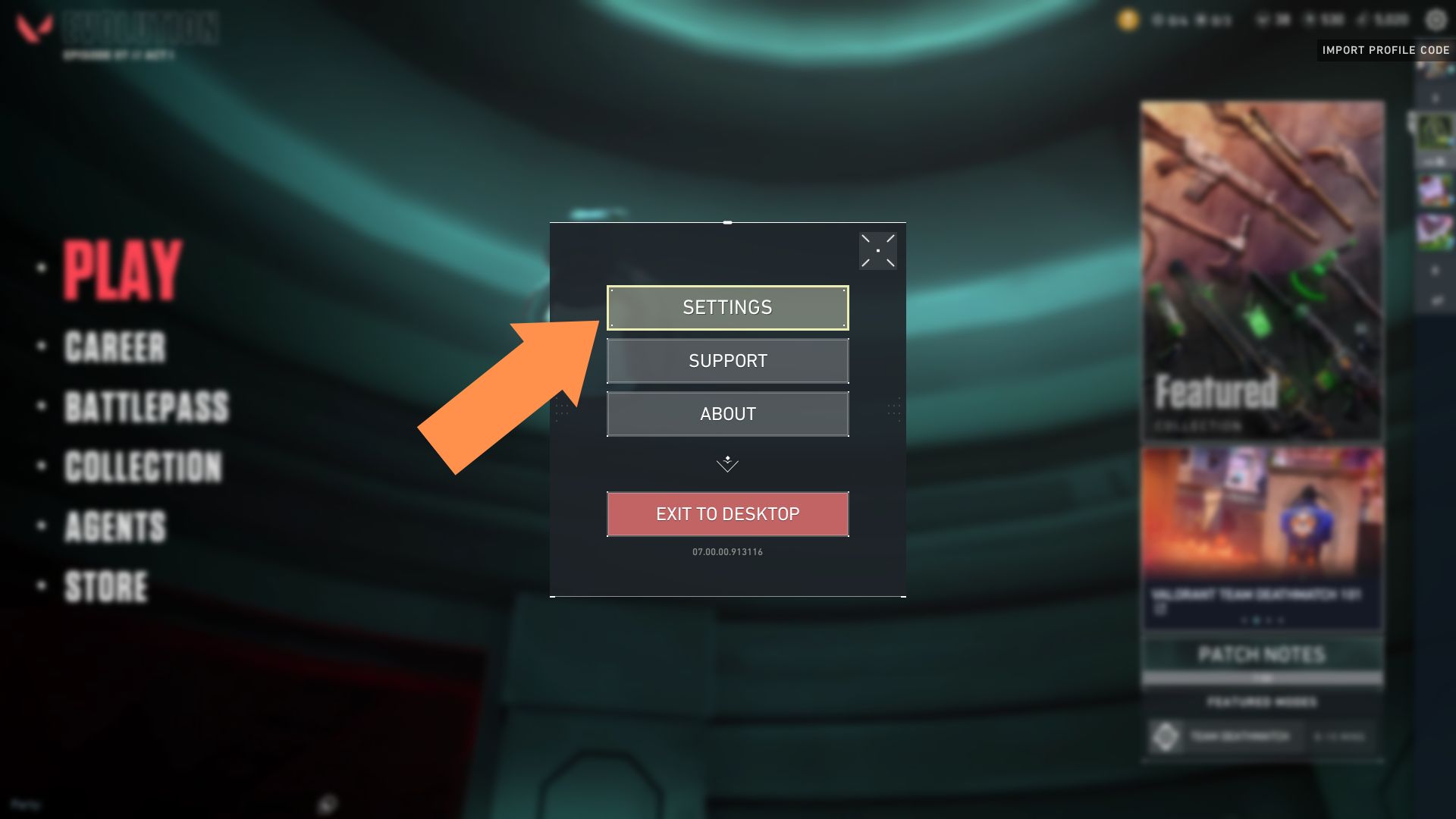 3. Click on the Crosshair tab.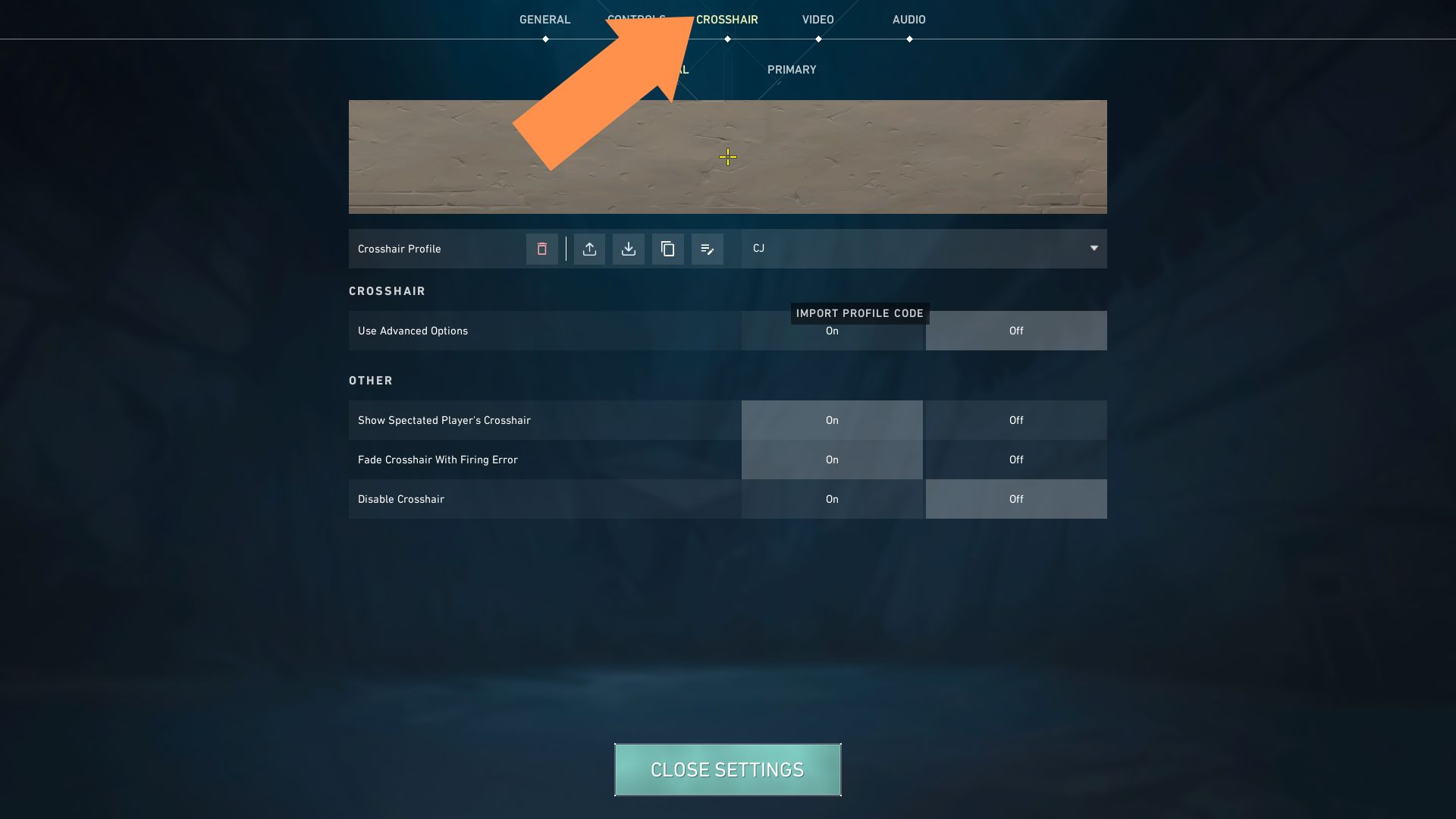 4. Click on the 'Import Crosshair Code' button.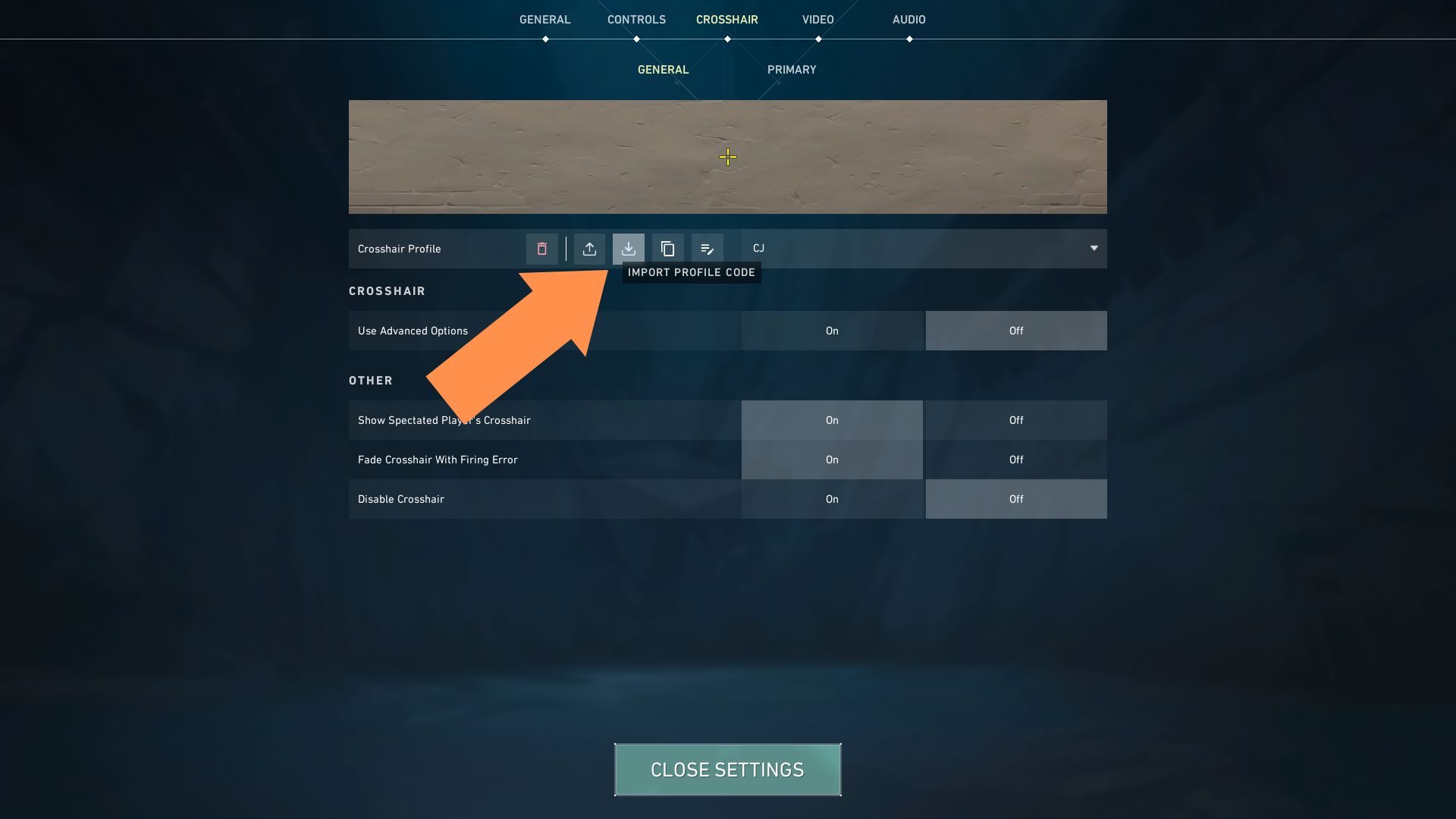 5. Paste the Crosshair Code you want to import. For this example, we will use TenZ's crosshair code.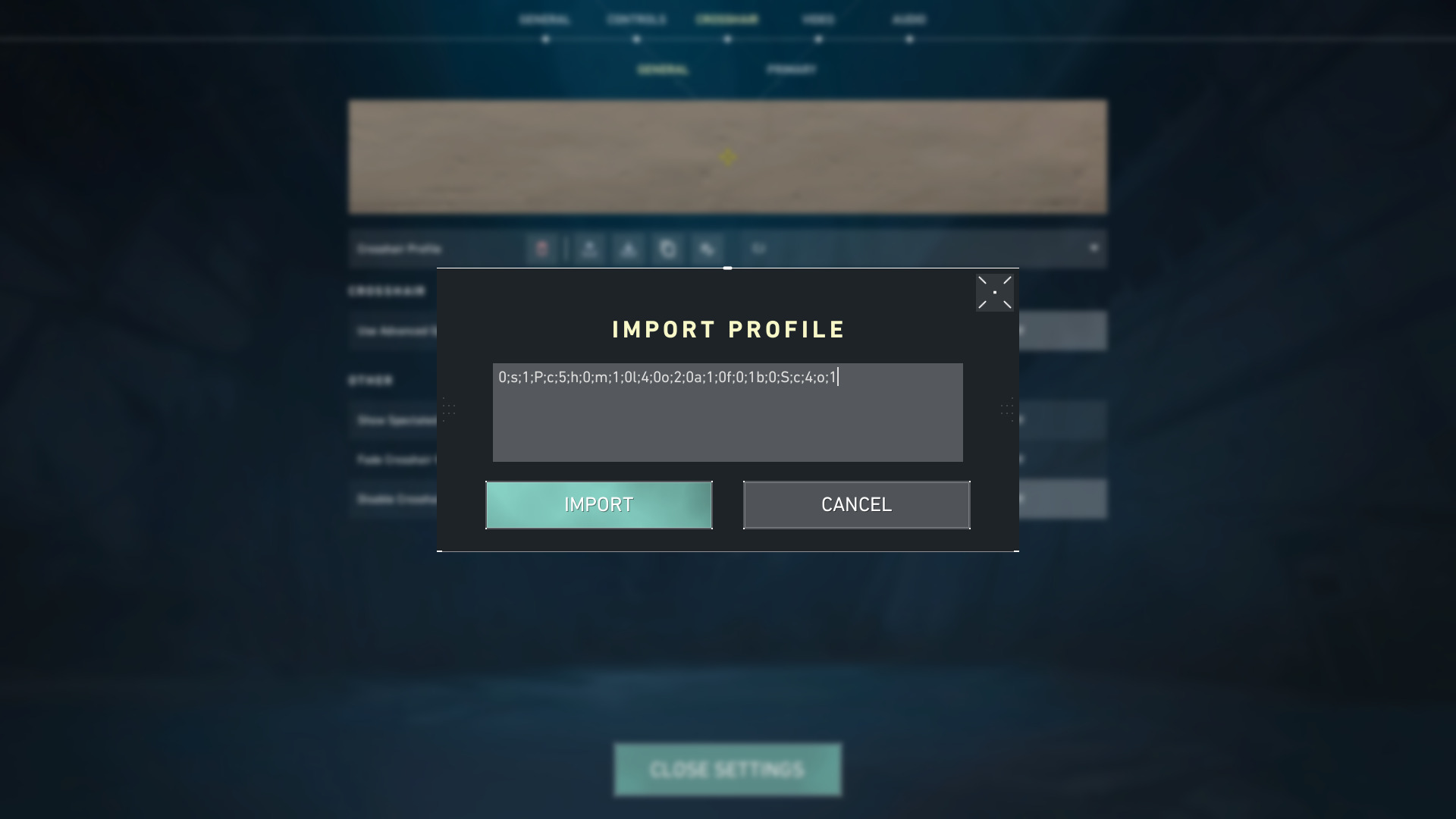 6. The imported crosshair code should now appear as an imported crosshair profile.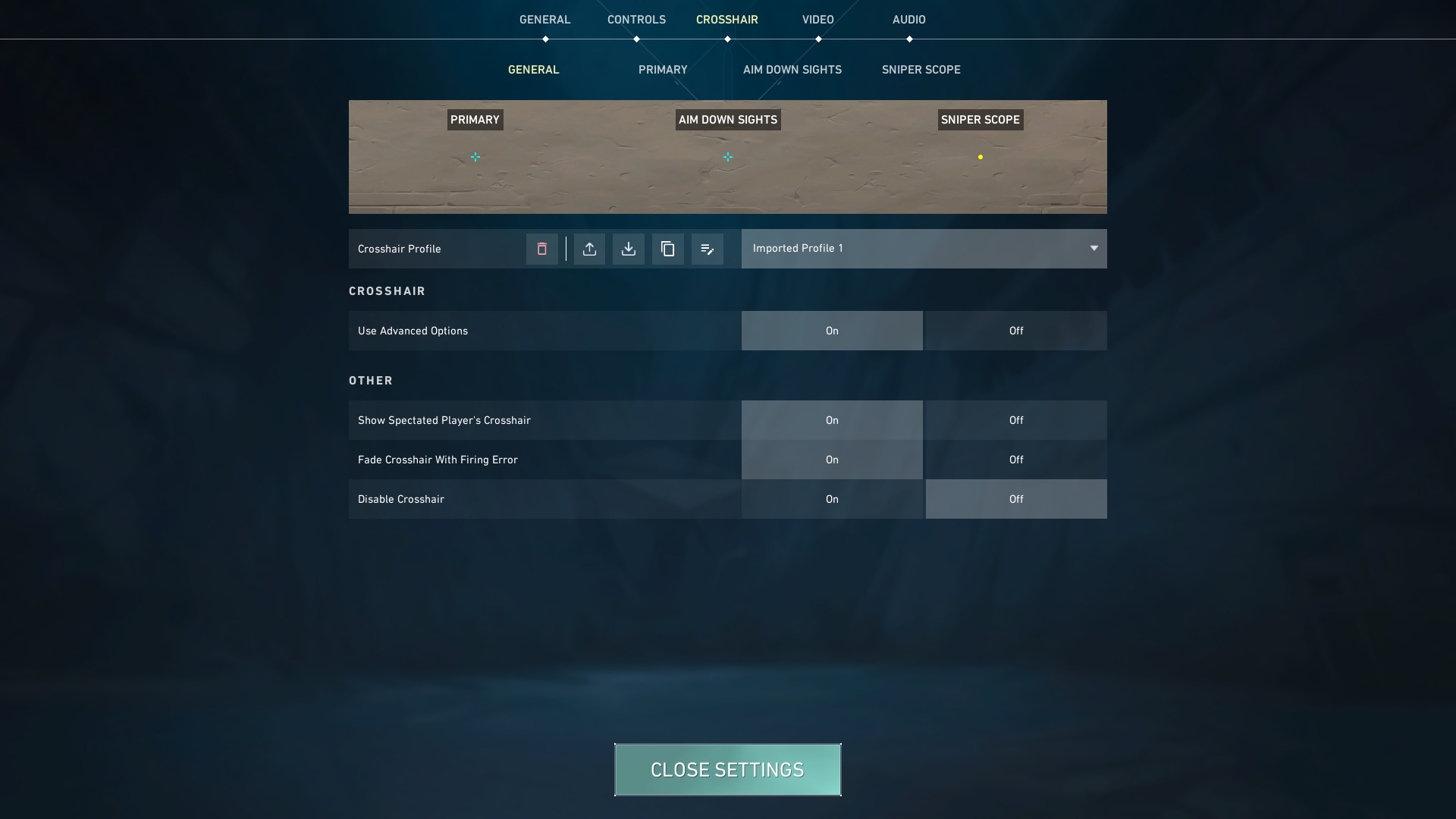 Using the export crosshair option, you can also share your crosshair with other players.
In the Crosshair Settings menu, click on "Export Profile Code:"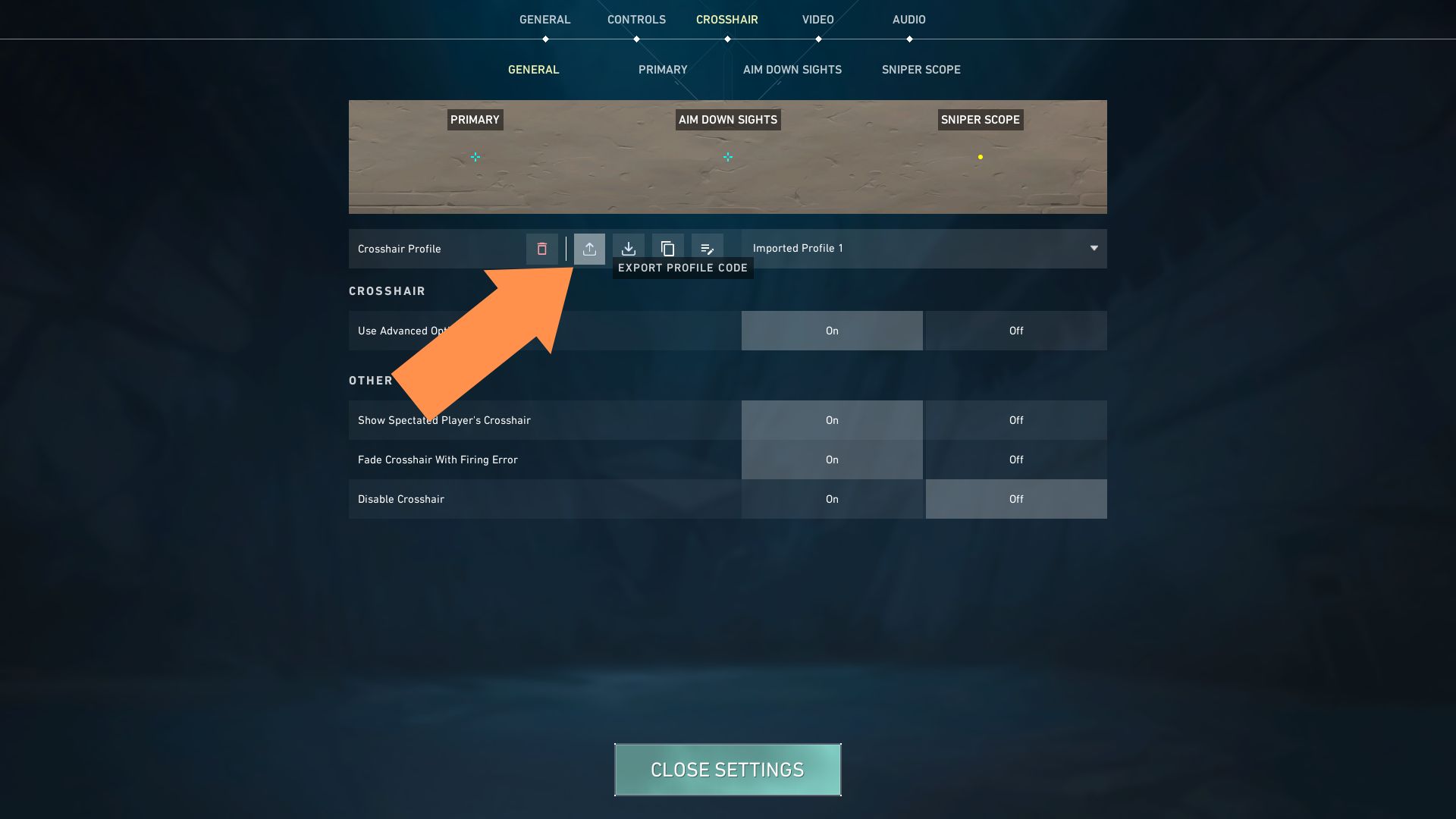 Your Crosshair Code should now be automatically copied to your clipboard. You can now paste the code anywhere you want to share it with other players.
Valorant Crosshair Codes Used By Pros
Copying your favorite pro player's crosshair is easier than ever in Valorant. Follow the guide above to learn how to use Crosshair Codes, then try out some of the most popular pro crosshairs below.
Asuna – 0;P;o;1;0t;1;0l;2;0a;1;0f;0;1b;0
Shroud – 0;P;c;1;h;0;m;1;0l;5;0o;0;0a;1;0f;0;1b;0
Boaster – 0;s;1;P;c;1;o;1;d;1;0l;0;0o;2;0a;1;0f;0;1t;0;1l;0;1o;0;1a;0;S;c;1;o;1
TenZ – 0;s;1;P;c;5;h;0;m;1;0l;4;0o;2;0a;1;0f;0;1b;0;S;c;4;o;1
cNed – 0;P;h;0;f;0;0l;5;0o;0;0a;1;0f;0;1b;0
ScreaM – 0;s;1;P;c;5;o;1;d;1;z;3;f;0;0t;6;0l;0;0a;1;0f;0;1b;0;S;c;6;s;0.949;o;1
Stewie2k – 0;c;1;P;c;4;u;000000FF;h;0;f;0;m;1;0l;5;0v;4;0g;1;0o;1;0a;1;0f;0;1b;0
zekken – 0;c;1;P;h;0;f;0;0t;6;0l;1;0v;4;0a;1;0f;0;1b;0
F0rsaken – 0;P;o;1;f;0;0t;1;0l;1;0o;4;0a;1;0f;0;1t;1;1l;1;1o;3;1a;0;1m;0;1f;0
Derke – 0;s;1;P;u;FFA500FF;o;1;d;1;f;0;s;0;0b;0;1t;0;1l;1;1o;0;1a;1;1m;0;1f;0;S;o;1
How do I copy my TenZ crosshair?
TenZ is arguably the most popular Valorant pro player and streamer in recent years, so it makes sense that many players would want to try out his in-game settings. You can also try his crosshair and see whether adopting the same crosshair can give you immediate improvements in your gameplay.
TenZ's crosshair has remained mostly the same since he started playing Valorant. He uses a simple 4-2-2 configuration in Teal color with no outlines. Copy Tenz's crosshair code below and paste it into the crosshair code section in the settings menu to copy TenZ's crosshair in Valorant.
TenZ Crosshair: 0;s;1;P;c;5;h;0;m;1;0l;4;0o;2;0a;1;0f;0;1b;0;S;c;4;o;1

Easy Crosshair Sharing
Crosshair codes make copying and sharing crosshairs very easy in Valorant. So if you or your friends want to try out each other's crosshairs, just use Crosshair Codes and import/export them in Valorant. Also, check out the quick guide outlined in this article to learn how to copy your favorite pro player's crosshair.