Stinger gets a buff, and Pearl gets optimized for better playability.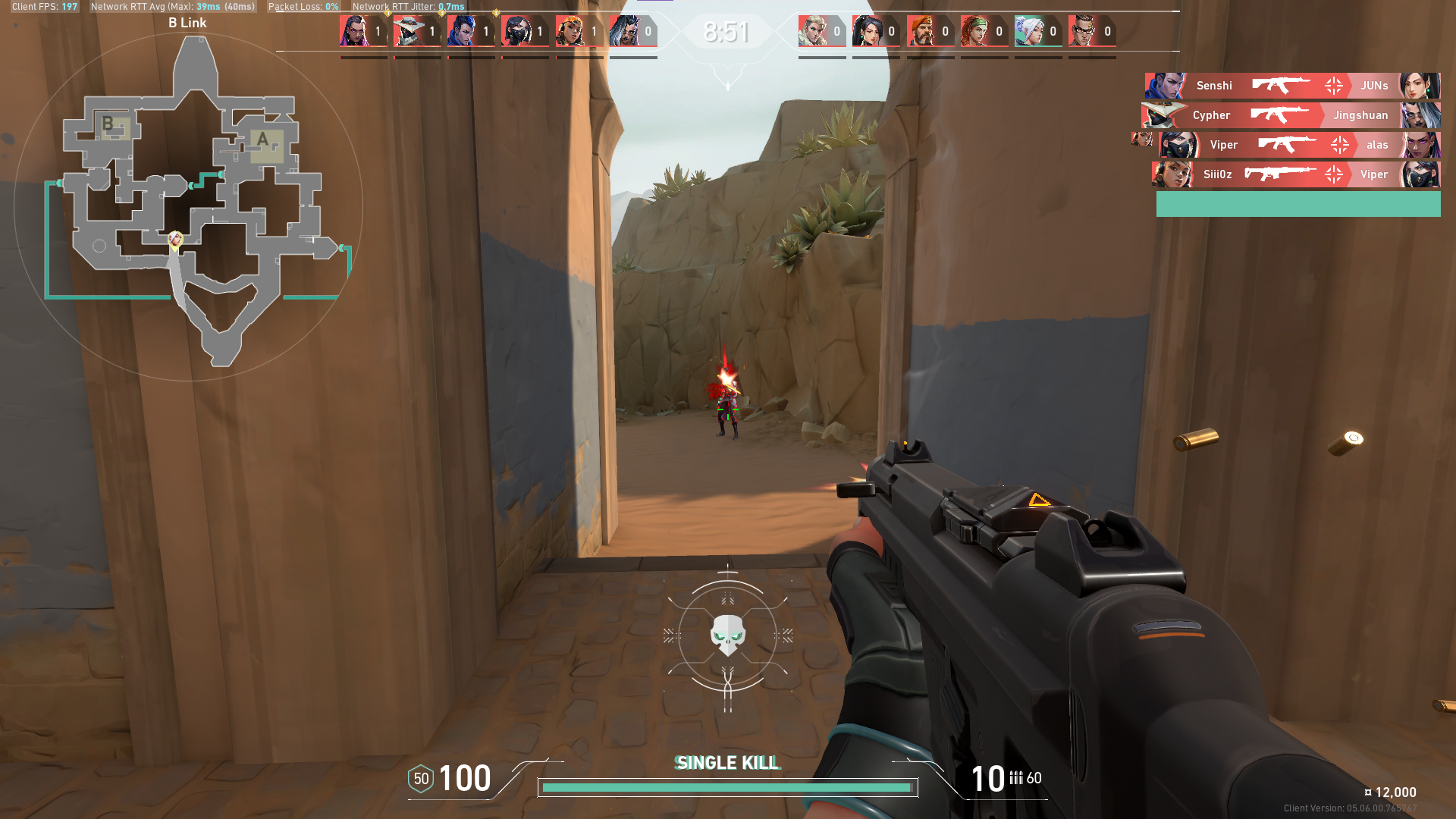 VALORANT's mid-episode update is in the form of Patch 5.06, which introduces a host of changes for the Stinger SMG and the game's latest map Pearl.
Stinger Buff
In the past, an unintended ADS exploit skyrocketed the Stinger's popularity among top streamers and pros alike and made it a formidable gun that can land consistent headshots from long range. This exploit has since been patched, forcing the Stinger down to the bottom of most weapon pick rate lists for a long time.
With the changes Riot Games have given the Stinger in Patch 5.06, the devs are hoping to give the Stinger a more permanent home in the close-range to the medium-range department by improving its accuracy at these ranges in both its Primary Fire and Alt-Fire firing modes.
Stinger
Primary Fire error adjusted from 1.6 error after 7 bullets >>> 1.3 error after 6 bullets.
Alt-Fire first shot error adjusted from .5 >>> .35
The changes to the Primary Fire error values from 1.6 to 1.3 should help make Stinger's bullets more accurate when shooting, thanks to the smaller bullet spread. On the other hand, the Stinger's Alt-Fire mode will also feel much more accurate with its adjusted shot error of .5 to .35.
The devs wanted to make the Stinger more accurate without directly making the gun more powerful by increasing its damage or fire rate. With these changes to Primary Fire and Alt-Fire, players should get more forgiveness and value from the low-cost SMG in-game.
Pearl Map Changes
If you've been playing a lot of Pearl lately, you'll know how many corners there are on the map. This makes gameplay for the Attacking and Defending teams much more difficult, as players will be forced to check or defend many corners on attack and defense, respectively.
The devs say the changes they have given Pearl aim to reduce some complexity and make it easier for attackers and defenders to move through a few areas. They have done this by removing or reducing cover around the map and shrinking a special spot that should benefit controllers more.
Social Update
Disruptive Gameplay-based Behavior Indicator

The devs have introduced a feature that will show at the end of the game screen when players have been detected for engaging in disruptive gameplay-based behavior.
This has been added to the following game modes: Unrated, Competitive, Spike Rush, and Replication, with more game modes to follow shortly.
Bug Fixes
Agents
KAY/O's ZERO/POINT sometimes incorrectly displays enemies that were hit on KAY/O's UI
Social
Fixed a bug where Clutch Mutes would persist after the match ended.
Fixed a bug that prevented you from being able to respond to a whisper by clicking on the Riot ID of the player who sent the whisper in Chat.
Fixed a bug that caused the Social Panel to close when right-clicking into the Friend Note text field.
Fixed a bug where pending invites would not disappear after all friends had left the Party.
Fixed a bug where the incorrect system message was sent when accepting a friend request via the Match Tab in-game.
Some Added Sting and Pearl-like Shine
With Stinger's newfound accuracy, players should expect to see the gun picked up more in-game. Now you can't go wrong with the Stinger's low price and more accurate close-mid range fire.
On the other hand, all the changes that Riot Games have made for Pearl should help make gameplay more fluid on the map. With fewer corners and cubbies to check, site entry and defense should be more straightforward, leading to faster and more exciting rounds on the map.
It will be interesting to see how to community responds to the changes Riot Games made with the Stinger SMG and Pearl for Patch 5.06. What do you think about the changes?
Visit the PlayerAssist website for more Gaming Guides, Gaming News, Game Codes, and other Gaming Content!