Are you tired of fighting games that contain too much violence? Do you want to take a break from horror games that keep haunting you till you sleep? Well, let's show you an alternative.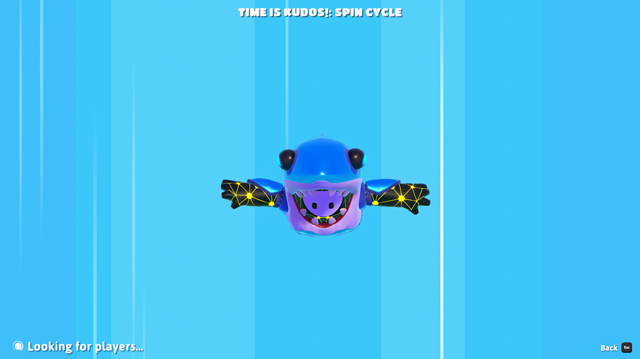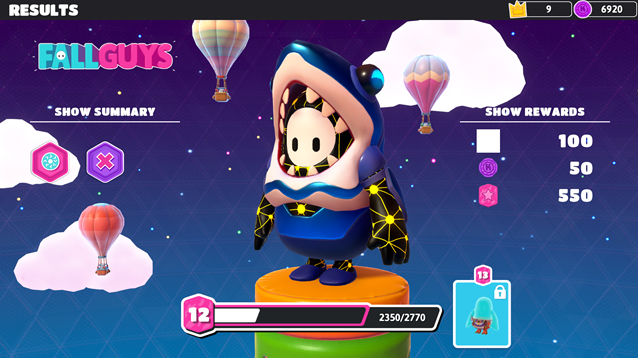 Fall Guys is a race-type battle royale video game with 60 players per room, and these players race to the finish line. It may seem simple, but there is more to it than it looks. Fall Guys has prepared different stages for each round, with each stage containing a specific number of players who will proceed to the next round. The stage is decided randomly by a computer. Obstacles and challenges are expected as you all run towards the end: from giant balls coming towards your way to wide gaps requiring an excellent long jump. Moreover, the game can be played by a team or squad with four players each. Let us tour you around this exciting game, shall we?
Show Selector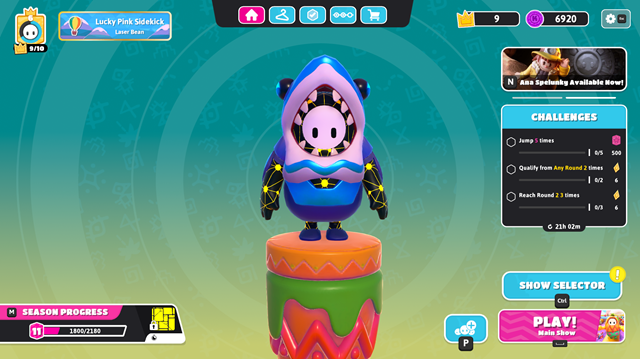 On the Home Page, you will see the Show Selector tab in the bottom right of your screen. This will provide you with options on which mode you want to participate in. You will choose between Main Show, Squad Show, Squads Trios, and recent special show: Time is Kudos!: Spin Cycle. Note you can select all four (4) and let the computer randomly assign you. Main Show is the primary game mode. This show may be played either solo or with a squad of at most four players. The goal in this mode is to reach the finish line to qualify to another stage. If you play with a squad, only members of the group who make it to the cut-off will proceed to the next round. At the end of this show, only one (1) contender can win. If you and your squad are the remaining players in the final stage, you will have to battle one another. There can only be one!
On the other hand, Squad Show requires more teamwork since your fate will be decided as a group. Even if you did not finish the race, as long as your squad members managed to make it to the end, you might still proceed to the next round. This is a good show for those who are just starting to play. Friends can help you out as you familiarize yourself with the obstacles and challenges. The disadvantage in this mode is even if you finish the race but your squad members did not, you will still be disqualified. All for one, one for all, eh? Moreover, if you play this solo, you will be teamed up with random players to become one squad. The same thing goes for a squad of two or three; the empty slot will be filled with a random player. Next, Squad Trios is the show for a squad with only three (3) players, and you do not want a random player to join your steam. Just like in Squad Show, the same rules apply to Squad Trios. You can play in every round as long as your squad qualifies for each. Lastly, Time is Kudos!: Spin Cycle is a special show/event where all stages contain spinning obstacles. If you are good at timing, this is perfect for you. Jump away!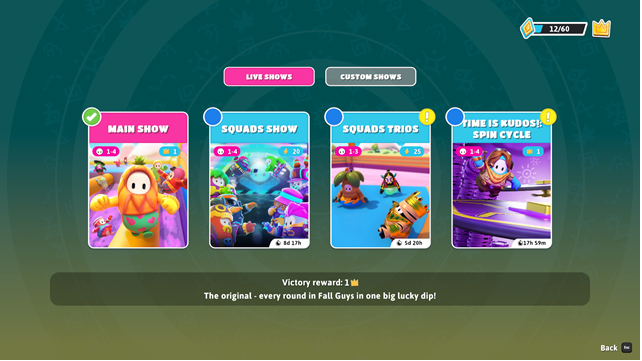 Custom Shows
If you have more than four (4) friends and want to play this game together, you may do so by hosting a custom show. Just click on the custom shows tab beside the live shows, as shown in the photo below. You may either host or join a private room. Each stage will require at least four players to proceed. Go and gather your friends! This will be crazy fun!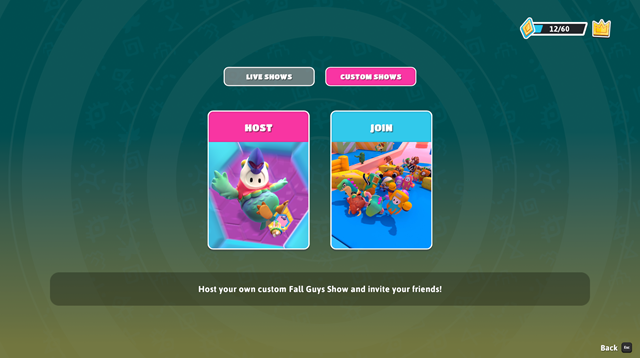 Dress 'em, Wear 'em
Like in any other game, you may customize your avatar. Go to the right tab of the home page found above your screen. This tab will show you Outfits, Theatrics, and Interface. Click on the Outfits tab.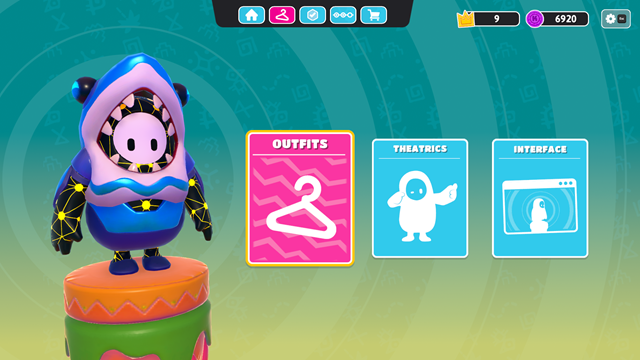 You may change the color, the patter, the face, the upper, and the lower parts of your character. If you are new to this game, you may not find many options for design. Do not worry; you will receive new designs every time you increase your level. Your level increases as you gain experience from each game. So keep playing!
Rewards
This section is reserved for claiming rewards. You gain each gift as you reach the level indicated below it. Equipping any costume gift may be done in the outfits section. Other rewards may be crowns and tokens. Both of these are used to buy more accessories in the shop.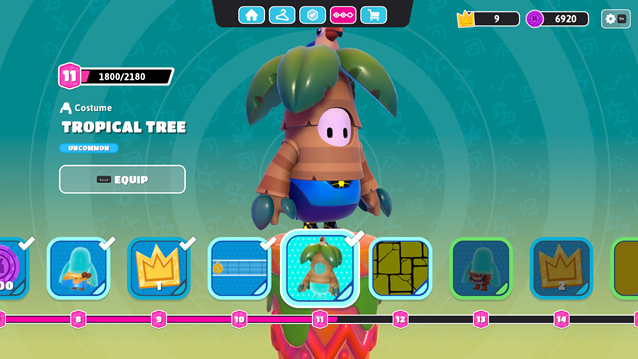 The Shop
The items in the shop are not free and are bought using the crowns and the tokens you earn in the game. The shop is also where cooler costumes can be acquired. You will earn tokens and crowns in each game you play, but you will earn even more if you are the champion. If you are not great at the game, another way to earn tokens is by purchasing them from the Store. Select DLC Store and Get Kudos to buy them.

The shop has more unique clothes and costumes, with many not available in the Rewards section. Acquiring these would let you stand out in each game you and your friends play. So be sure to win as many games as possible!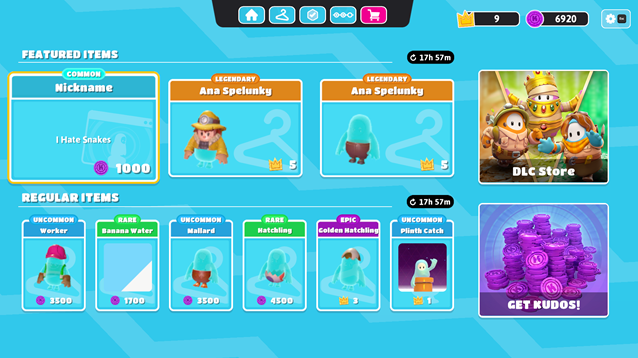 If you are looking for a wacky and funnier game to play with your friends, we suggest you try this! The graphics are high-definition and look like a colorful arcade. In this multiplayer platform, you can be clumsy and competitive at the same time.

There you go, Fall Guys! Would you like to try to dress up for the game? Which stage did you like best? Let us hear your stories. Share them with us in the comment section!
BONUS: Below is some sample screenshots of the game.