The fun little heavy equipment makes a special return to the Grand Theft Auto franchise.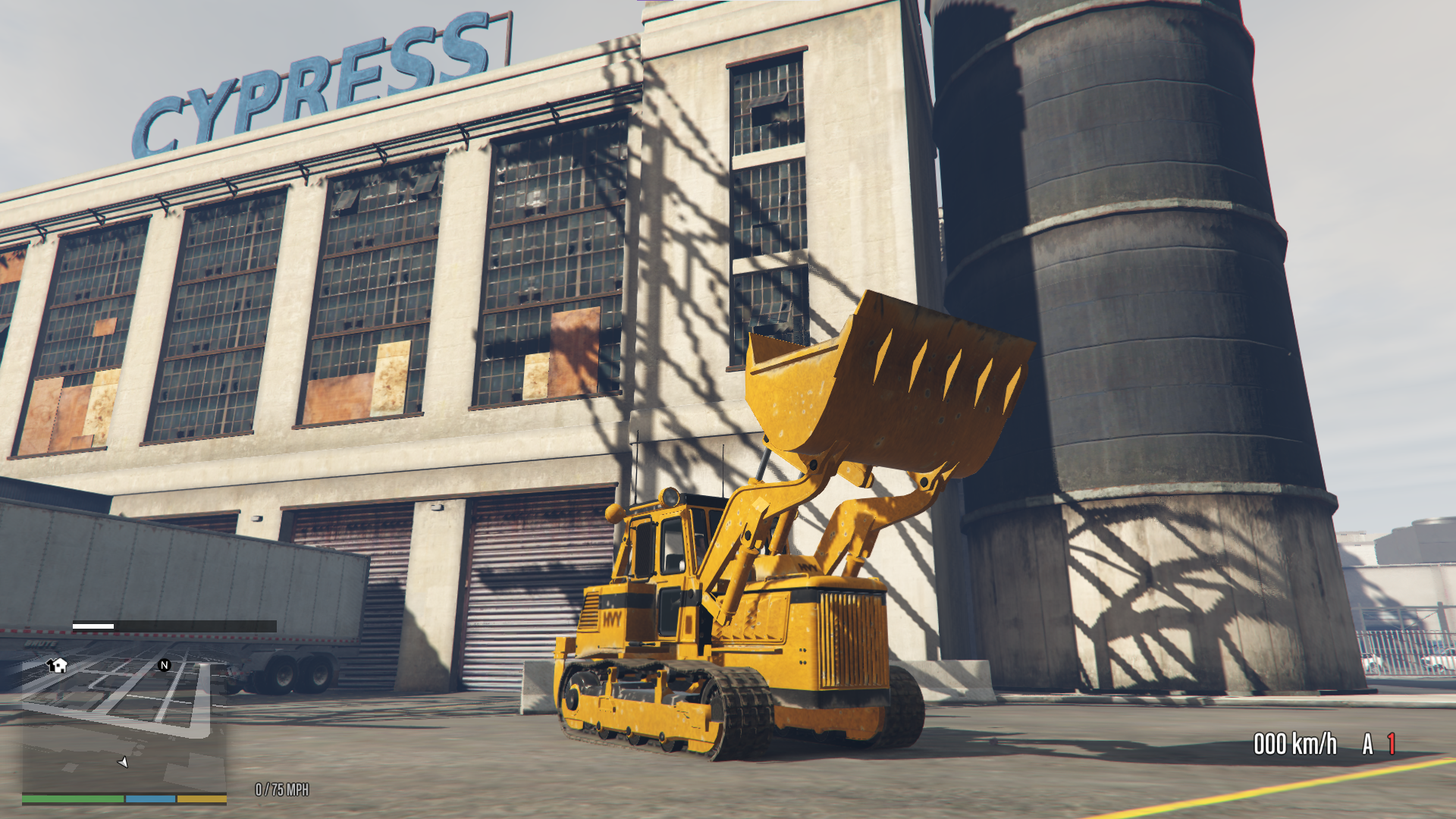 Super-fast cars aren't the only vehicles worth messing around with in GTA 5. There are many other interesting vehicles that players can get in and enjoy in Los Santos, such as choppers, garbage trucks, and even bicycles.
One of the more fun and memorable vehicles in the Grand Theft Auto franchise is the humble Bulldozer, which players can use to lift and flip cars around and scoop up random pedestrians around Los Santos.
Read on to find out where you can spot the Dozer in GTA 5 Story Mode.
Grand Theft Auto V Dozer
The Dozer returns in GTA 5 from Grand Theft Auto: San Andreas, albeit with a few key changes.
First, the Dozer in GTA 5 is now a Caterpillar 963D-based tracked loader built by HVY with a worn-down yellow paint job. Previously, the Dozer was a green-colored four-wheeled bulldozer based on the much older Caterpillar 980B in Grand Theft Auto: San Andreas.
The Dozer is one of the slowest vehicles in-game – even slower than traveling on foot. Players can expect a very low travel speed for the Dozer in GTA 5 due to its immense size and weight. By extension, the Dozer in GTA 5 does not have enough torque to push vehicles away and will only slow down the Dozer's already slow travel speed even more.
Other features include a fully-working concave scoop that players can control and use to lift reasonably sized vehicles in GTA 5. The Dozer's scoop is powerful enough to flip a Rhino Tank from specific angles, which means the Dozer can easily lift or flip other less hefty vehicles in the game as well. With enough skill, players can even scoop up random NPCs and trap them in the Dozer's scoop for the giggles.
GTA 5 Bulldozer Locations
GTA 5's Story Mode features a few missions where players can use the GTA 5 Dozer. These missions are:
The Paleto Score
Lamar Down
Mr. Philips
A random event at the Downtown construction yard where the player has to save the stuck truck driver with the Dozer.
Other than these Story Mode events, the player can travel to any sites below to find a Dozer.
Los Santos Construction Sites
Some construction sites in GTA 5 will have a Dozer either parked or driving around the site. Walk up to the Dozer and drive it away like any other vehicle in the game. The Redwood Lights Track is one of many construction sites in Los Santos.
Redwood Lights Track
Davis Quartz
This prime mining location will also feature a Dozer in the area.
North of Los Santos International Airport
Players can find a Dozer parked beside one of the farthest hangars of Los Santos International Airport.
Cypress Flats
One of the heavy equipment garages in Cypress Flats can spawn up to four Dozers at any time.
Slow and Heavy… But Fun!
With the GTA 5 Dozer, players can flip cars, collect random objects, and even scoop up random pedestrians for some quick giggles.
Now that you have a good idea of where these little wonders spawn around Los Santos, all that's left is for you to travel to these locations and board the Dozer for yourself. Trust us, the trip to any one of these sites will be worth it.
Visit the PlayerAssist website for more Gaming Guides, Gaming News, Game Codes, and other Gaming Content!