Michael makes amends with his family.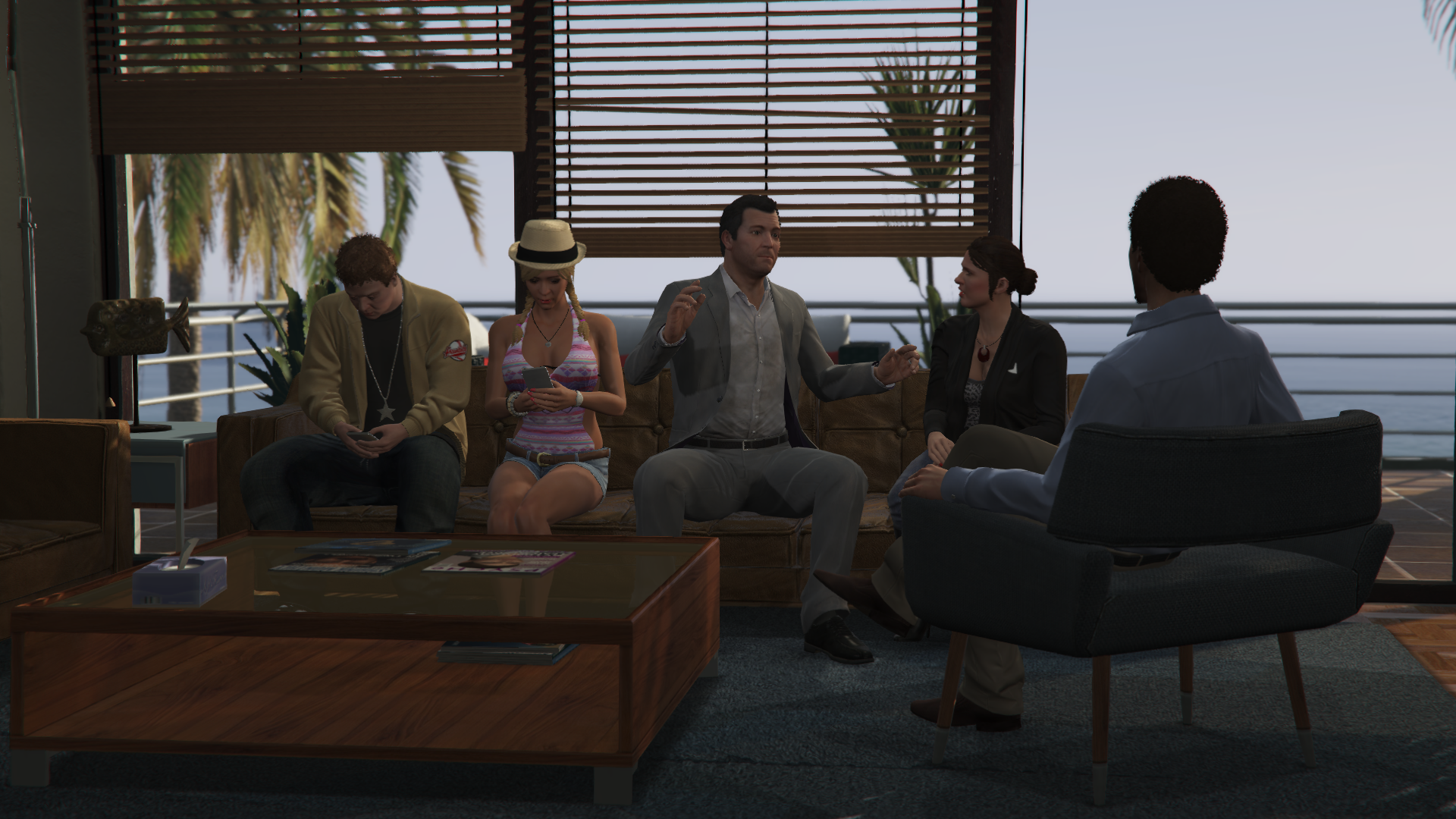 Michael's family affairs have not been in their best shape since he escaped from North Yankton with Amanda. And with Trevor appearing out of nowhere recently, Michael's relationship with his family went from bad to worse in weeks.
In Reuniting the Family, Michael attempts to bring his wife Amanda and his daughter Tracey back home with the help of his awkward yet surprisingly reliable son Jimmy.
We have outlined everything you need to know about Reuniting the Family in this guide and how you can get a Gold Medal from completing the mission in GTA 5.
Reuniting the Family Synopsis
Michael arrives home a night after a long day out in the city. Michael drinks and watches a movie in his living room, all alone. He eventually falls asleep in the living room.
With Michael asleep on the couch, Jimmy watches him from the living room entrance. He calls his dad with a simple "hey," which startles Michael into waking up. Jimmy apologizes to Michael for spiking his drink and explains how he is just sick and tired of seeing Michael miserable and drunk all the time.
Michael understands what Jimmy is trying to tell him and thanks him for being honest. Jimmy asks Michael if he can buy him a car and promises to get a job and stop smoking as soon as possible. Michael tells Jimmy he loves him, but he also tells him to get a job because Michael does not have the money to buy him a car at the moment.
With the awkward stuff out of the way, Jimmy tells Michael it was good catching up with him and starts walking away. Michael stops him short and asks how his mom is doing. Jimmy tells Michael that Amanda was out sleeping with another guy who's a younger and better built, caring, and compassionate man than Michael. At first, Michael is angered by how Jimmy compares his dad to Amanda's fling, but Jimmy quickly explains that he was trying to wind his dad up.
Jimmy also tells Michael that Amanda is only doing this because she is mad at Michael and she is scared of the thought of Michael dying and that Amanda is only doing this because she wants Michael to care.
Michael and Jimmy head to the Bean Machine to pick up Amanda on a date with her yoga coach, Fabien. After Fabien insults Michael and Jimmy, Michael looks Fabien in the eyes and tells him to show Amanda some respect. Michael holds back at first, but Amanda tells him to smack Fabien already, which Michael does with pleasure.
Jimmy does his best to explain how Michael feels toward Amanda. Amanda acknowledges Michael's efforts, so she invites them to Dr. Friedlander's office for a family therapy session. Michael agrees.
Jimmy and Michael drive to the nearby tattoo parlor where Tracey is to pick her up. As soon as they arrive, they find Lazlo trying to convince Tracey to do favors for him to get another shot at TV notoriety.
Michael cuts their conversation short and tells Jimmy to take care of the tattoo artist while Michael does some custom work for Lazlo himself. Michael pierces Lazlo in three different spots and inks him on his chest or back (depending on the player's choice) before finally cutting off his signature ponytail.
Jimmy, Michael, and Tracey get in the car and meet Amanda at Dr. Friendlander's office. With the cosmetic work done, Michael tells Lazlo to give Tracey the shot she deserves. Lazlo agrees.
At Dr. Friedlander's office, Michael and Amanda get into a heated discussion about their differences. After the therapy session, Michael and Amanda agreed to try their best and settle their differences.
Michael drives his family home after a long day out in the city. Amanda tells Jimmy and Tracey to head to their rooms and check for dead bodies, cheap women, or their uncle Trevor. If they find any three, Amanda says they will leave the house and check into the Rockford Hills Hotel.
Reuniting the Family Gold Medal Objectives
Time: Complete within 10:30.

Cutscenes will take up a majority of this mission's time requirement. Skip all the cutscenes to complete the mission with a Gold Medal.
Reuniting the Family Mission Guide
Get in Michael's car and drive to the Bean Machine just a couple of blocks from Michael's house.
Walk to the yellow marker to start the cutscene at the Bean Machine. Remember to skip this cutscene to save time.
Next, head to Tracey at the tattoo parlor.
Piece Lazlow in all three spots.
Move your mouse or joystick to the designated positions shown onscreen.
Cut off Lazlow's ponytail.
Go to Dr. Friedlander's office.
Skip the cutscenes here, as these take a bit of time.
Drive back to Michael's house.
Reunited At Last
With Michael's family reunited, all that's left is to complete the final score on the Union Depository with Franklin, Trevor, and Lester.
Reuniting the Family is one of the easiest missions to get a Gold Medal in GTA 5. There is only one Gold Medal objective for this mission, and that is the Time requirement, which you can easily complete by skipping all the cutscenes in the mission.