In Hades, as you know, you can unlock aspects to get some different effects and buffs on your weapons. There are four aspects and one of them being hidden.
The Exagryph or the aspect of Lucifer is a hidden aspect of the Adamant Rail weapon. It's the highest upgrade you can get on a Rail. That's why it is so important to know how to unlock the Lucifer aspect.
Thankfully, we are giving you a detailed guide on how to upgrade the Rail to the fourth aspect below.
How To Unlock Exagryph: Lucifer's Aspect In Hades
You would be joyous to know that your affinity with these characters does not affect unlocking the 4th aspect.
This aspect gives you Igneus Eden, which will launch Hellfire to your enemies. Damage-wise, you can expect to get 50-100. On top of that, it causes a burn effect, which does 20 damage per second.
And here is how you get the fourth aspect?
Unlock the aspect of Guan Yu.
Put in at least five Titan's Blood into any Rail aspects.
Then you will need to find Zeus after that, who will instruct you on what to do next.
This can be tricky because you will have to have progressed to a certain point in the game. Just try until you get this dialogue with Zeus.
The four aspects for the Adamant Rail are:
Zagreus Aspect
Eris Aspect
Hestia Aspect
Lucifer Aspect
You can upgrade each of them up to five levels. You do this by investing Titan Blood in a particular aspect.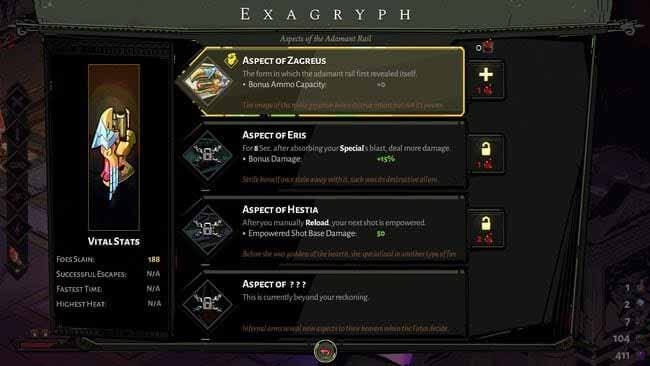 These do not change the physical appearance of the weapon. Instead, increase its stats and bonus effects.
For the Lucifer aspect, you will need a total of 15 Titan Blood to get it to the highest level. If you are doing a Gun build, then upgrade all of the aspects to their highest level. Good luck, Zagreus!
RE