Twitch still leads the pack, while other streaming platforms like YouTube Gaming and Mixer exist. Streamers can interact with their viewers through the chat feature. They can earn followers and subscribers like many other social media and streaming sites; only this world is mostly about gaming.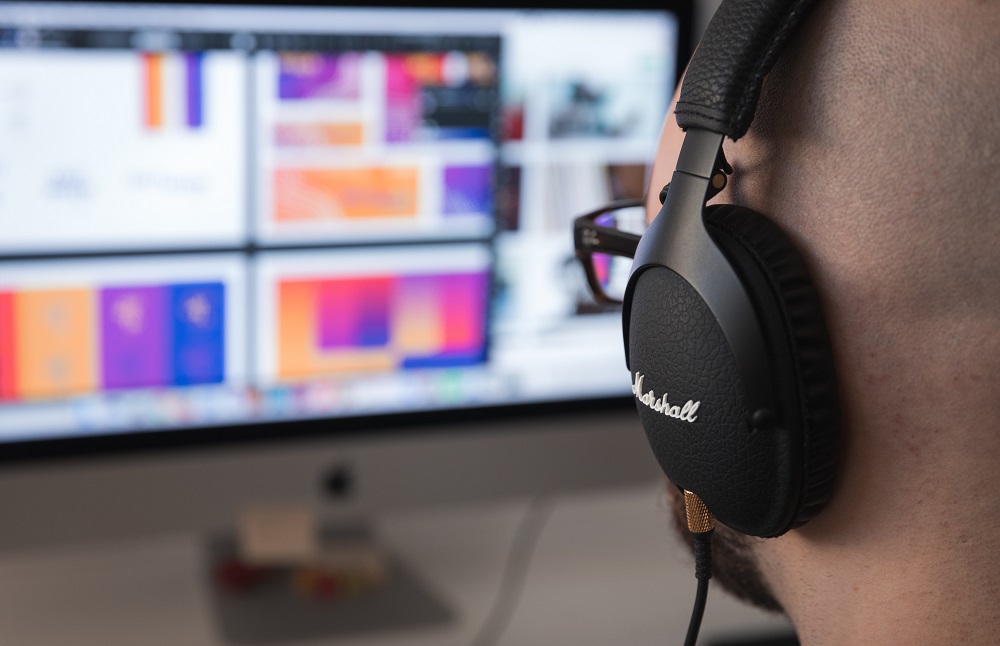 You can make a lot of money using Twitch, but you must also be good at the game you are playing and interesting enough to engage your viewers in the chat section. Over time, as you build up your audience, you'll become more and more successful on the platform.
But how do you know how many viewers you have? How can you see all your viewers on Twitch?
The following article will explain how you can check your Twitch stats to determine how many viewers you had during a live session. The tool is a good gauge of what works and what doesn't and can help you perfect your future streams.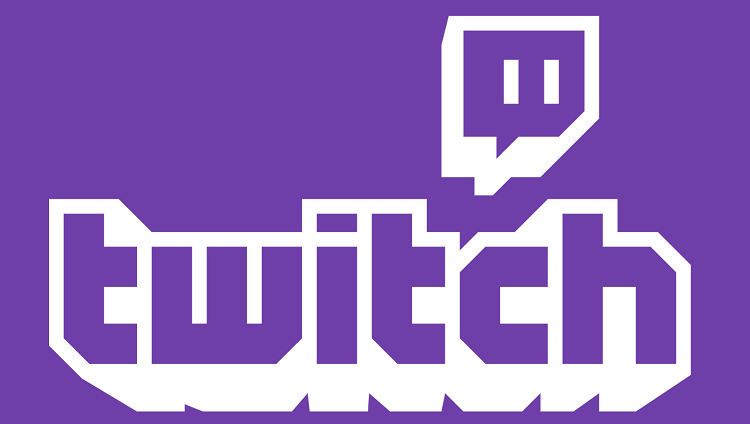 The Viewer List
The "Viewer List" shows you a list of people connected to your chat. You can only see registered Twitch users, including those that are inactive at the moment. The tool will remember all users who visited your channel at least once. You can check the report by clicking the button next to Settings at the bottom of the chat.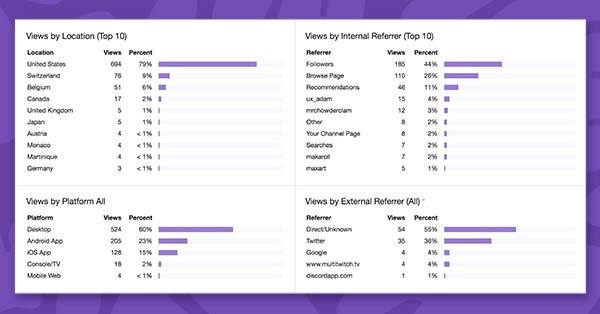 This report does not indicate your total viewer count, though, as it does not account for viewers logged out of their Twitch account.
How to Check Who Is Watching You on Twitch
To check who is watching you on Twitch, look at the icon at the top right of the chat section that looks like two stick figures. This section will show you every person in the chat. You'll see their usernames, as well as their category, like "Broadcaster," "Staff," and "Moderators."
To see the total number of viewers in the stream on Twitch, just look at the red number directly underneath. As you can see, 28,272 people are watching in the screenshot below: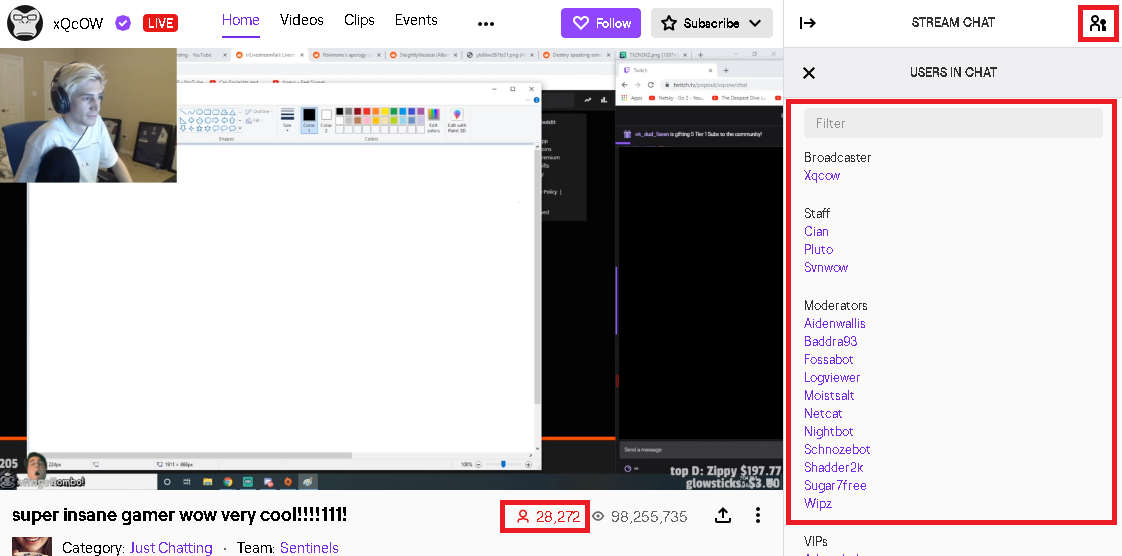 How to Check Your Analytics
Checking your Analytics is simple yet important to your growth on the platform. Analytics show the demographics of the people who enjoy or follow your content.
Every creator can check their analytics by visiting their dashboard and logging in. Then, do this:
Click Insights.

Click Channel Analytics on the left side.

Review your analytics.

Use Twitch Stats to Up Your Game
The Channel Analytics tool on Twitch can help you understand what your viewers like. You will get a full list of stats, including the average time a viewer spends, your maximum viewer count, the time you spend streaming, and much more.
Read: How To Get More Viewers on Twitch
Here is the full list of available stats:
Average Viewers: The average number of viewers who watched your entire stream

Live Views: The total number of viewers you had while streaming

New Followers: The number of viewers who visited your stream for the first time

Max Viewers: The maximum number of viewers for a single stream

Unique Viewers: The average number of viewers based on the device they used (laptops, phones, pc)

Minutes Watched: The total time viewers spent watching your stream

Average Stream Length: The average duration of your stream

Time Streamed: The total time you spent streaming for a specific period

Average Chat Messages: The average number of messages you receive during a stream
These categories can help you determine which stream had the biggest viewer count. You can then focus on streaming the games with the best results and stop or "fix" the unpopular ones.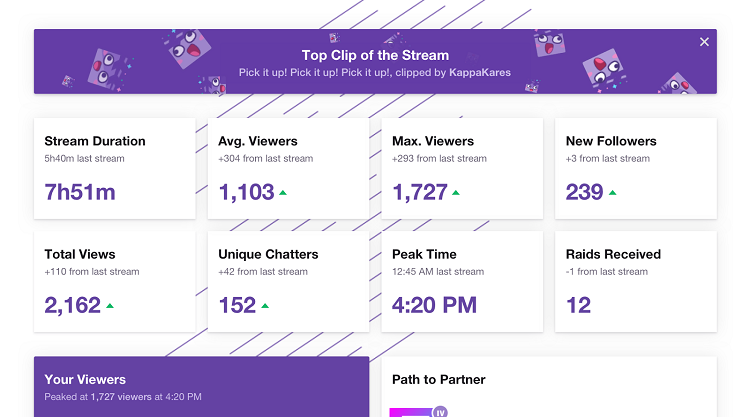 Other Metrics
There are several additional metrics that Twitch users can utilize to improve their streams and better understand their viewers. Here are a few of those essential metrics.
Viewer Origin
It's good to know their access location even after discovering how many viewers you had for a particular stream. That will tell you which part of your channel needs additional work. For example, if many viewers came from the browser page, your streams' titles work well. Otherwise, you may want to rethink those titles to draw more views.
Viewers from Channels
This category tells you the number of viewers that watched your stream coming from another page. Generally, the number of viewers came to your channel through the sidebar of another one.
Viewers Outside Twitch
You can see how many viewers came from outside Twitch, including those who used your URL and those from other platforms like Medium.
Summary of Every Stream
You can check your stream summary for each "formerly" live session. It will show you how many views you got when visits peaked, the duration of your live video, and other useful information.
The Most Important Stats to Consider within Other Metrics
How can you know which stream is the most relevant to your success with so many details available?
For some, the Average Viewers category is the most relevant one. Other users might find the Total Views or Max Viewers the most helpful stats. These reports can give you valuable insight into your viewers' likes, dislikes, and behaviors.
Use What You Learn to Attract More Viewers
To be successful on Twitch, you'll need to track your stats for some time before you get everything right. Change the parts that didn't yield the desired results and keep the ones that helped you raise your viewer count.
It's a slow process that requires planning and timely execution, but you can truly become an achieved Twitch streamer if you find the right formula. Don't give up, and the results will follow. You can also see how many Twitch subscribers you have, which helps boost your success as well!
Try this one if you want a microphone that works wonders for your Twitch stream. Not only is the quality excellent for the price but the included pop filter also helps your viewers hear less background noise.
Frequently Asked Questions
Can I see everyone who is viewing my stream?
No, unfortunately, Twitch doesn't support such an option. You can see who is viewing based on the chatbox, but it only shows those connected through chat, not those who haven't logged in.
What are Twitch Live Views?
This indicates how many users viewed your content while it was being streamed.
How can I see who's following me on Twitch?
To see your followers navigate to the Creator's Dashboard and click on 'Channel.' Scroll down and click on 'Followers' to see the list. Twitch has released many updates recently so that you may see a 'Followers' tab under the main menu in the Creator's Dashboard.