What better way to end the year than with free in-game items?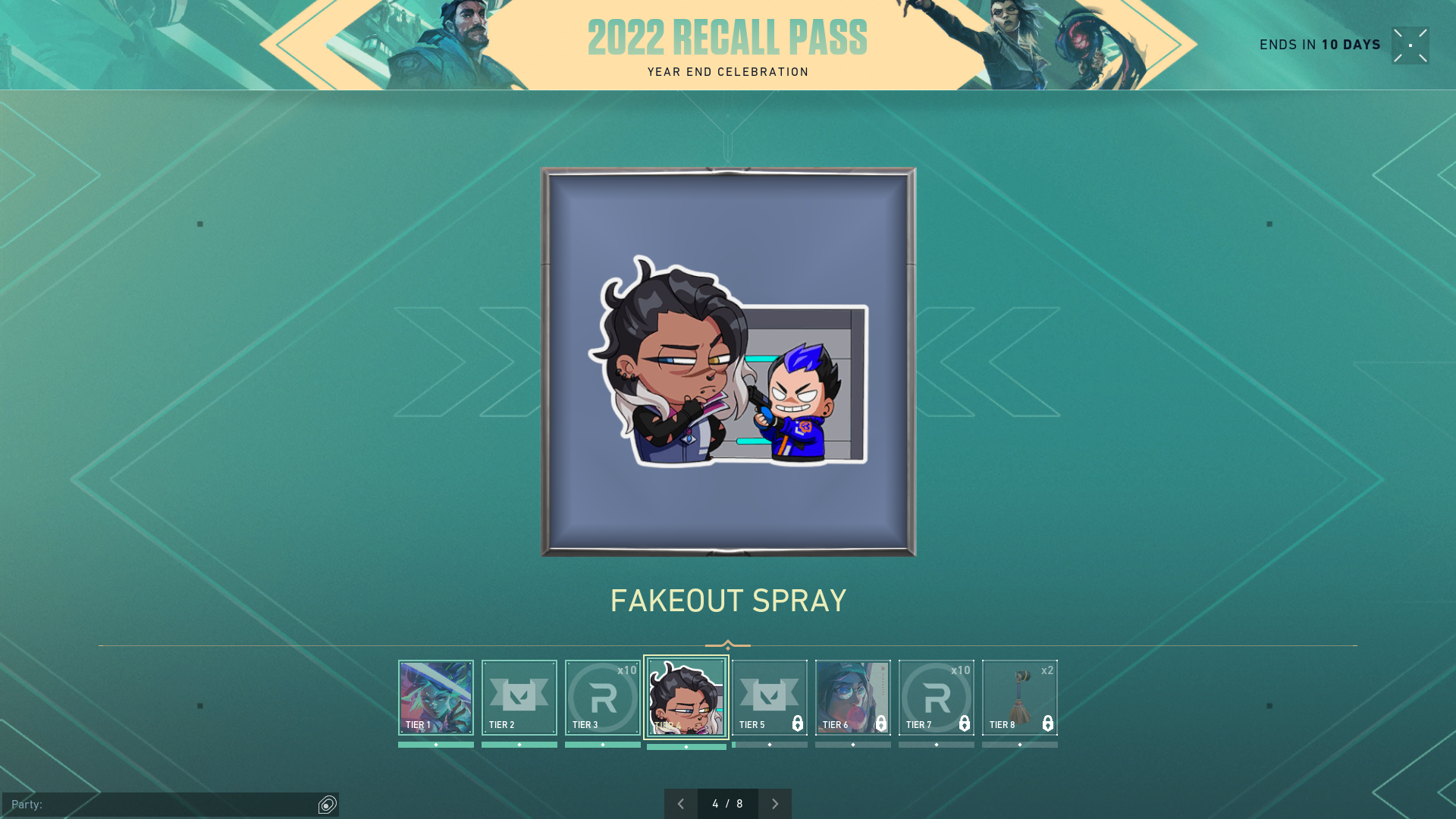 2022 was a great year for VALORANT thanks to a number of new Agents and Maps which gave VALORANT a fresh new feel and added exciting new gameplay characteristics compared to last year.
Fans got to play a number of new Agents in the lightning-quick Neon, the enigmatic Fade, and the defensive-minded Harbor. And while the game had to say goodbye to a classic map in Split, the devs gave the community a worthy replacement with Pearl.
To celebrate VALORANT's amazing year, Riot has released the Recall Event Pass for VALORANT, featuring easy challenges that, when completed, will reward players with exclusive in-game cosmetics such as free Player Cards, Gun Buddies, Sprays, and more. Riot Games is also running a limited-time XP boost event called Squad Boost for players and their friends to enjoy.
We have outlined everything you need to know about the VALORANT 2022 Year-End Specials including how you to claim the rewards for
VALORANT 2022 Recall Event Pass Rewards
The VALORANT 2022 Recall Event Pass is a year-end celebratory event that the devs throw out every December. This year, players can get the following rewards from the Recall Event Pass:
Walis Tambo Gun Buddy
Fakeout Spray
Episode 4 Disruption Card
Episode 5 Dimension Card
Disruption Title
Dimension Title
20 Radianite Points
All the rewards listed above are free and only require players to play at least one match of any game mode in VALORANT. Play eight games in total to get all the featured rewards.
The event runs from December 14 to January 4 at 4 PM PT.
Squad Boost
The devs know a lot of players will be off from work or school for the holidays. To make their VALORANT games sweeter, the devs decided to give extra XP for completing matches played with friends in VALORANT.
Duos: +8% bonus XP
Trios: +12% bonus XP
Party: +16% bonus XP
Full Squad: +20% bonus XP
If you want to get as much XP as possible, team up with at least 3 friends and play as many matches as you can while the event is up. The Squad Boost Event will only run from December 14 to January 14 at 4 PM PT.
Happy New Year VALORANT
The VALORANT team ended the year with a bang with the final patch of the year, which included a number of Agent ability changes, and nerfs to one of the most polarizing Agents in the game in Chamber. All those changes in the previous patch will paint a 2023 meta that looks very different from the outgoing year but we're positive that Riot Games has made changes that will change the game for the better.
With that said, play tons of games with your friends or loved ones this holiday to unlock all the items in the 2022 Recall Event Pass and gain a free bonus XP from the Squad Boost event.