When you combine blockchain technology and strange creatures in a game, you get Axie Infinity. It was developed and released by Vietnamese startup Sky Mavis and had been increasing in popularity ever since. However, there are some steps you must take before you can play it.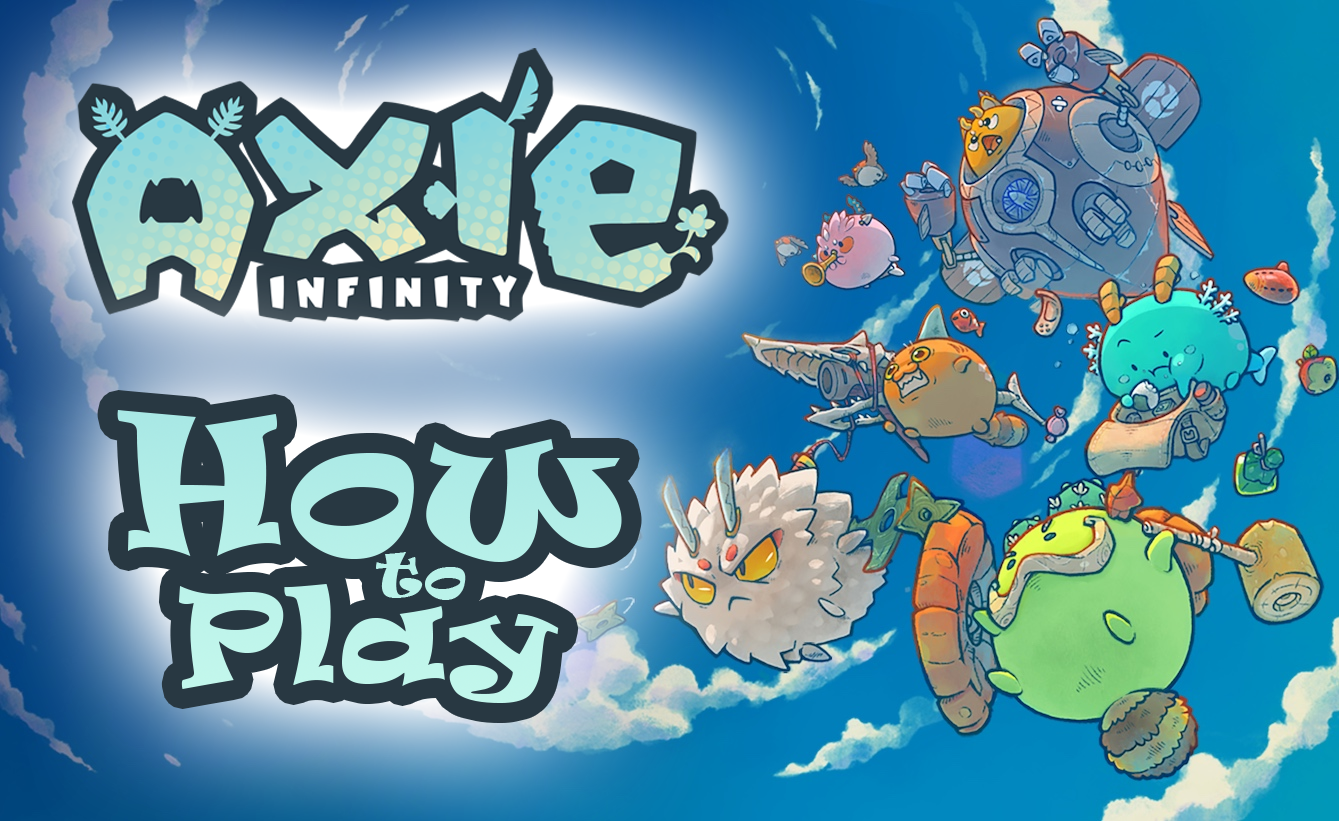 If you're looking to get into cryptocurrencies in a fun and engaging way, Axie Infinity is an excellent choice. You'll need two or three things first, as the developers require. Find out how to play the game below.
Axie Infinity: How to Play on Android
A computer is a good idea regardless of what platform you wish to play on. The reason is that some cryptocurrency exchanges are not available on mobile devices. However, as these exchanges become more accessible, staying entirely on mobile devices will become much more manageable.
The first thing to do is get two accounts, one for an Ethereum wallet and the other for Ronin Wallet. Every player must create a Ronin Wallet account, but the Ethereum wallet can be anything you like. Popular examples include:
MetaMask

Coinbase

Binance

Huobi

Some exchange platforms aren't available in certain countries, so you should research first. However, Ronin Wallet is available anywhere around the world.
Here's what to do if you wish to play Axie Infinity on Android:
Download apps for your preferred Ethereum wallet and Ronin Wallet.

Create an account for the Ethereum Wallet and Ronin Wallet.

Launch your browser.

Head to the Axie Marketplace and log in with your Ronin Wallet account.

Confirm the link and start naming your Axie Infinity account.

Set up the account's email and password.

Verify your Axie Infinity account.

Connect your Ethereum wallet to Axie Infinity.

Buy at least three Axies.

Go to the official Axie Infinity website.

Download the Android app.

After it installs, you can launch the game.

Log into your account after obtaining the QR code.

Start playing the game.
You may have to allow your Android device to install apps from unknown sources first. This step is easy; when you install Axie Infinity, your phone or tablet may prompt you to grant the necessary permission. After this happens, you should have no problems logging into the game.
Having a PC nearby can speed up this process, though unnecessary. Both of your wallets are available on your browser, especially Ronin Wallet. It has a Google Chrome extension that makes accessing your Axie Infinity cryptocurrencies easier.
Axie Infinity: How to Play on iPhone
On iPhone, the process is slightly different. You'll have to download another app called TestFlight, which will let you apply as an Axie Infinity tester. The game isn't fully accessible on iPhones yet, making this step necessary.
Registering for cryptocurrency wallets may take more than a day, but these situations aren't as common. TestFlight approval can take more time, even several days. Thus, playing Axie Infinity on an iPhone can take longer, primarily due to TestFlight.
You can use the same cryptocurrency exchange platforms mentioned above, and using your PC for the wallets is also a great idea here. Nevertheless, staying on your iPhone all the way still works just fine.
These are the steps for playing Axie Infinity on your iPhone:
Part One
Download the apps for your preferred Ethereum wallet and Ronin Wallet from the App Store.

Register accounts for the Ethereum Wallet and Ronin Wallet.

Launch Safari or another browser.

Navigate to the Axie Marketplace and log in with your Ronin Wallet account.

Confirm your decision to link the two and give your Axie Infinity account a name.

Link an email address and create a password.

Verify your Axie Infinity account by accessing your email inbox.

Link your Ethereum Wallet to your Axie Infinity account.

Buy three Axies.
Part Two
Go to the App Store again on your iPhone.

Look for and download and install TestFlight.

Go to the official website of Axie Infinity.

Click on the option to download.

Select the iOS version and download the app.

After Axie Infinity installs, apply on TestFlight to be a tester.

Wait for your acceptance.

After that, you can open the Axie Infinity app and play the game.

Get your QR code.

Log in and play.
We don't know when the TestFlight steps will be phased out. But, if they're eventually removed, playing Axie Infinity for the first time on an iPhone should be identical to the Android method.
As with Android, you can download the Axie Infinity app from third-party sources, though we don't recommend doing so. You're safer from harm if you download it directly from the official website.
Axie Infinity: How to Play on PC
Installing Axie Infinity on PC is arguably the most convenient process, as you don't have much to download besides the game. Your Ethereum wallet and Ronin Wallet can stay online, and the former has a free extension for better integration.
Nevertheless, the game is identical across platforms, though the controls are different. If you like playing games on PC, you can do so with Axie Infinity.
Register for an Ethereum wallet and Ronin Wallet.

Get the free Ronin Wallet extension if you use Google Chrome.

Go to the Axie Marketplace.

Log in with Ronin Wallet.

Give the account a name, linked email address, and create a password.

Go to your email inbox and get the verification code.

Finish setting up your Axie Infinity account.

Connect your Ethereum wallet to Axie Infinity.

Purchase three Axies from the marketplace.

Download the Axie Infinity game itself from the official website.

Install the game.

Log in and start playing.

PC users don't need to get a QR code to play, which is more convenient compared to mobile users.
Axie Infinity: How to Play and Earn Money
When you play Axie Infinity, you earn some cryptocurrencies called "SLP" and "AXS." SLP stands for "Smooth Love Potion," and you need it to breed your Axies. Thus, it's in high demand, and everyone earns some just from playing.
AXS is another cryptocurrency that you also need for breeding. However, it's now used more for governance and, in the future, will be available for staking.
Here are ways to earn SLP in Axie Infinity: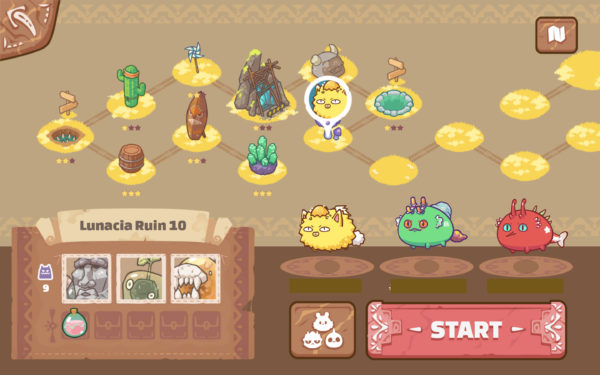 Depending on how complex the levels are, you should earn some SLP after completing them. On the downside, you can only make 50 SLP a day this way.
Arena Mode is where most of the SLP you earn comes from. The more you win against opponent Axie teams, the more SLP you get. However, you need to spend Energy to play this game mode.
Completing the Daily Quest
You get a single quest every day that rewards you with 25 SLP daily. It's free SLP, as the quest is simple to complete.
Breeding and selling Axies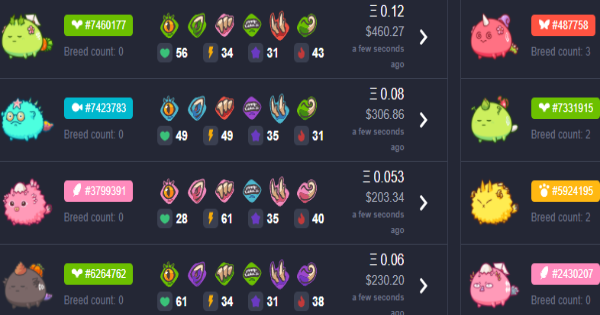 Even the worst Axies can sell for a few hundred dollars, but you can ask for more when you breed a wonderful creature. Some players will shell out more cash for Axies viable in Arena Mode. You may even get bonus money if it has a rare body part.
Investing in Lunacia land plots
Not everyone has plots of land in Axie Infinity's world Lunacia, but these plots have sold for exorbitant prices. What's more, in the future, you can rent properties to other players and take a cut.
Running an Axie Infinity scholarship program
If you have extra Axies, you can start a program and let a new player play for free. They'll give you a cut of their daily earnings, paying off the cost of their borrowed Axies. This method allows you to get streams of passive income easily.
Axie Infinity: How to Play Arena
We briefly discussed Arena Mode in the section above and now talk more about it. Arena Mode has an entirely different combat system, which isn't easy for beginners.
These are the nine classes:
Plant

Reptile

Dusk

Bird

Dawn

Aquatic

Beast

Bug

Mech

Plant, Reptile, and Dusk deal 15% more damage to Bird, Dawn, and Aquatic classes. The second set of three has a similar bonus to the Beast, Bug, and Mech Classes. Knowing class counters in Axie Infinity will help you optimize your lineup against different opponents.
Initially, you won't know how much the Arena Mode cards deal, though some formulas help. However, with enough time, you'll begin to know card damage values by heart.
Positioning is also vital in Axie Infinity's Arena Mode. Having all three Axies in a horizontal row is an ideal formation, though the leading Axie should be slightly lower than the other two. This arrangement will give the Axies a 50% chance of hitting the opponent's top or bottom Axie.
Playing to Earn
While getting cryptocurrency wallets can be a hassle, Axie Infinity isn't hard to get into. That is, if you don't mind buying Axies yourself. However, with the help of scholarship programs, anyone can play the game.
Did you buy your Axies? How much SLP do you earn daily? Let us know in the comments section below.