This world quest is a continuation of Neko's tale and her pursuit to see her beloved human friends again. Neko is the self-proclaimed "Provisional Head Priestess of the Asase Shrine," At this point of the game, she has already asked you several favors to bring the shrine back to its former glory.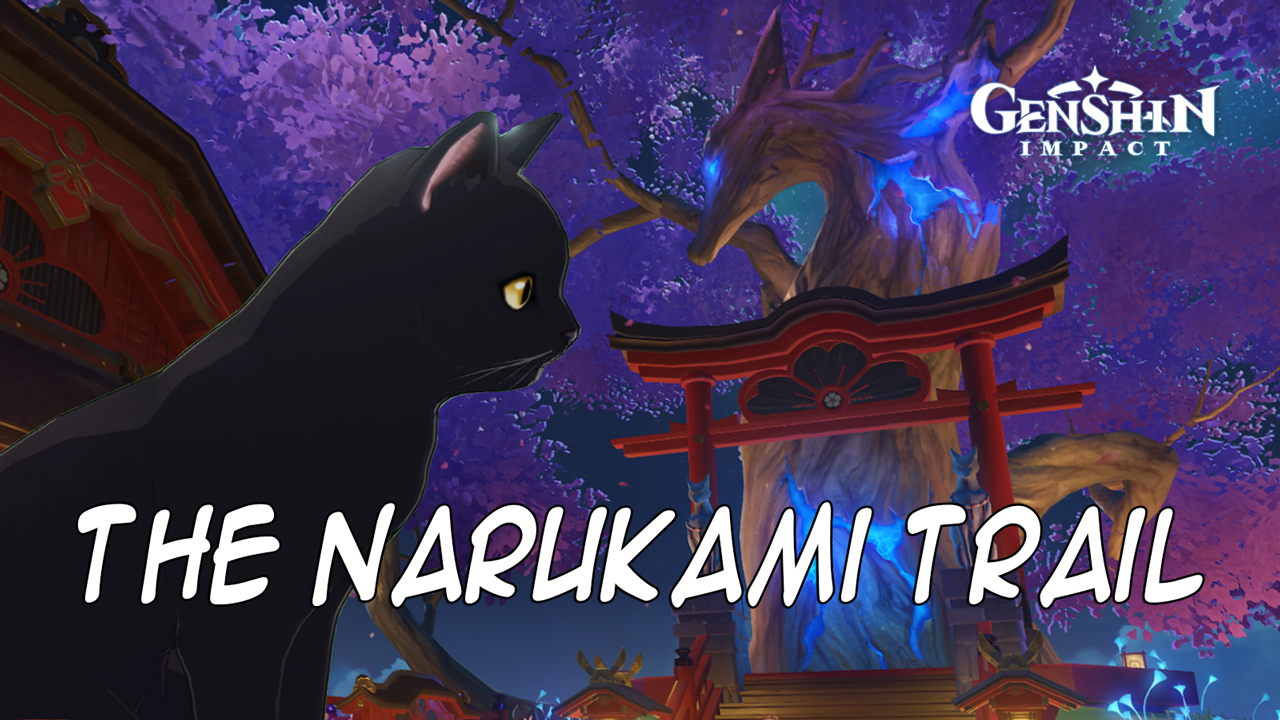 The cat wishes for people to visit and make offerings to the shrine again, hoping that this will make her friends Hibiki and Domeki.
The Narukami Trail quest will be available to you once you complete the several quests and daily commissions.
See our guide here to know the details on unlocking this world quest. Once the world quest is unlocked, a new exclamation mark will appear on Neko's head. It is also visible on the map over Asase Shrine in Seirai Island.
When you talk to Neko, she will ask you if you know where a big, pink, and very tall tree grows. She says the said tree is similar to the ones in Asase Shrine but is very tall, with many tingling, hair-raising things around it, and is shaped like a fox.
The tree that Neko is talking about is the Sacred Sakura Tree at the Grand Narukami Shrine, which is on top of Mt. Yougou in Narukami Island. She wants to visit that tree and that shrine because Hibiki mentioned that she had stayed there for a while.
Your task is to guide Neko to the Grand Narukami Shrine because she has finally decided that since Hibiki is not coming back to Asase Shrine yet, it might be better to go and look for her.
As the quest title says, this mission will start at the foot of Mt. Yougou and then follow the trail that leads to the Grand Narukami Shrine.
Teleport to the waypoint at the Kamisato Estate and then walk to the torii gate on the path that leads up to the mountain.
Talk to Neko and explain to her what a torii gate is. After the little talk, she will ask if there are signs of Hibiki around, but since you do not see any, you suggest going up to the Grand Narukami Shrine to ask the shrine maidens.
Teleport to the waypoint at the top of Mt. Yougou, which is at the shrine's entrance.
You will find Neko at the shrine's center, right in front of the Sacred Sakura. She will be amused at how the shrine is so big and filled with many people. She thinks that this shrine's Offering Box and racks are very grand, which is why so many people are visiting.
Neko will resume looking for Hibiki, and so you help her find someone you can ask about the cat's missing friend.
Look for a shrine maiden named Inagi Hotomi and tell her about a certain Hibiki and ask if she knows anything related to her.
Hotomi will ask if the person inquired about is Asase Hibiki—a name she came across in a few ancient texts of the shrine. But she can not give any details and would even say that the Grand Narukami Shrine is the wrong place to gather information about Asase Hibiki.
Based on Inagi Hotomi's reading, Asase Hibiki is one of The Yougou Three who went to Mt. Yougou learned under the Yougou Tengu about four or five hundred years ago. During that time, Hibiki apprenticed at the shrine and befriended the Kitsune Saiguu.
However, The Yougou Three—that included Kamuna Harunosuke and Mikoshi Nagasama—parted ways, and Hibiki went to found the Asase shrine, but there are no precise details about her.
When Neko interrupts to ask where Asase Hibiki is, you and Paimon will prevent the shrine maiden from saying something that will make the cat feel sad.
Now it is time to leave the shrine and go down the mountain. Neko will be waiting for you on the road down to Chinju Forest from the Kamisato Estate.
Neko enjoyed her visit the Grand Narukami Shrine as it made her see with her own eyes what Hibiki told her about that place. This time, Neko feels tired and would like you to go back to Asase Shrine with her.
Neko will thank you for escorting her to see the Sacred Sakura at the shrine. It made her want to continue taking care of Asase Shrine and promised that she would introduce you to her when Hibiki returns.