Trevor steals a military transport chopper for the upcoming heist.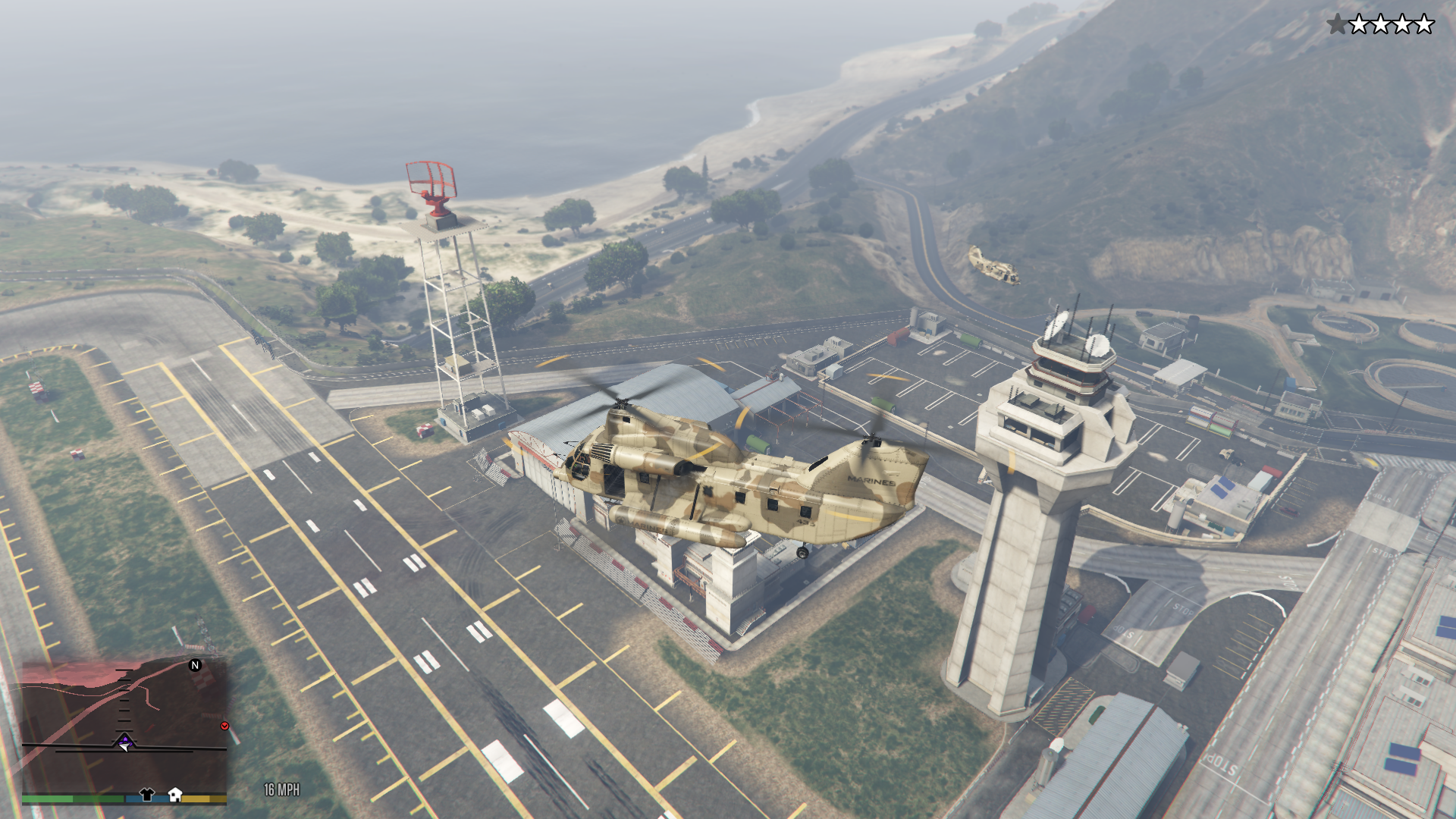 In Scouting The Port, Trevor and Wade tag along with Wade's cousin Floyd in his day job at the Port of Los Santos. While the trio is at the port, Trevor asks Floyd if any shipment is worth taking. Floyd points toward a government ship heavily protected by Merryweather, piques Trevor's interest.
Trevor later finds out from Ron that the ship contains valuable military equipment. Trevor rounds up Lester, Michael, and Franklin to steal the package from the ship through one of two ways – the Offshore Approach or the Freighter Approach. The former will require a Cargobob, which can be acquired through a separate heist setup mission.
We have outlined everything you need to know about the Cargobob mission and how you can get a Gold Medal for completing the mission in GTA 5.
Cargobob Synopsis
Wade gives Trevor a heads up where he can find the Cargobob required for the Offshore Approach of the Merryweather heist. Wade's tip brings Trevor to Fort Zancudo – a heavily guarded military base in Los Santos.
As Trevor breaks through the front gate, he gets a 4-star wanted level and is chased by every soldier and military personnel inside the base. Fortunately, he quickly finds the Cargobob in one of the helipads along the base's main runway.
Trevor pilots the Cargobob to his airfield in Sandy Shores.
Cargobob Gold Medal Objectives
Time: Complete within 05:30.
All Gold Medal objectives for this mission can be completed through multiple replays. You can come back another time and replay the mission to get the rest of the Gold Medal objectives.
Cargobob Mission Guide
Head to Fort Zancudo. Use the main entrance along North Chumash. If you do not know where the entrance is, check out this guide on Fort Zancudo to get a better idea.
Make sure you drive through the front gate at full speed to get a head start on the pursuers. Take the first right from the main gate and then get to the main runway. Take a left turn on the main runway.
Just follow the blue dot on the map to find the Cargobob. Board it and fly back to Trevor's airfield in Sandy Shores.
Heavy-duty Transport Chopper
Cargobob is a straightforward mission to complete if you opt for the Offshore Approach in the upcoming Merryweather heist. If you drive through the base's front gate at full speed, you should have no problems outrunning the soldiers and tanks within the base. Just follow the guide above to find the Cargobob's location as quickly as possible so you can complete the mission in less than six minutes.