Become a CEO and gain maximum control of your businesses in GTA 5.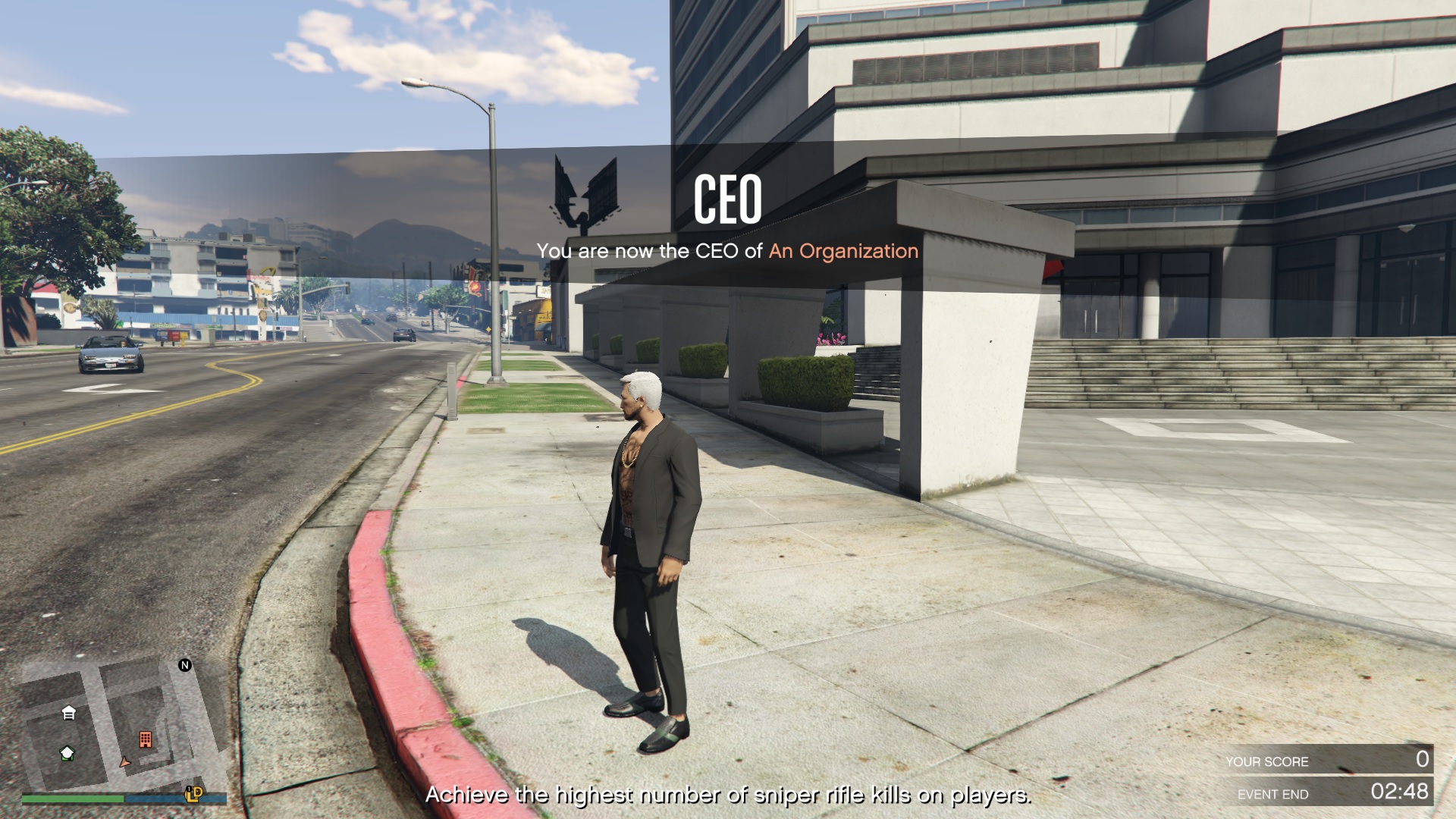 The CEO is, more often than not, the highest-ranking executive in firms and organizations. CEOs are responsible for implementing a company's macro goals and policies. In GTA 5, becoming a CEO means you'll gain more control over various elements in the game.
This quick guide will show you how to become a CEO in GTA 5.
How to Register as a CEO in GTA 5
Bring up the in-game smartphone and access the Dynasty8 Executive website.
2. Purchase any of the four offices in GTA Online.
3. Bring up the Interaction Menu. Select the Register as a Boss option.
Press M on the PC
Hold down the View Button on Xbox
Hold down the touchpad on Playstation
4. Select SecuroServ CEO.
5. Pick the option that lets you Start an Organization.
6. Select Yes.
Perks of Becoming a CEO
CEOs have much more control over various businesses and organizations in GTA Online. You can earn more than a VIP, bribe the cops, gain the ability to hide your trails from the map on public lobbies, and spawn vehicles you already own from basically anywhere on the map.
Engage in more businesses.
Becoming a CEO unlocks a few more income streams for you in-game. One of the most notable ones is the ability to open up a Night Club and the ability to import and export guns.
Aside from those two businesses, you can also run operations in your warehouse without a time limit, allowing you to make even more money in the game.
Control the Authorities
Once you become a CEO in GTA 5/GTA Online, you will gain the ability to bribe the police and keep them off your back for a limited time.
Bribes cost $15,000 and will instantly remove all your Wanted Levels and keep you off the radar for two minutes.
Go Invisible
GTA 5/GTA Online Public Lobbies are full of griefers and other players that can harm your business transactions. This is also why Solo Public Lobbies glitches have become a GTA Online go-to method for many players.
When you become a CEO in GTA 5/GTA Online, you will gain the ability to hide your organization and its members for three minutes. This ability will cost you $12,000 to activate but will be well worth the cost as you can complete missions and collect your Special Cargo without being bothered by other players.
Spawn Vehicles Anywhere as a CEO in GTA 5
Another great perk of becoming a CEO in GTA 5 is the ability to spawn vehicles anywhere for your crew for free. You still need to own vehicles before you can spawn them for your crew members, but gaining the ability to give them instant means of transportation will speed up missions and escapes for you and your crew in GTA 5/GTA Online.
Provide Items and Ammo
A CEO is responsible for watching over their crew and ensuring they stay alive, not hinder the flow of operations.
When you become a CEO in GTA 5/GTA Online, you can provide Items, Ammo, and Armor to your crew members. Supplying Items and Ammo cost $1,000, and spawning Armor will cost just $1,500.
Offices Locations in GTA 5
There are four offices to choose from in GTA Online. You need to own at least one of these to be eligible to register as CEO.
Maze Bank West: $1,000,000
Arcadius Business Center: $2,250,000
Lombank West; ($3,100,000)
Maze Bank Tower: ($4,000,000)
Final Thoughts
Becoming a CEO in GTA 5/GTA Online is as simple as purchasing an office and registering yourself online as CEO. The only real challenge is amassing the money required to purchase an office to become eligible for the CEO position in-game, as even the cheapest office costs a whopping $1,000,000.
Choose from any available offices in the game, then register yourself as CEO to gain even more control of your businesses in GTA 5/GTA Online.