Minecraft has dominated the video game industry for over a decade, taking the top sales charts. The creative-survival classic's undeniable success is due, in no small part, to the combined efforts of the developers and bustling Minecraft community and the post-launch support of Mojang Studios.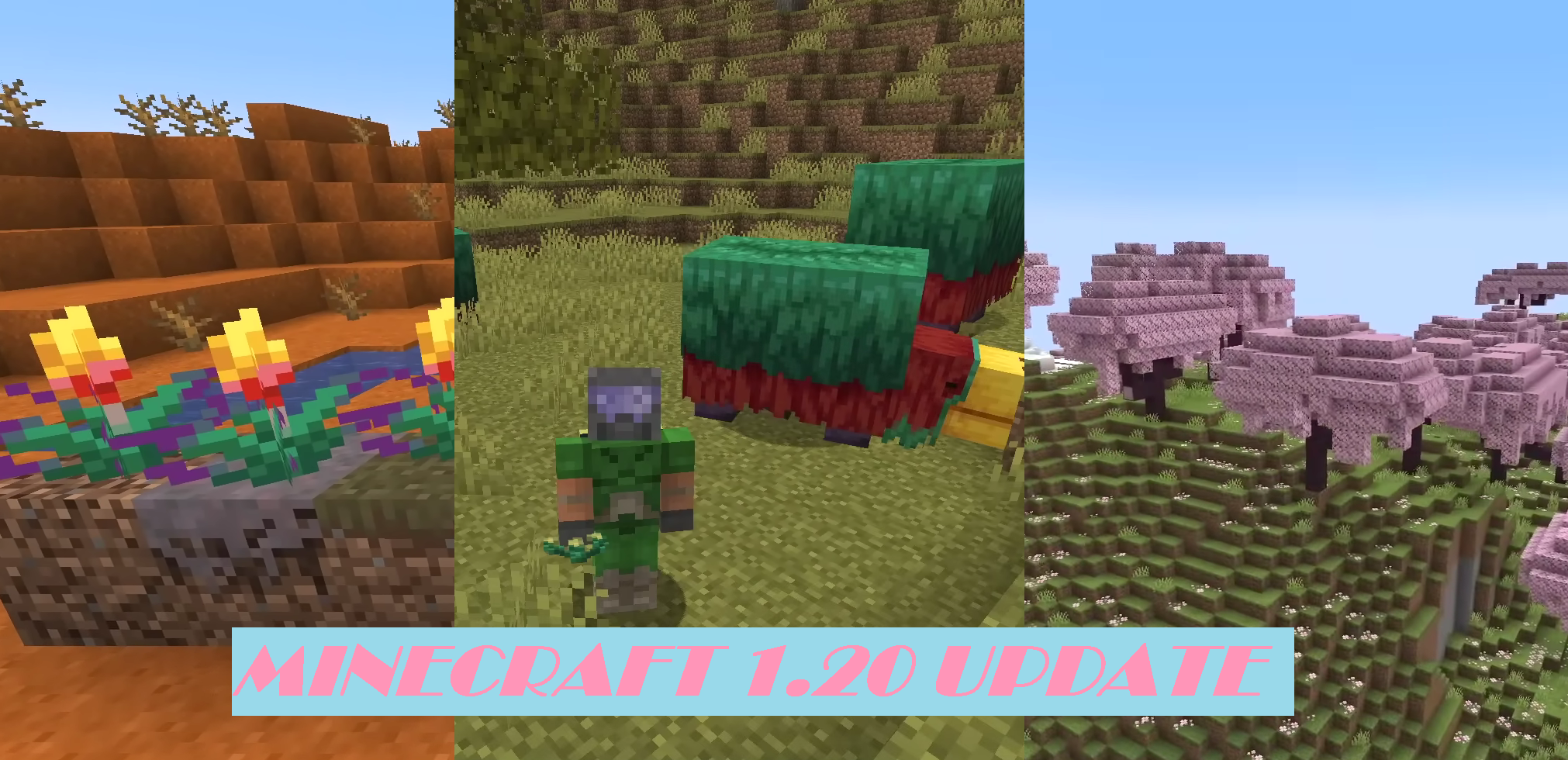 At the Minecraft Live 2022 event in October, game developer Mojang revealed that the next major update is Minecraft 1.20. Following the previous release patterns, we expect this update to reach the players in mid-2023.
Now, players know the first details of what's coming next to Minecraft with the arrival of the 1.20 update. As they hinted during Minecraft Live 2022, the Minecraft 1.20 update will bring many new awesome features to the game. Though many features are planned for it, the developers have only revealed a few.
They do not want to overpromise and underdeliver, as they have done in the past. More features for this update will be revealed in the upcoming months. Let's go over the top 5 features that will be part of the Minecraft 1.20 update.
1. Cherry Blossom biome
Minecraft 1.20 to bring a rare, and above all PINK, biome to the Overworld! You better be excited because the cherry blossom biome will soon be coming to Java snapshots, Bedrock betas, and previews. The Cherry Blossom Groves are forests that consist of white and pink Cherry Trees.
The trees in the new biome are like the same vibes as Sakura trees in Japan. This beautiful biome is filled with cherry blossom trees that bring a unique look to the horizon as their crowns are big and flat, like fluffy pink clouds. And there is room for flowers across the valley, like daffodils, peonies, and lilacs.
It's no wonder three adorable mobs—pigs, sheep, and bees—are drawn to them and will spawn in this biome.
The cherry trees can be broken down into a full wood set and crafted into the new hanging sign, also coming in Minecraft 1.20! You can also find cherry tree saplings in the biome, so you can replant them wherever you want.
2. Bamboo blocks
Minecraft is resplendent with various wood types, with each wood used for different building blocks. With Minecraft 1.20, bamboo is joining this category as a helpful building block.
Bamboo wood is the tenth type of wood in the game and will be available for everyone in the Minecraft 1.20 update. It has a texture that looks similar to real-world dried bamboo.
When compared to other wood types, bamboo feels fresh and unique. Instead of only being of a different color, the bamboo wood has a long straight line across its face, which is great for making seamless patterns in Minecraft house builds.
Read: Top 5 Minecraft Streamers in 2023
Bamboo can now be used to craft the entire roster of wood blocks, including planks, doors, trapdoors, signs, stairs, slabs, fences, fence gates, buttons, and pressure plates.
Bamboo also has an exclusive building block known as the bamboo mosaic, which is crafted with two bamboo slabs and has stair and slab variants. Instead of boats, bamboo can be used to craft rafts and rafts with chests, which are functionally identical to boats but have a unique appearance.
3. Sniffer mob
Based on what was revealed in the update, the sniffer mob can sniff and discover ancient seeds in the Overworld. Players can likely control them using seeds, similar to how the allay is controlled.
It is an ancient mob that had become extinct in the Minecraft world. This means the mob won't spawn in the Overworld, and players must spawn them using their eggs. Players can find the mob's eggs inside loot chests in underwater ruins in the oceans.
There will finally be a purpose for exploring the ocean ruins. The mob is completely friendly to players. While players can't tame sniffers, they can use them to search for seeds in the area. Players can quickly use the seeds these sniffers found to grow plants.
The developers have already confirmed that ancient plants won't have any use in the game other than decoration. Once hatched, these adorable and passive mobs will roam around the world, sniff around, and dig out seeds that can be planted to grow rare plants. So far, torch flowers have been added to the game, but Mojang could add several more plants in the future.
4. Armor trims
One of the top 5 new features in Minecraft 1.20 is Armor Trims, providing a greater sense of style and unique design to your character's look in-game.
Once players have their armor trim pattern and the preferred armor piece, they will need material to select the trim's color.
Without it, they cannot complete the trimming process. Fortunately, there are plenty of options for picking a specific color for a player's trim.
However, depending on the preferred colors, some options may be more difficult to acquire than others. This is simply because some ingots and crystal materials are much rarer than others.
5. Archeology
Mojang recently announced that Minecraft's long-awaited archeology feature would be incorporated into the game with the upcoming 1.20 update.
Originally announced alongside the massive Caves & Cliffs Update, archeology was indefinitely delayed, with no clear indication that it would ever return.
Now, we know that archeology was simply spending some much-needed time being redesigned and tweaked.
Archeology is officially coming to players alongside the Minecraft 1.20 update, bringing new mechanics, blocks, tools, and more. Archeology gives Minecraft players another reason to explore the desert biome, perhaps on the back of their trusty Camel mob.
Surrounding Desert Temples may be patches of suspicious sand blocks, which can be swept away using the new brush tool to reveal hidden tools and tools.
Players can also discover elusive Sniffer eggs, which can hatch into the brand-new Sniffer mob and new pottery shards. Pottery shards contain partial patterns, and players can combine four pottery shards into a unique, decorative pot.
So there you have it; the top 5 most exciting features Mojang is adding to Minecraft 1.20!