Enjoy watching streamers playing Minecraft? Here are our top 5 picks for the best streamers in 2023.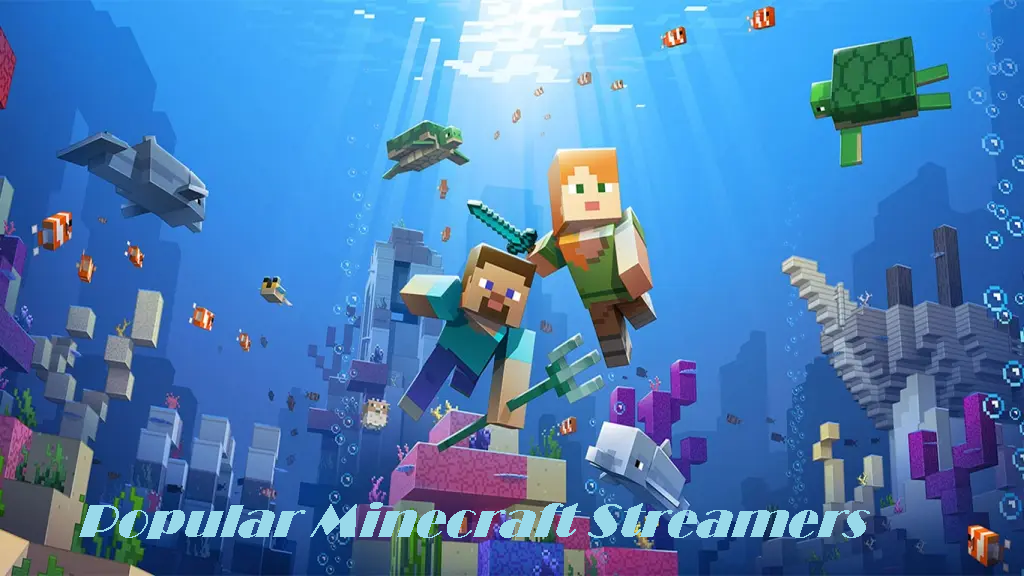 Minecraft is one of the most popular games in the world and has millions of viewers daily. Content creators and streamers decided to showcase their talents in Minecraft and have connected the entire world.
As Minecraft takes the world by storm, apps such as Twitter and different online platforms constantly display Twitch streamer's trends. Many of the Minecraft streamers became popular over quarantine. Some of them had the chance to explore many things and have taken a liking to the video game, as well as the addictive personalities of the individuals.
On very popular platforms like Twitch and YouTube, creators stream long hours of gameplay for millions of viewers and fans. The fans often watch streams on Twitch or YouTube, and there's no shortage of players to view.
Most of them have different content and ideas while playing Minecraft. From speedrunning to survival multiplayer and getting and gaining interesting build ideas, content creator streams are as diverse as the community members who play the game.
And here are the top 5 streamers, the greatest and most enjoyable content to watch in Minecraft 2023.
1. Quackity
Alex, also known as "Quackity," is a Mexican streamer and YouTuber known for playing Minecraft. Quackity, who started on YouTube in 2013, has become one of the most popular streamers in his long-time career in Minecraft.
He is also known for hosting competitions on his Discord server, commonly his "Discord's Got Talent" videos, which usually feature other YouTuber personalities as hosts, such as MrBeast, his Twitch raids on online game communities, his commentary videos in which he used to text-to-speech to narrate and being a member of the Dream SMP.
Read: 5 Best Tips to Lower Lag in Minecraft
This streamer has a Discord server with over 400,000 members, where he sometimes hosts the competitions like Discord's Got Talent, Discord's PhotoShop Hunger Games, and many more. Quackity's videos are commonly known for their intense and fast-paced edits.
Quackity always edits his videos and has several tweets and stories showing him editing videos and others editing some of his videos.
2. BadBoyHalo
Darryl, also known as "BadBoyHalo," is an American gaming YouTuber known for hosting the Minecraft server MunchyMC. BadBoyHalo is a great and famous content creator in Minecraft and can be very satisfactory to family and friendly viewers.
BadBoyHalo owned a channel alongside his friends called The Trio; they posted their podcasts and streams together. His channel commonly consists of Minecraft videos and story time. He also records with a6d for content, and they are friends, like Skeppy and BadBoyHalo. His friend always trolls BadBoyHalo on MunchyMC or InvadedLands.
He created his Twitch channel on May 2012, then his style of videos stayed relatively the same with family-friendly content. And Bad was doing round questions & answers with his fans and giving donations.
Read: Top 5 Villager Trades for Emeralds
BadBoyHalo has also been bald in his live stream for almost USD 10,000. BadBoyHalo is a regular competitor in the Minecraft Championships. BadBoyHalo's content focuses on challenges, trolling, and pranking his friend; his content is never just solo commentary, as he's almost always joined by someone from his wide group of friends within the community.
Bad and his friends' streaming content are always entertaining. That's why he has more viewers and many loyal fans.
3. Forsen
Forsen is a Swedish Twitch streamer who has gained popularity for having competed in Starcraft II but is best known for competing in Hearthstone and for other streaming variety of popular games. Forsen's stream has been concluded as "genuinely" fun and entertaining for his funny jokes and has a more popular number of internet memes.
Read: Top 5 Survival Biomes in Minecraft 1.19
Forsen has over a million followers on Twitch and still counting. In 2020, Forsen started a friendly rivalry with fellow streamers, competing to achieve the fastest time in a speedrunning of Minecraft. As of January 2023, xQc has a personal best of 20:05, 33 seconds faster than Forsen's best time, and kickstarted the two's long-standing rivalry
Also, he has been focused on speedrunning the world's most common sandbox game in recent months. And ForsenE is a Twitch emote based on a warped image of the Twitch streamer Forsen's face.
It is a subscriber-only emote and does not mean anything in particular. The Twitch emote was popularly spammed by Forsen's fans, and it has since become a meme.
4. Tubbo
Tobias James "Toby," also known as "Tubbo," is an English gaming YouTuber, avid musician, and Twitch streamer known for his Minecraft collaborations. He is a member of the Minecraft server Dream SMP. Most of his videos are clips from streams on Twitch.
He is close friends with TommyInnit and is known for being Tommy's right-hand man. Tubbo has 3.1 million subscribers on YouTube, and he has 2 Twitch channels, with almost 4 million followers on Twitch on his main channel and getting around 70k viewers per stream.
His second channel, TubboLive, has 1.07 million followers and is a Twitch partner on both his Twitch channels. He started streaming Skyblock, a mod for Minecraft.
Read: A Beginner's Guide to Fishing
Tubbo gets skyrocketing growth through his Twitch and playing on many multiplayer servers and his own modded Minecraft world. And in addition, Tubbo is also taking part in many different servers as well as the Minecraft Championships whenever possible.
5. Ph1LzA
Phillip "Phil" Watson is one of the oldest content creators in the Minecraft game. He streams on Twitch and uploads the stream highlights to his YouTube channel, which is almost about to reach three million subscribers.
Read: How to Breed All Animals in Minecraft
He commonly streams Minecraft hardcore on Twitch and sometimes during events such as the Minecraft championships. Before making Minecraft videos, Phil used to upload Halo and GTA IV videos on his YouTube. Along with Wilbur Soot Technoblade, and Tommyinnit, Phil is a member of Sleepyboisnic, and he was the one who named it.
Phil loves to play Minecraft hardcore and has gained popularity for one of his hardcore series, which he survived for almost five years. Philza also streams when he joined in championships, where he attracts the highest viewership numbers each year as fans watch him put his skills to the test.