Unlock those Agents in Valorant fast.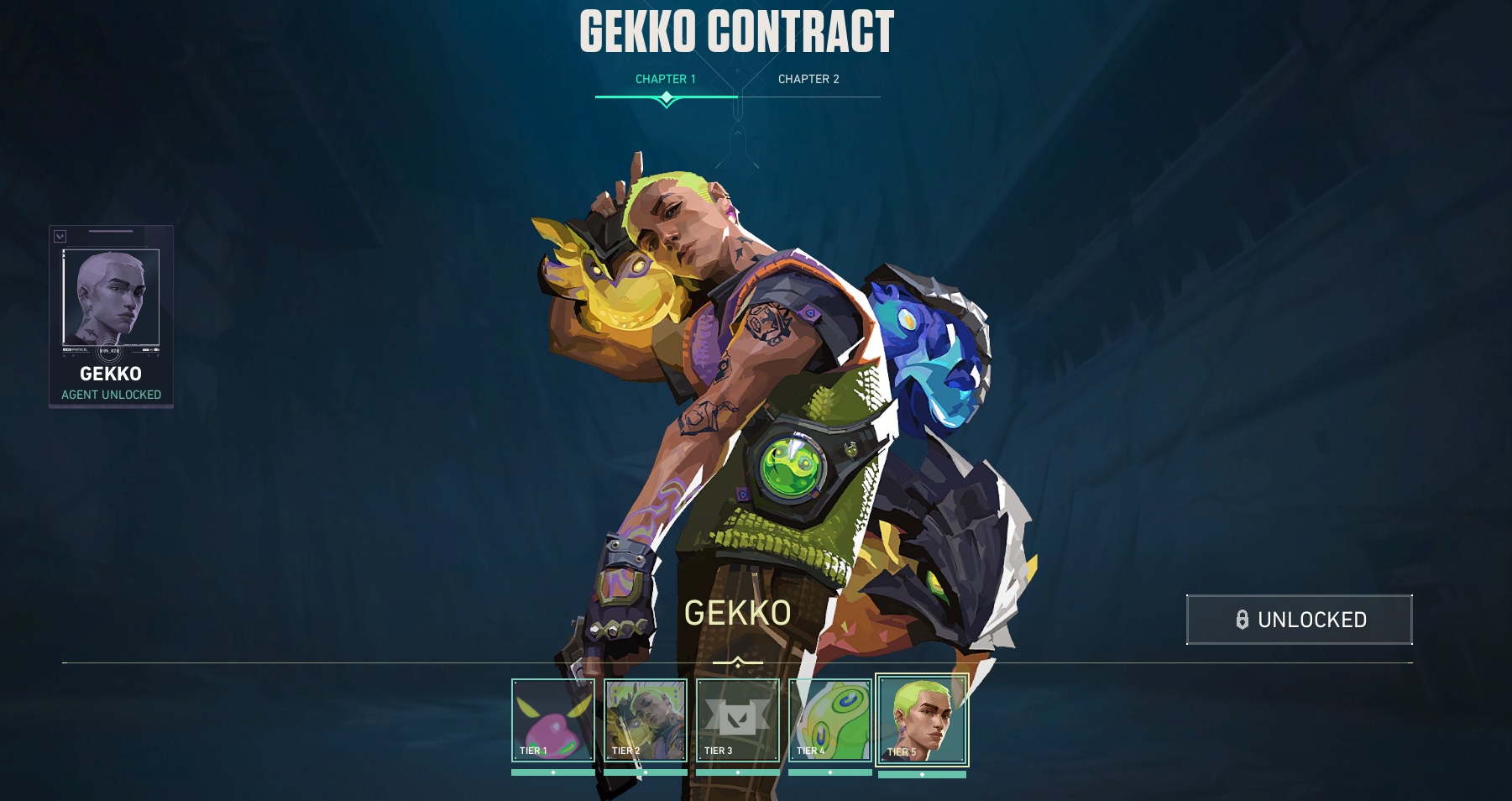 Riot Games has released Agents since Valorant came out in 2020. Back then, the Valorant roster consisted of just 11 Agents. That number has since grown to 21 in 2023, with the newest additions being Neon, Fade, Harbor, and the quirky new Agent in Gekko.
More characters are coming to the game, so it pays to know how to unlock them fast in Valorant. We will show you how to do just that in this quick guide.
How to Unlock Agents Fast
The fastest way to unlock Agents in Valorant is by purchasing them with Valorant Points.
You can buy out an Agent the moment they are available in-game. Depending on your current progress in an Agent Contract, you must pay an appropriate amount of Valorant Points to unlock an Agent.
The goal is to reach Tier 5 in an Agent's Contract. This is when you unlock the Agent and gain the ability to play with them in any game mode. If you're starting from scratch, you will need 1000 Valorant Points to jump to Tier 5.
On the other hand, you can just play tons of games and gain XP to progress through an Agent Contract and eventually unlock an Agent for free. Of course, it will take some time to unlock an Agent in-game.
How long does it take to unlock all Val Agents?
You need around 375,000 XP to progress from Tier 1 to Tier 5 in an Agent Contract in Valorant. This translates to around 14-28 hours of playtime. Of course, this number can increase or decrease depending on how many matches you play daily.
The fastest way to gain XP in Valorant is by playing tons of Spike Rush, Swift Play, or Deathmatch. These three game modes should give you more XP per hour than playing full-length games in Unrated or Ranked.
Get enough XP and progress through the Agent Contract to unlock new Agents in Valorant.
Which Agent is Best to Unlock?
Realistically, you don't need to have all the Agents on your account in Valorant – but where's the fun in that? Each Agent in the game comes with unique abilities and gameplay characteristics to help give the game a fresh new feel every time. You're missing out on good fun by not unlocking new Agents in Valorant.
That said, just ensure you have at least one Agent for every role. This ensures you can adjust your Agent pick to better suit your team's composition in any match.
Can I Refund an Agent in Valorant?
You cannot refund Agents in Valorant as per Valorant's Refund Policy. The only items you can refund in-game are Valorant Points and unused content (base skins with no upgrades). You also only have 14 days to request a refund.
You cannot refund the following:
Used Weapon Skins
Upgraded Weapon Skins
Used Gun Buddies
Used Player Cards
Contract Levels
Weapon Skin Upgrades
Weapon Skin Bundles
Premium Battle Pass
Premium Battle Pass Levels
Radianite Points
As you can see from the list, you cannot refund Agents in Valorant, as Contract Levels are also non-refundable. After you use Valorant Points to unlock an Agent, you can no longer request a refund for your used VP.
Expanding the Roster
If you play Valorant regularly, unlocking Agents shouldn't be too much of a problem. Chances are, you've already unlocked most if not all, 21 Agents in the game.
However, if you're relatively new to the game, you must activate the Agent Contract of the Agent of your choice and progress through the Contract Tiers to unlock the Agent in-game. Play tons of games and gain XP to progress through the tiers quickly, or just buy out the Tiers using 1000 Valorant Points.