The next Night Market is set to arrive soon. Here's everything you need to know about the next VALORANT Night Market.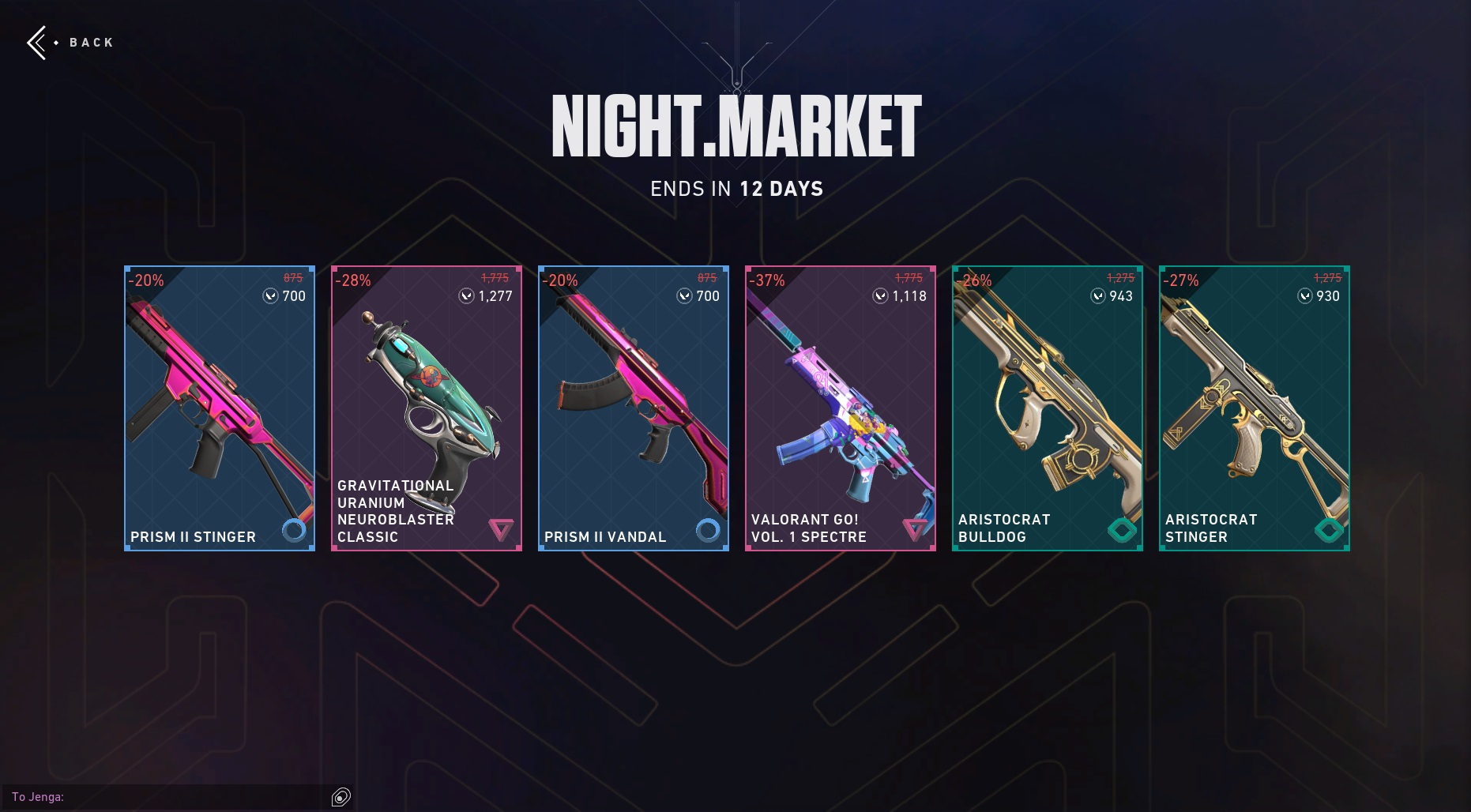 Skins are arguably the most sought-after in-game cosmetic in VALORANT. And while most skins are fairly affordable, some more popular skins, such as RGX, Giltchpop, or Champions skins, can cost an arm and a leg.
To give you a chance at getting a higher-tier skin, Riot Games offers the Night Market so that you can get skins for a pretty discount.
This quick guide outlines everything you need about the VALORANT Night Market.
When is VALORANT's Next Night Market 2023?
The Episode 6 Act 3 Night Market will start on June 7 and end on June 27, 2023. Previous Night Markets ran for about 20 days, so you can expect the next ones to run for the same duration.
Don't fret if you didn't get any good skins in the previous Act. Riot Games guarantees you'll get at least two Premium Edition skins as long as you don't currently own the skins already. Moreover, the devs guarantee you won't get more than two skins for the same weapon, so your listings should have at least a few good skins to choose from.
Hopefully, Riot's Bad Luck Protection kicks in this time, so you can finally get some decent skins at a discount.
What is the VALORANT Night Market?
VALORANT'S Night Market is a limited-time store that offers gun or melee skins at a significant discount. You will find this event in your VALORANT home screen at least once every Act, where you'll get the chance to purchase any of the six unique weapon skins of various rarities offered.
With the current Night Market set to arrive in a few days, you might want to stock up on those VALORANT Points so you can pick up the skins you choose as soon as the event goes live on June 7.
How does Night Market Work in VALORANT?
When the Night Market finally goes live on June 7, you will find a small card icon in the upper right corner of the VALORANT home screen. By clicking on this small card, you will be taken to a menu where six cards will be presented.
Each of the six cards will have a unique color assigned to them, hinting at the Skin Rarity you can expect to get from each card.
Clicking on a card will flip it and reveal the skin hiding behind it. The Skins always come at a discount. If you're lucky enough to get a Skin you've been eyeing in the VALORANT Store, now is the best time to purchase it.
The skins you get from the event will be random, but you can expect to get at least two Premium Edition Skins per set. Riot Games guarantees each player will get at least two PE Skins after players complained about having dud skins in previous acts.
Can I Reroll My Skins?
Unfortunately, you cannot reroll skins in the Night Market. The skins you get will persist until the event ends. Your best bet is to wait for the next Night Market to come along, but you'll have to wait a few months since this limited-time event only occurs once in every new Act.
Alternatively, you check the VALORANT Store regularly for skin offerings that cycle every week. The only downside is that these skins won't come at a significant discount like in the Night Market.
Final Thoughts
If you're lucky enough can get decent skins at a big discount from VALORANT's Night Market. With that said, if you're one of those players that didn't get a great set of skins in the previous Act, check the next one out, as you'll get a better list this time, thanks to Riot's Bad Luck Protection.