Madrazo asks for Trevor and Michael's help with some files.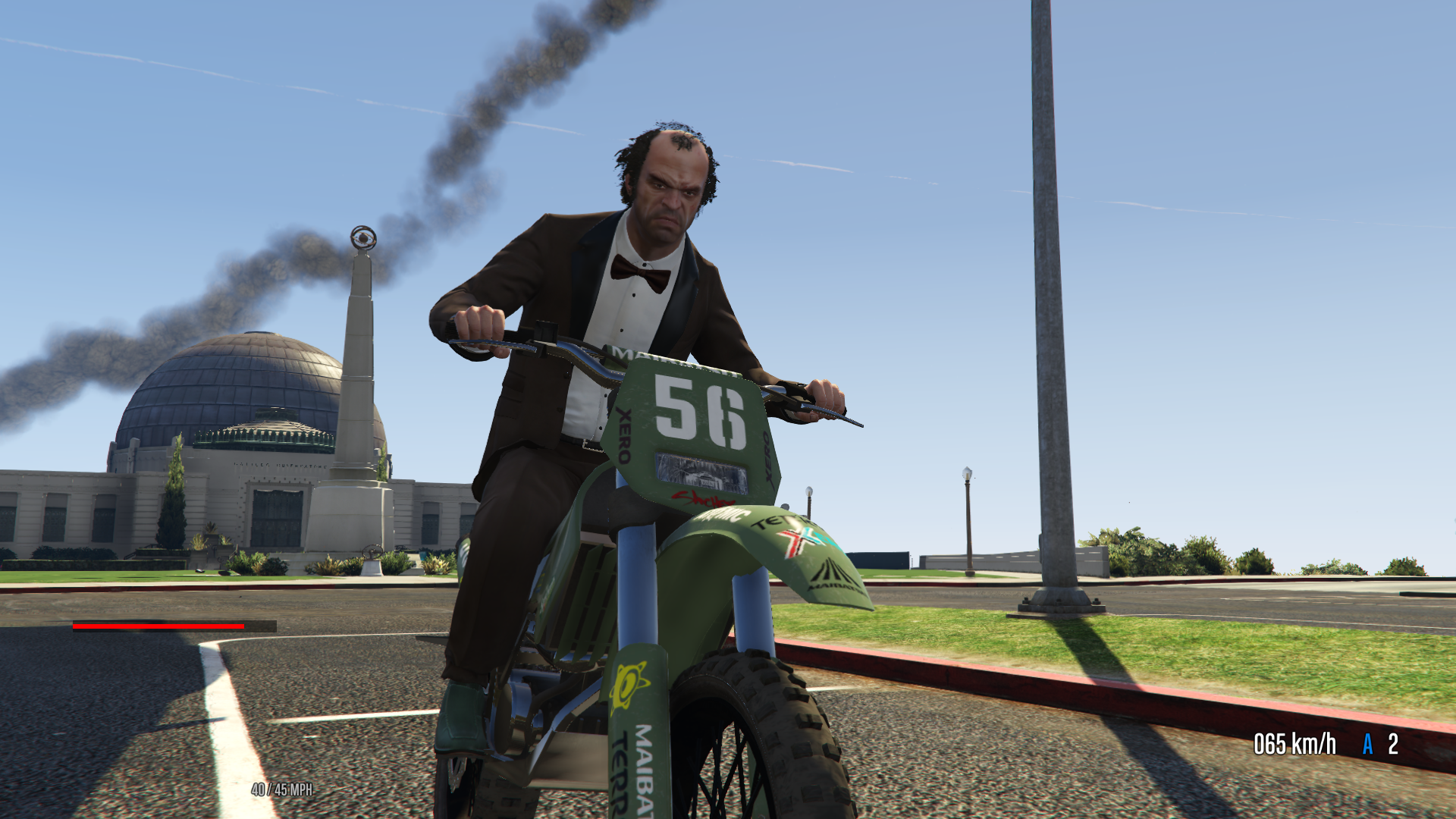 Warning: Major Plot/gameplay spoilers ahead.
Remember when Michael and Franklin got tangled with drug cartel boss Martin Madrazo? This time around, Madrazo calls up Michael to ask for a favor from him, but instead of taking Franklin with him, we get to see Trevor and Michael catch up in the exciting Caida Libre mission.
We have outlined everything you need to know about the Caida Libre mission and how you can get a Gold Medal for completing the task in GTA 5.
Caida Libre Synopsis
Martin Madrazo calls up Michael and Trevor for some help. Michael and Trevor meet up at Madrazo's house in Vinewood Hills, where they are met by Madrazo's wife, Patricia Madrazo, in who Trevor seems to show some interest.
Martin himself welcomes the pair, and after a quick greeting from Martin to Michael, Michael introduces Trevor to Martin. After a quick catch-up, Martin will mention his cousin Javier and how he intends to testify against Martin Madrazo.
Michael catches on quickly and tells Martin that their debt has been settled. However, Martin insists that the favor he asks is not for the troubles Michael had caused Martin in the past. Rather, it is simply a favor from one friend to another.
Martin goes on to lay down the details for Michael and Trevor. The mission is simple – take down the plane Javier is on, retrieve Martin's files, and deliver them back to Martin's place in Vinewood Hills.
Trevor and Michael set off to start the mission. Michael will ask Trevor to look for a relatively agile vehicle so he can chase down the plane once it lands, while Michael searches for the van with a special gun that Martin has set up in the mountains.
Michael successfully shoots down one of Javier's airplane's engines, causing it to come up in flames, and opts for an emergency landing in an open field. While Javier's pilot is looking for a place to land, Trevor will be on a hot pursuit to retrieve the files as soon as the plane crashes.
While Michael deals with Martin's van, Trevor retrieves the files and promises to deliver them to Martin.
As soon as Michael arrives at Martin Madrazo's house, however, Trevor will give him a call to let him know there has been a change of plans.
Michael will wait for Trevor in their agreed meeting spot but has a growing suspicion when Trevor doesn't arrive on time.
The same suspicion turns to horror for Michael when Trevor arrives in Martin's SUV. Michael immediately asks Trevor if he killed Martin, to which Trevor answers no. But he did kidnap Martin's wife, Patricia, a move that terrified Michael all the same.
The mission ends when Trevor takes Michael and Patricia for a drive to a "relaxing spot" to take the edge off of the recent events.
Caida Libre Gold Medal Objectives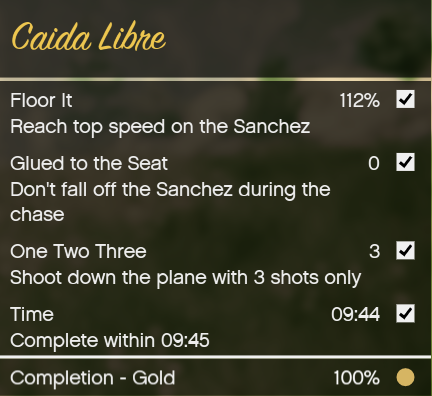 Floor It – Reach top speed on the Sanchez.
Glued to the Seat – Don't fall off the Sanchez during the chase.

Don't attempt to dismount from the Sanchez as well, as you will immediately fail the objective.

One Two Three – Shoot down the plane with three shots only.
Time – Complete within 9:45
Caida Libre Mission Guide
Head to the observatory and look for a van with the special rifle in the back.
Get inside the van and start exploring the rifle controls. For the most part, you must zoom in, pan left and right, and shoot.
Aim for the red square. Shooting the red square will become more difficult as the plane flies perpendicularly to your POV.
Do your best to shoot the plane's engine down in three shots to complete the One Two Three Gold Medal objective.
After you successfully land three shots on the plane's engine, the view will switch to Trevor, who is on a dirtbike.
Keep the gas floored as you come down the hills, as this is one of your best chances to get the Floor It Gold Medal objective.
Stay close to the plane at all costs. DO NOT CRASH. You will fail the Floor It objective if you dismount from the dirtbike.
Shoot the survivors and enter the plane's cockpit.
The view will switch to Michael as soon as Trevor secures the files. Drive away from the area and destroy the van.
Make your way back to Martin Madrazo's house.
Trevor will give Michael a call asking to meet up at the cement works just down the road from Madrazo's house.
Freefall
Trevor's unstable behavior will fully display in the Caida Libre mission in GTA 5. Despite how things turned out with Martin, he and Trevor will go on to form a special kind of friendship that benefits both men.
The Gold Medal objectives for this mission are fairly straightforward. Skip all the cutscenes, as these can take up to 5 minutes from the mission completion time, and do your best to shoot down the plane with three shots only. The Gold Medal objectives involving the Sanchez will be pretty easy to complete as you will have a lot of roads to work with during the chase.
Visit the PlayerAssist website for more Gaming Guides, Gaming News, Game Codes, and other Gaming Content!