Franklin puts his lungs to the test against Mary-Ann Quinn.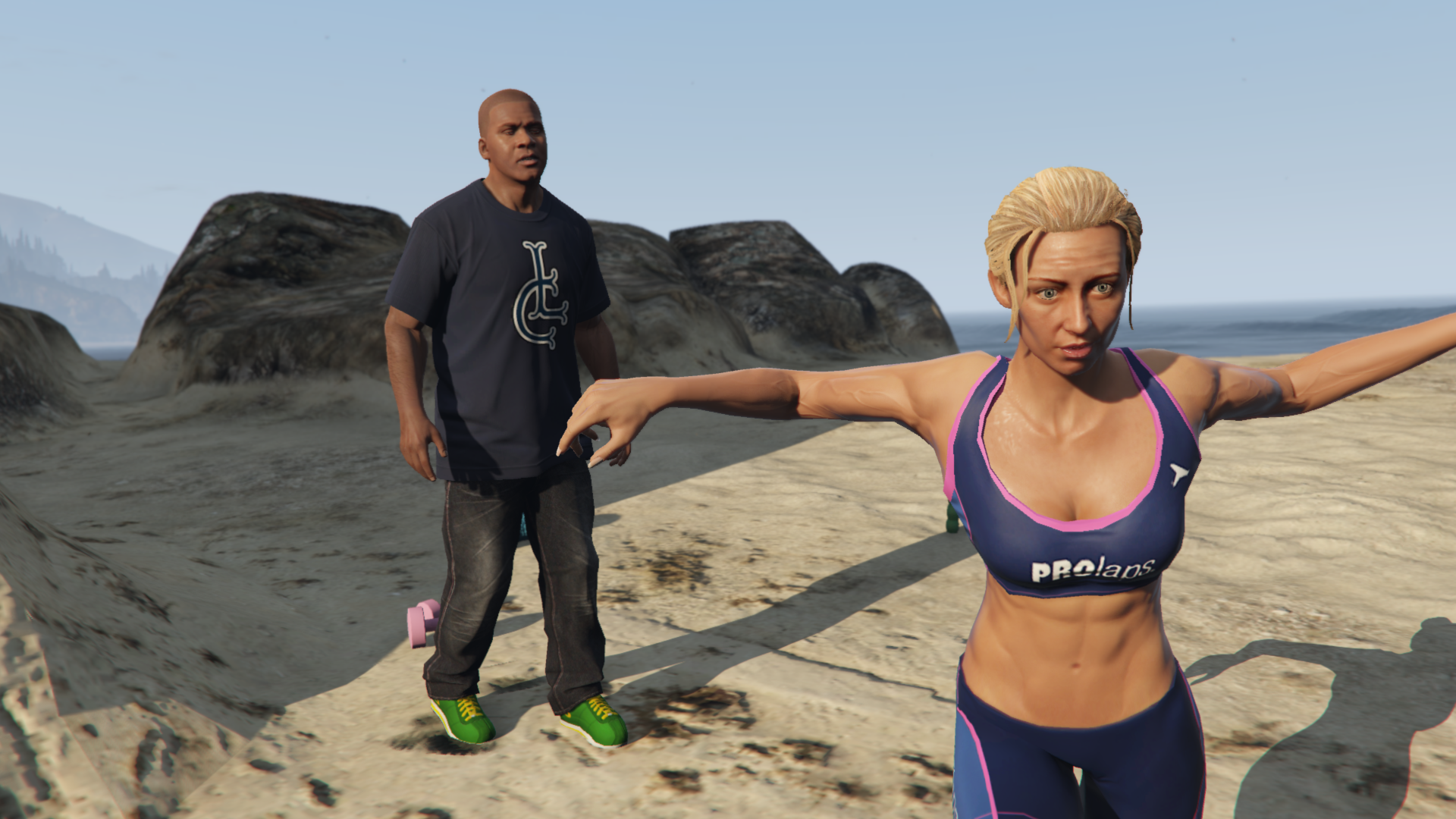 Mary-Ann Quinn is a fitness junkie who dedicates her life to fitness, training, and triathlons. Throughout GTA 5's Strangers & Freaks, Mary-Ann Quinn will challenge Michael, Franklin, and even Trevor to various races around Los Santos.
Exercising Demons is Franklin's encounter with the fitness enthusiast, where Franklin challenges Mary-Ann Quinn to a triathlon race.
We have outlined everything you need to know about Exercising Demons and how you can get a Gold Medal for completing the mission in GTA 5.
Exercising Demons Synopsis
While strolling around the North Point area between Paleto Bay and Procopio Beach, Franklin encounters Many-Ann Quinn who was in the process of doing pre-workout stretches.
As soon as Many-Ann Quinn notices Franklin, she immediately accuses him of staring at her butt. Franklin defends himself by telling Mary-Ann Quinn that she isn't his type. Mary-Ann Quinn would go on to insult Franklin, prompting the protagonist to challenge her to a triathlon race.
Franklin and Mary-Ann Quinn start the race with a quick swim across Paleto Bay, followed by a bicycle race along the shore. In the race's last leg, Franklin and Mary-Ann Quinn go for broke and run across the shore on foot en route to the finish line.
Franklin wins the race handily despite not being in shape, and Mary-Ann Quinn runs off calling herself a "fat, unmarried, career-driven loser".
Exercising Demons Gold Medal Objectives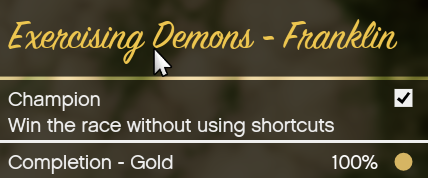 Champion: Win the race without using shortcuts.
All Gold Medal objectives for this mission can be completed through multiple replays. You can come back another time and replay the mission to get the rest of the Gold Medal objectives.
Exercising Demons Mission Guide
Follow Mary-Ann Quinn towards the water. Make sure you cross the blue arrows along the way. These serve as checkpoints for the race. Do not skip any of the arrows as you need to win the race without taking shortcuts to get the Champion Gold Medal objective.
If Franklin's stamina is maxed out, you can hold the sprint key all you want to gap Mary-Ann Quinn. However, if Franklin has limited stamina, you'll need to time your sprints so Franklin doesn't run out of stamina at the wrong time.
After swimming through Paleto Bay, get on a bike and sprint through the shore. Keep following the arrows.
There's a big jump along the way. Make sure you're going full speed with the bicycle to clear the jump.
Hold the sprint key all the way to the finish line.
Spirit of Competition
Franklin can easily hang with Mary-Ann Quinn in a triathlon race despite not being as in shape as Mary-Ann Quinn is. Maybe all the running across Los Santos trying to lose cops played a part.
There's only one Gold Medal objective for Exercising Demons and that is the Champion objective where you must win the race without using shortcuts. This means that you'll need to pass through every arrow along the way to complete the mission with a Gold Medal. Fortunately, you can easily win the race without having to take shortcuts as long as you have a decent Stamina stat on Franklin when you decide to do this Strangers & Freaks mission.